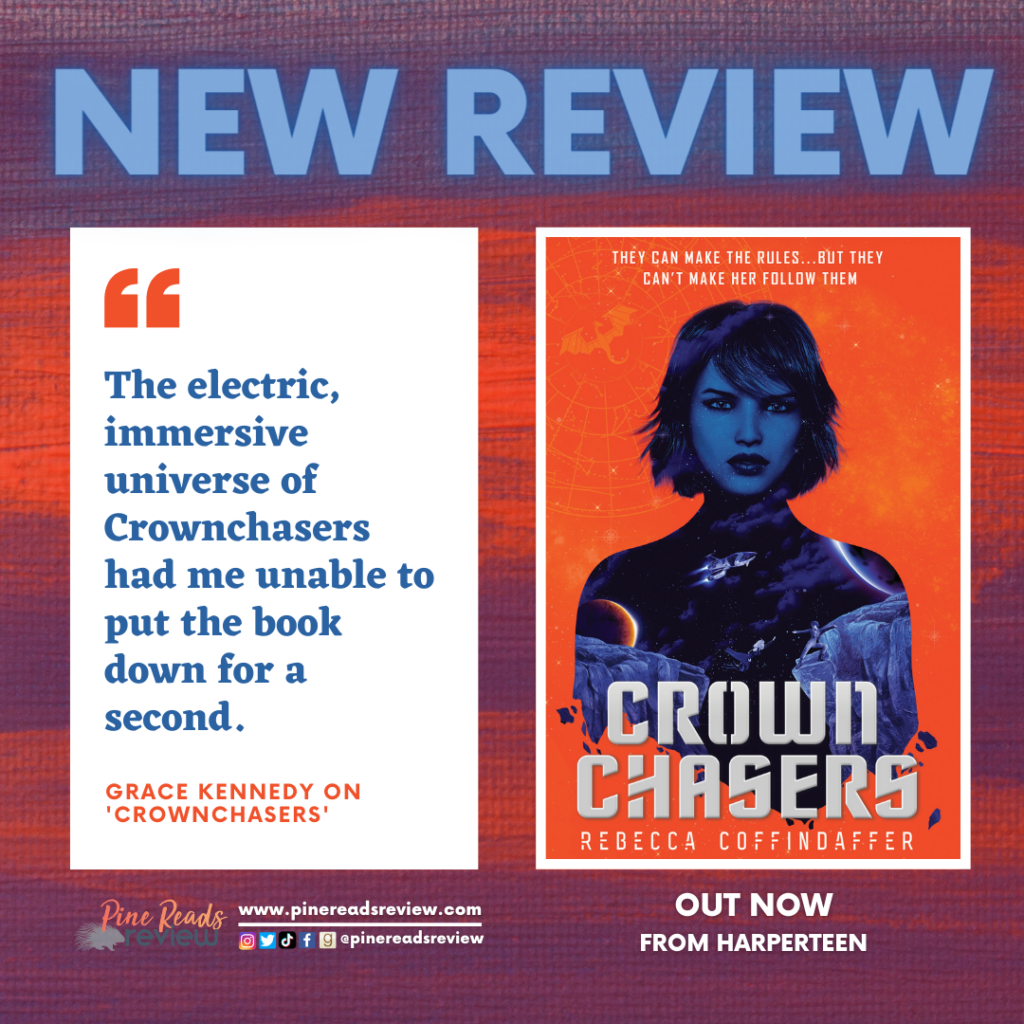 Crownchasers by Rebecca Coffindaffer
Out Now from HarperTeen; 375 pages
Content Warnings: Strong language, kidnapping, murder, violence, death of a family member, sexual content, alcohol use
About the Author: "Rebecca Coffindaffer (they/she) grew up on Star Wars, Star Trek, fantastical movies and even more fantastical books. They waited a long time for their secret elemental powers to develop, and in the interim, they started writing stories about magic and politics, spaceships, far-off worlds, and people walking away from explosions in slow motion. These days they live in Kansas with their family, surrounded by a lot of books and a lot of tabletop games and one big fuzzy dog. They're the author of the YA space opera duology Crownchasers, out now from HarperTeen, and Thronebreakers, coming 10/12/21." (Bio taken from the author's website.)
Find Rebecca Coffindaffer on the following platforms:
---
"To win, you need to be cagey, fearless, a brilliant pilot. Speaking two dozen languages wouldn't hurt. Neither would knowing the quadrant like the back of your hand or having friends in every dive, stall, and spaceport from here to the Outer Wastes. To win the crownchase, basically, you'd have to be someone like me." 
The wandering Alyssa Farshot has been busy going on space-bound adventures away from her home planet when a part of her past interrupts. She learns that her uncle, the Emperor, has fallen deathly ill and needs to tell her about his arrangements for succession. Alyssa expects her uncle to bestow the kingship to her, something she's dreaded since growing up on palace grounds. Instead, her uncle announces that the throne belongs to the winner of a crownchase: with Alyssa competing against several others in a race to find the royal seal. Alyssa has never been interested in the crown, but she feels enough sense of duty to her uncle to enter the chase. Together with her handsome crewmate, Hell Monkey, Alyssa Farshot navigates the gripping twists and turns of the novel's plot. Alyssa soon finds that the crownchase, the first in seven hundred years, is much more dangerous than she had expected.
Rebecca Coffindaffer's debut novel takes the best elements of my favorite universes set in space and puts a unique twist on the presentation. It contains the rag-tag hero team of Guardians of the Galaxy, the epic inter-planetary conflicts of Star Wars, and the witty banter and societal hierarchies of aliens in the game series Mass Effect. Though Crownchasers reminded me of other original works, Coffindaffer's natural writing style and rich world-building sets the piece apart. Coffindaffer's fast-paced novel also scratches that eternal itch for a capable but snarky sci-fi protagonist. Contrary to her royal upbringing, Captain Farshot is a charming rogue with a sharp tongue and a soft-heart underneath it all, contrasting well with her handsome, charismatic co-pilot, Hell Monkey. The electric, immersive universe of Crownchasers had me unable to put the book down for a second.
PRR Lead Editor and Writer Grace Kennedy