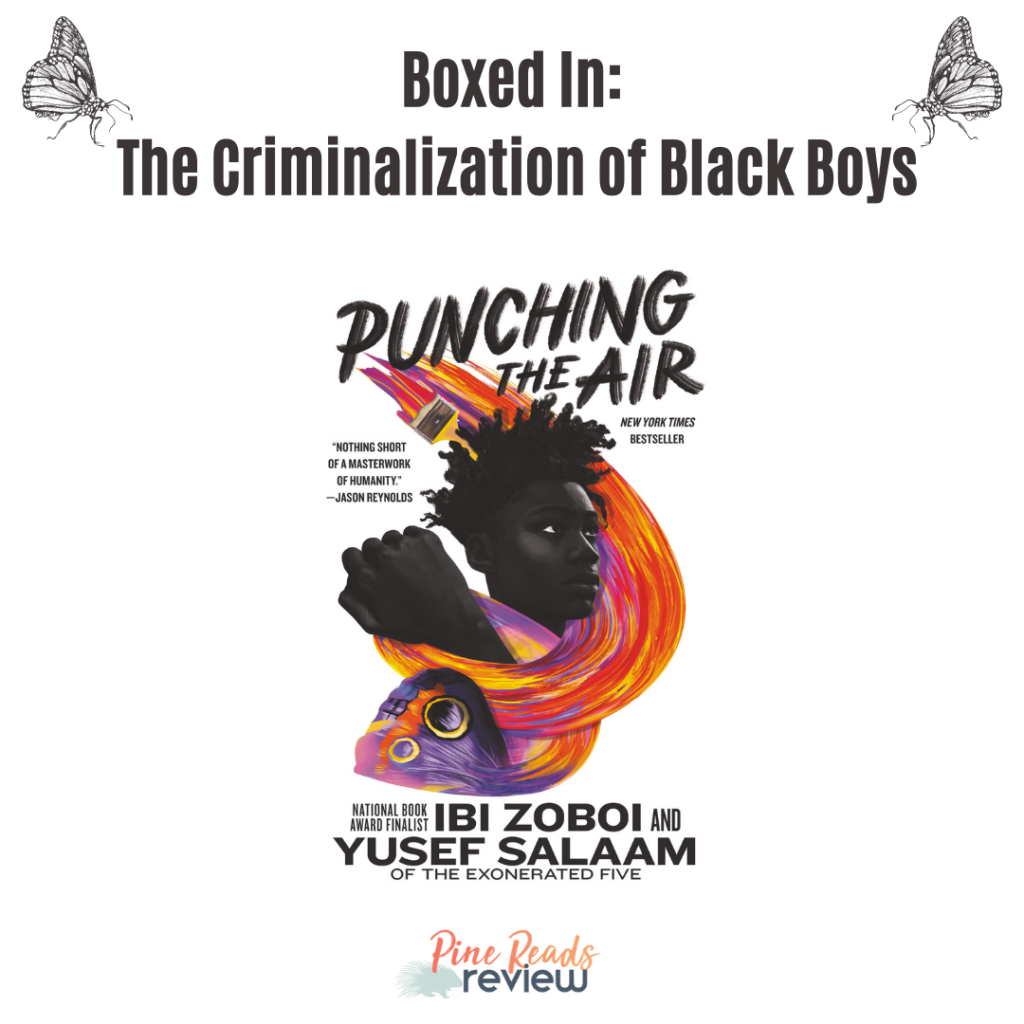 Warning: This blog contains spoilers for Punching the Air by Ibi Zoboi and Yusef Salaam
"Maybe jail is America."
—Punching the Air by Ibi Zoboi and Yusef Salaam
---
Many people know co-author Yusef Salaam as a member of the Exonerated Five, portrayed in the award-winning film The Central Park Five and the Netflix series When They See Us. But beyond this, he is also a poet, activist, inspirational speaker and New York Times Bestseller alongside his co-author Ibi Zoboi, known for her novels that explore intersectionality, gentrification and love, among other themes.
2020 has been a fabulous year filled with works from various BIPOC authors, but Punching the Air stood out to me in particular for numerous reasons—the first being my love for Zoboi and novels written in verse. I was also deeply invested since the novel portrays the systemic corruption of our society, specifically the criminalization of Black boys from birth. The story follows sixteen-year-old artist Amal Shahid who is involved in an altercation one night, and as a direct result, convicted of a crime he did not commit. To make matters even more complicated, the only person who can shed more light on the situation and free Amal—a white boy named Jeremy Mathis—is in the hospital unconscious.
Ibi Zoboi and Yusef Salaam collaborated not just to make art, but to create, what I consider to be, a masterpiece. Writing a novel in verse can be incredibly difficult, but these two phenomenal voices made something so beautiful and moving that reading it was effortless and seeped with emotion. The character of Amal is based on the experiences of Salaam and even the poetry is pulled from pieces he wrote during his time in prison when he too was wrongfully accused and incarcerated for seven years. Salaam, like Amal, was merely a teenage boy at the wrong place at the wrong time, and because he was Black, was forced into a stigmatized box that many Black and brown people are put into. This systemic racial injustice hits on all levels, from healthcare to education, and most certainly in the "justice" system, where Black people are disproportionately belittled, criminalized, and generally persecuted. Their safety is constantly threatened, and when they act to defend themselves, they are once again stereotyped as "violent," "thugs," and "ghetto."
Amal is an artist, skater, poet, and more than what everyone else says he is—a monster, an animal—but in reality he is just a boy, though he never really gets to be one. Instead, he is treated as a 'man' whereas Jeremy is allowed the privilege of being seen as a boy and a victim. Even at his art school Amal is put in a box by his teacher who repeatedly fails him and refers to him as "unmotivated" and "disruptive." Assumptions are made about Amal throughout the novel and Zoboi and Salaam point out how a minor mistake for a Black teen can affect the course of their entire life, showcasing the institutional bias of American systems.
The most gut-wrenching sections of the novel, of which there are several, are the moments where Amal is already mourning the life he thinks that he'll never be able to experience again. He fights to be seen and heard and valued in a world that offers him jail or death. Black boys turn into men who are forced, one way or another, into a box—and then behind bars. In short, they are "guilty until proven innocent" in the eyes of many. This novel sheds light on the prison industrial complex, how slavery lives on through the thirteenth amendment, Amal's anxiety, anger, depression, and the importance of cathartic release through creative outlets.
What happens to Amal is devastating. What happens to Black boys is devastating. Amal faces abuse and racism throughout the novel in the form of words (including slurs) and physical violence, yet he manages to live by his name (which means "hope"). His captivating art and lyricism bring him comfort alongside the letters from his family and the girl he hopes to meet again, Zenobia. Through his time at the juvenile detention center, Amal makes friends and is guided by the adults who see the light in him, like Imani Dawson and Dr. Kwesi Bennu. While Punching the Air is filled with pain, it is also a force of hope. Explosive, painful, gorgeous, pick up a copy today!
PRR Writer, Jackie Balbastro