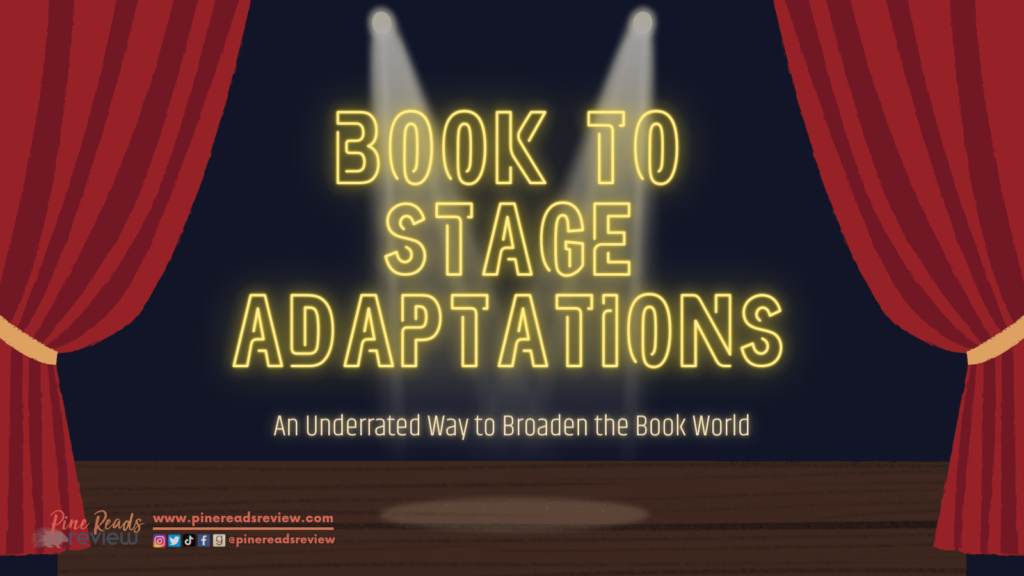 In the book-lover world, I've found that there's one topic guaranteed to get readers fired up and ready to rant:
Adaptations of their favorite books.
From live-action movies to TV shows, limited-run series to animated specials, book adaptations will always be a controversial subject. Why is that? Well, for one, readers are attached to and protective of their favorite books. Book characters and plots become real to readers and the reader's version of the story becomes the best one. Seeing any visual adaptation of the story often draws attention to differences, disappointments, and dramatic changes from the reader's perfect vision of the story.
Another issue that I have often heard is that adaptations cater too much to a Hollywood audience. Dramatic changes to plot and character development often are the result of producers, directors, and writers trying to please a wider audience– not just fans of the book. This means that nuances and stylistic elements of a book often get erased to fit a blockbuster mold. I've also seen a lot of complaints about messy CGI or underwhelming sets and scenery. Where reading allows someone to visualize their own majestic and magical world, adaptations have to physically show the world of a book. This is where low-budget CGI dragons might take the focus from an awesome action sequence, or super obvious green-screen might undercut a dramatic love confession. Again, readers often are just disappointed with the execution of an adaptation.
So what's an alternative to film and television?
Theatrical adaptations.
Theatre, or stage, adaptations can come in the form of a play or musical (the former being just spoken dialogue, the latter including song and usually dance). Theatrical products are very much different than a movie or TV show, and those differences are what make stage adaptations so ideal. No one goes to a theatre and expects movie-level effects and action. It just isn't possible. A musical or play adaptation isn't trying to achieve the same things as a movie or TV show – and I think that is a major benefit of the medium and should be leaned into more!
Theatre adaptations present an opportunity to be more creative compared to movies and TV shows, which are so often made to be a carbon copy of the source material. Movies and TV shows usually have the resources to film in a variety of sets or locations, and studios have technology to create elaborate visual effects. Audiences then pay close attention to the realism aspect of an adaptation, which leads to more critical comparison to the book. With theatre, I've found that creative license is a bit more permissible. Theatre audiences more readily accept minimalist designs or experimental stagings and effects. I rarely find that people go to the theatre expecting the same level of precision as they might see in a movie or TV show.
On stage, audiences expect only to share an experience with
the actors and each other.
Live theatre allows audiences to create relationships with the actors onstage, and that tangible energy creates a really unique experience. I think that level of connection between people mimics the connection that readers have with books. Similar to how each reader digests plotlines, character voices, and themes differently, the theatre experience is different for each person. A play or musical will never be an exact replica of the previous or following performance. The nuances of the actors onstage, and the ways an audience reacts to the action, inform and mold a theatre experience. Where movies and TV shows are static adaptations, stage adaptations are living, breathing, and evolving. That exciting unpredictability echoes a lot of the uniqueness of reading and rereading a book.
Stage adaptations also have the benefit of avoiding the "Hollywood-ificiation" of a story. With multiple runs of a show with various audiences watching, theatremakers are more attuned to their consumers throughout the creative process (unlike film or TV). Theatremakers need a good reception and support from their audiences– it's the only way to guarantee a show's success. If something in a show doesn't work, the audience will make it very clear through reviews and conversations with the theatremakers. The creators of the show then can adjust things to work better. This is a unique opportunity to allow fans of an adaptation to voice their opinion on how that story is being told. In terms of reaching the widest audience, stage adaptations also have more opportunities to get feedback from both source-material lovers and complete strangers to the book's world.
Looking at specific theatrical adaptations, there have been a number of
major commercial successes.
There are classic fairytale adaptations like Rodgers + Hammerstein's Cinderella and multiple musical adaptations of The Wizard of Oz by L. Frank Baum. There are also relatively newer shows like Matilda! the Musical, adapted from Roald Dahl's book, and the cult classic musical Be More Chill, created from the novel by Ned Vizzini (check out our review of Vizzini's book here!). While I could talk about any of these shows in greater detail, I want to focus on a lesser-known show close to my heart: The Lightning Thief: The Percy Jackson Musical. The off-Broadway musical was developed and produced without author Rick Riordan's involvement, however, the musical gained a following on social media and had a short-lived run on Broadway.
So what worked about the stage adaptation (that a certain movie series failed to do)? Was it the fact that the show didn't take itself too seriously and leaned into the childlike sense of amazement and fantastical, mythological adventure? Perhaps it was the killer original score and songs that so perfectly captured the energy and emotions of the source material? Or maybe it just was a faithful, hour-and-a-half adaptation of a beloved book that highlighted talented actors with minimal set and props. The Lightning Thief's closure after negative reviews and poor ticket sales was disappointing, but it didn't make the show any less special. The show's run on Broadway was monumental for fans of the book and musical, proving that children's book adaptations can make it to a major commercial stage.
Another adaptation that proves this is the new off-Broadway
musical Between the Lines.
Between the Lines is based on the YA novel of the same name, written by best-seller Jodi Picoult and her daughter Samantha van Leer. I saw the show over the summer and, while there were definitely changes to the source material, the additions and revisions help the story to appeal to a wider audience (non-book fans) and also a modern audience (being a new musical adapting a book published in 2012). There's a lot more diversity in the show, with a majority female cast and actors of various ethnicities and ages. The musical also makes Delilah's best friend, Jules, nonbinary and gives them their own noticeable arc as a character. What I loved most about the show is the beautiful parallel between a reader's ownership of a story and Delilah's ownership of her own life and future. An official cast recording is coming later this year, and I personally can't wait for it!
I also want to share a special interaction I had when seeing Between the Lines. I met a woman at the show who never even heard of the book. She had no clue who Jodi Picoult was and did not know the musical was an adaptation. She just liked to support local theatres and happened to hear about Between the Lines. During intermission, she asked about things that were changed from the book to the musical, and we got to talk about what worked really well in this adaptation. Our discussion pretty much sold her on reading the book. Hearing her say that made my book-loving heart happy, and it also opened my eyes to see how impactful theatre can be. This stage adaptation introduced a YA book to so many new people, and the story and performance connected so deeply with audiences (you can find proof of that on the Between the Lines Instagram!). That's pretty dang neat!
So, what really makes stage adaptations of children's and YA
books so special?
Theatre allows audiences to be presented with visual storytelling while also actively engaging their imagination. While movies and TV shows have the capacity to explicitly develop a world and show action, the stage invites audiences to have a suspension of disbelief and make connections. Stage adaptations have been criminally undervalued in the conversation around book adaptations and in my mind, book-to-stage is a near-perfect choice for adaptations. Authors, theatre producers, and bookish theatre kids, show some love to stage adaptations of books!
---
PRR Co-Assistant Director, Erika Brittain
Want to read the books in this blog?