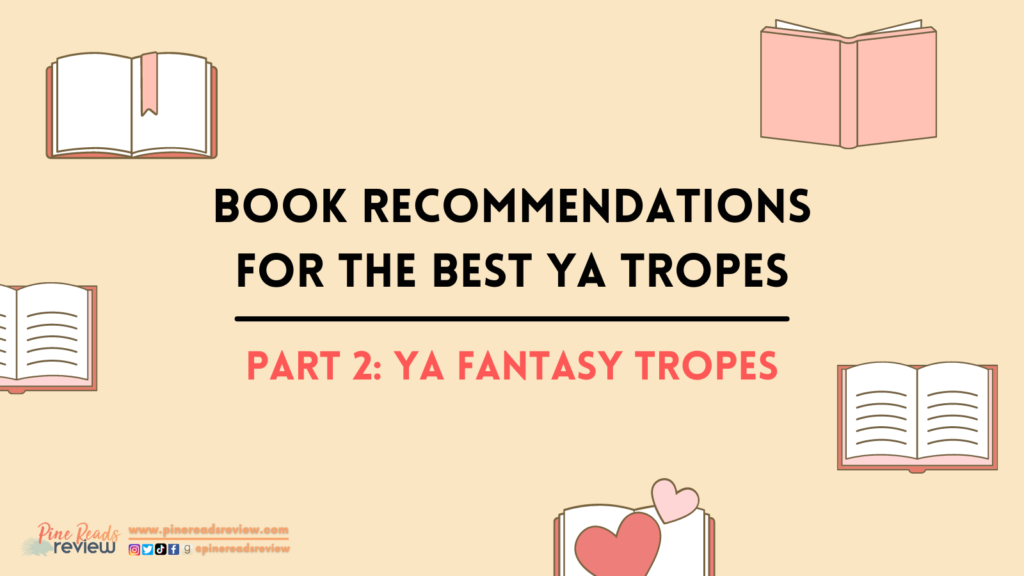 Spoiler Warning: Some tropes give away the relationships in these books, but the books' plot endings are not revealed.
Welcome back! Let's dive right back into some book recommendations because I have quite the list for Part 2 of Pine Reads Review's trope blog.
---
Trope: Slow Burn Romance 
Though many authors have dabbled in the Slow Burn romance trope, YA authors have forged their own path and added their own spins to this infuriating trope. You may be saying, " Well Frances, not all of us are obsessed with books like you are so please explain this trope" and while I don't appreciate the hostility, I am happy to comply. The slow burn romance trope is when a book takes an excruciatingly long amount of time for two characters to begin their romantic relationship, think Hermione Granger and Ron Weasley. Books with this trope feature a moment where your two main characters jump from romantically fused friendship (or hatred) to full blown relationship when, during their story, they have to acknowledge and come to terms with their feelings for one another.
Content Warning: death, self-harm, mental illness, violence
Despite being the strongest witch of her time, Tamsin has been cursed by the ruling Coven with the inability to love. The only way for her to regain what she has lost is for her to steal love from other people. Wren is a rare being who is shaped from magic, though she can't use it herself. She is being known as a source and her kind are forced to train with the ruling Coven; but Wren has kept her gift hidden in order to take care of her sickly father. Tamsin and Wren are thrown together when a plague pillages their queendom. Tamsin promises to assist Wren in saving her father, who has fallen victim to the deadly plague. In exchange Wren will give Tamsin the love she has for her father. The two women may not see eye to eye but they must work together to stay alive long enough to stop the plague, save Wren's father, and complete their deal.
Adrienne Tooley's sapphic standalone novel is a beautifully written story that reads like a fairytale. Though both Wren and Tamsin are flawed, they learn and grow throughout their quest, the readers get to see how much they affect one another. Watching how Wren and Tamsin's reluctant partnership develops into a sweet romance is what the slow burn romance trope was made for.
---
Trope: The Love Triangle
The Love Triangle is a supremely popular trope that most people know, even if they aren't aware of the specific terminology. However, if you don't know what a love triangle entails it's pretty straightforward. Basically, one character has feelings for two other characters at the same time. As the story develops, the main character's two crushes both express interest and shenanigans ensue.
Content Warning: Mature content, protagonist drugged, homophobia, death, kidnapping, and violence
When her sister is taken to the world of the Fae, Brie is determined to get her back. Though she knows that making bargains with Fae means uncertain death, Brie will do whatever it takes to save her sister from the sadistic king of the Unseelie court. In order to succeed, Brie is tasked with infiltrating the Seelie court, stealing three magical items, and earning the Seelie Prince Ronan's love. Things become even more complicated when Brie accepts the help of Finn, an exiled Unseelie fae who offers to aid her. Brie's mission gets more impossible when the man she must manipulate is not the heartless Fae she expected him to be, and Finn's seductive charm is impossible to ignore.
Lexi Ryan may have chosen an extremely popular trope for her novel but nothing about this book is ordinary. These Hollow Vows has an otherworldly setting and one-of-a-kind characters that make Brie's story enthralling and enchanting. This book is perfect for fans of a traditional love triangle who are looking for a new adventure to dive into.
Alternate Recommendation – The Ravenous Dark by A. M. Strickland
Content Warning: Death, Suicide, Violence, Alcohol, Forced marriage and pregnancy
Rovan was born in Thanopolis, a city where citizens with magic are tethered to a spirit meant to protect and control them. Rovan's father died to keep her magic hidden from the authorities in order to keep her from suffering the same fate as the other bloodmages. However, when she accidentally displays her powers everything her father did to keep her safe is undone. She is quickly whisked away to the palace, given a spirit guardian, and forced to enter a world of secrets and oppression. Unable to escape, Rovan is forced to look for help from two people she doesn't understand: the spirit who has been bound to her, and Thanopolis' rebellious princess. As the three work together to fulfill their own agendas, they reveal a secret that could destroy their world. Rovan must begin a rebellion for the living and the dead, all while learning to trust the two beings she has begun to fall in love with.
My alternate love triangle book is a story that adds its own shocking twist to the love triangle trope. (Spoiler Warning) Instead of the traditional ending where the main character chooses one significant other, A. M. Strickland doesn't make their main character choose between her two swoon-worthy love interests. Yep, here we are treated to a polyamorous love triangle and it's the best of both worlds.
---
Trope: Fake Dating
Fake Dating is a trope quite popular in fiction writing, so much so that it was one of the tropes I mentioned in the first half of this blog. It's very simple: two characters start a fake (but very public) relationship due to some perceived mutual benefits, they begin to fall in love, then (after lots of drama) get together for real.
Content Warning: Alcohol consumption, Death, Sexual content (non-graphic), Violence
Alessandra desires nothing more than the life she believes she deserves, and she has a plan to get just that. She will marry the Shadow King, kill him, and take control of his kingdom. She does not fear the newly crowned King, though people whisper about his mysterious powers and the shadows that surround him. But when Alessandra discovers that she is not the only one vying for his throne, she must keep him alive long enough to marry and kill him herself, all while trying not to surrender her own heart.
Before reading this book I didn't know that the fake dating trope had made it into the fantasy genre. Most YA fantasy books already have so much action that adding in fake dating would be immensely overwhelming. However, I am happy to report that Tricia Levenseller's The Shadows Between Us includes this popular trope in a captivating and emotional way. I hope other YA Fantasy authors will follow her lead and recognize that this trope could be an exciting edition to any YA book, no matter the genre.
---
Trope: Band of Misfits // Found Family
The Band of Misfits trope can include just about anyone: from the ragtag group of inexperienced, but lovable, losers to the lethal team of professional thieves and highly skilled mercenaries. Just as this group can include any character it can also include just about any purpose. The team can be forced to join together to reluctantly save the world or be recruited to complete some sort of all important heist. You may be familiar with it from films such as Ocean's Eleven and The Great Escape or books like Tolkien's Fellowship of the Rings and Leigh Bardugo's Six of Crows. Band of misfits often leads into the Found Family trope. The rugged little team that joined together to complete a mission often ends up as a family. Not blood relatives but something different, a chosen family that ended up together due to their shared experience and concern for each other. Both band of misfits and found family are great tropes that promise their readers an exciting plot and heartwarming friendship.
Recommendation – The Gilded Wolves by Roshani Chokshi
Content Warning: Ableism, Antisemitism (violent, mentioned), Anxiety, Bullying, Death, Abuse, Homophobia, Torture, Violence
Séverin Montagnet-Alarie is many things: a successful hotelier, a shrewd treasure-hunter, but most importantly a man searching for his stolen birthright. Now, in Paris where the Exposition Universelle World Fair is being held, he has a chance to reclaim his inheritance. The city is being flooded with old secrets and dark magic, but the most important of them all is the Babel fragment which is set to be on display at the Exposition Universelle. The Order of Babel hires Séverin to steal the fragment in exchange for him being restored to his rightful place among the French aristocracy. To help him steal the powerful artifact Séverin puts together a company of highly skilled individuals, each looking to gain something through the heist. Séverin and his team must stay alive, despite the increasing danger waiting for them on their mission, before they can reap the rewards they so desperately desire.
Roshani Chokshi's The Gilded Wolves is an awesome addition to band of misfits and found family. The book brings this trope to life through its unique plot and setting; The Gilded Wolves is a historical fantasy heist novel that takes place in a fictional Paris, France in the year 1889. It is exceptionally well written and the characters are complex and charming. If you're looking for a book with a found family and a band of misfits unlike any you've ever seen before, this is the book for you.
---
Trope: Enemies to Lovers
In my completely biased opinion, Enemies to Lovers will always reign supreme as the best romance trope. One of my favorite books, Pride and Prejudice, is the best original enemies turned lovers' book with Darcy and Lizzy. For a film example, look no further than Star Wars with Han Solo and Princess Leia. There are countless amazing YA books that contain this trope: A Cruel Prince by Holly Black, A Court of Mist and Fury by Sarah J Maas, and Serpent and Dove by Shelby Mahurin. I could keep rattling off examples, but I think you get the point. People enjoy enemies turned lovers, so for this blog I want to recommend some YA Books with this trope that won't come up with a simple google search. Because I enjoy this specific trope so much that I have two books to recommend.
Recommendation – Jade Fire Gold by June C. Tan
Content Warning: Alcohol consumption, Death, Abuse, Violence, Self-harm
Altan is a lost prince looking to reclaim his throne. Ahn is a peasant with nothing but her ancient magic to protect her. What do they have in common? They live in an empire about to succumb to war. When Altan and Ahn meet, they only see what the other can do for them. Altan wants help recovering his throne and Ahn wants to discover her past and control her abilities. But as they work together to save their kingdom, they begin to realize they may have more to lose than they thought.
June C. Tan's Jade Fire Gold is an awesome enemies to lovers novel. Just like the other books on this list, it puts this well known trope into a world it hasn't visited before. Altan and Ahn's story is an action packed fantasy novel of forbidden magic, hesitant partnership, and dazzling worldbuilding. If you're looking for a new fantasy book and love enemies to lovers, this is the one for you.
---
PRR Writer, Frances Drye