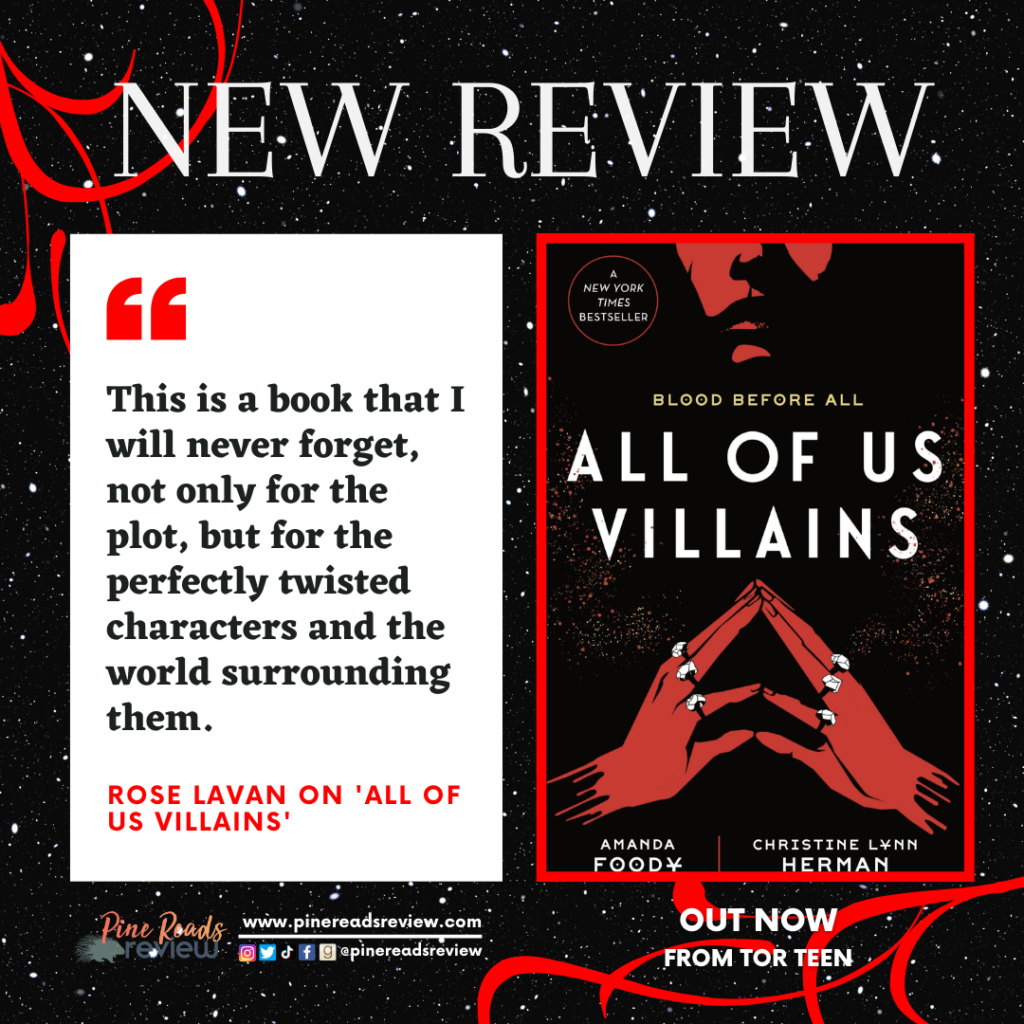 All of Us Villains by Amanda Foody & Christine Lynne Herman
Out Now from TOR TEEN; 400 pages
Content Warnings: Death, violence, trauma, amputation, blood, gore, mention of suicide, murder, alcohol consumption, abuse, nightmares
About the Author: "Amanda Foody has always considered imagination to be our best attempt at magic. After a double life as an accountant preparing taxes for multinational corporations, she now spends her free time brewing and fermenting foods much more easily obtained at her local grocery store. She lives in Boston, MA with a hoard of books guarded by the most vicious of feline companions, Jelly Bean." (Bio taken from Goodreads profile.)
Find Amanda Foody on the following platforms:
About the Author: "Born in New York City but raised in Japan and Hong Kong, Christine Lynn Herman subscribes to the firm philosophy that home is where her books are. She returned to the United States for college, where she traded out a subtropical climate for harsh, snowy winters and an Honors English degree at the University of Rochester. Currently, Christine and her books reside in Brooklyn, along with her partner and their extremely spoiled cat." (Bio taken from Goodreads profile.)
Find Christine Lynn Herman on the following platforms:
---
"I never claimed not to be despicable, too."
The town of Ilvernath has a deadly secret; every generation, the seven prestigious families choose a young champion to compete in a magickal death tournament. Through winning, the victor's family gains access to the secret stash of high magick until the next tournament. When a newly published tell-all book reveals this secret to a world that thought magic to be dead, it draws reporters and tourists to a town that is about to send its children to slaughter. To face each other, they must first face the limelight.
I cannot describe my love for this book! To start, this town is an intricate and well-designed masterpiece of worldbuilding. Ilvernath is a familiar and creepy town filled with secrets, but those secrets are new and inviting. Each turned page was a new insight into the lore, ancient history, family dynamics, and key elements of the story. There is no filler in this story, each sentence serves a purpose. Told through four different points of view, I was anxious to read each one as they were all equally captivating. Each chapter is connected to the next, which feels unique for a multi-POV story in which I typically favor one character over all others, and struggle to finish a chapter to get to the next. All of Us Villains is as dark as it is alluring. It draws you in with each word and each page—each chapter is delicately crafted. This is a book that I will never forget, not only for the plot, but for the perfectly twisted characters and the world surrounding them. For lovers of Hunger Games and morally gray characters, All of Us Villains is a must read. 
PRR Writer and Editor, Rose Lavan
---