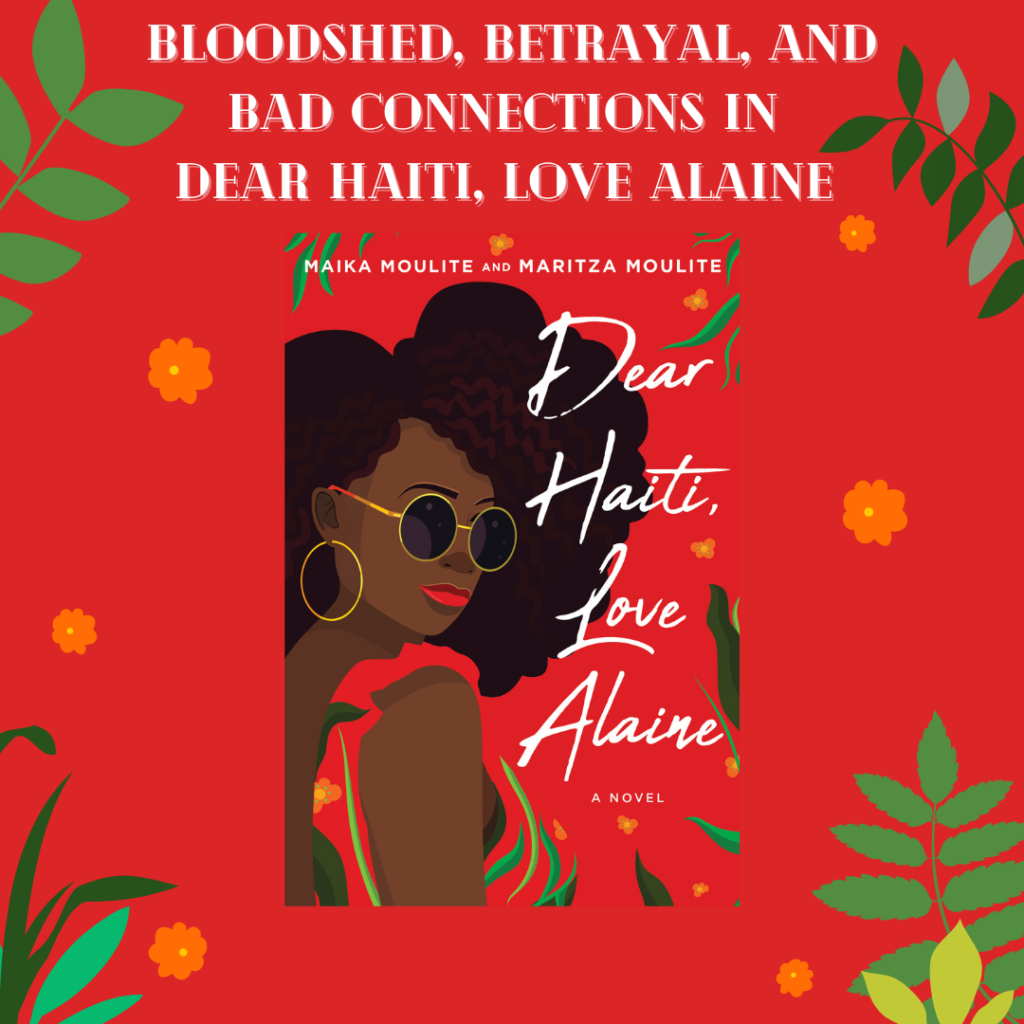 Warning: Spoilers ahead for Dear Haiti, Love Alaine by Maika and Maritza Moulite!
Dear Haiti, Love Alaine has been on my radar since its release in 2019. In anticipation for Maika and Maritza Moulite's sophomore novel, One of the Good Ones, I decided it was the perfect time to dive into their debut, which is full of bloodshed, betrayal, and bad connections.
Alaine Beauparlant is what many consider to be "over-the-top." After a class presentation goes awry, she is sent away to live with her estranged mother in Haiti. While there, Alaine discovers her family's ties to Haitian history, a mysterious curse, and secrets hidden within these ancestral roots. The story is told through various mediums—including emails, text message chains, postcards, diary entries, letters, and articles—taking place over a couple of months. So much is revealed through the correspondence between characters that it feels as if we are genuinely reading through a composed 'packet' of research.
One of my favorite types of stories is when a teen is sent away to their parent's homeland and gains a greater appreciation for their culture and family. So often, growing up as American children, we lose a part of that identity, and Dear Haiti, Love Alaine encourages readers to rekindle and take pride in their heritage. The Moulite sisters do a wonderful job of showcasing the beauty of Haiti while also exploring the nuances of its people and history. Each of the characters are complex individuals with their own beliefs and ways of navigating Haitian society. And as a relative outsider and a well-developed protagonist herself, Alaine acts as an accessible window for readers to dive into the story with her headstrong and charismatic personality.
Moreover, several heavy topics surface throughout this novel. The Moulite sisters push this family to be introspective, encouraging them to pull together their broken pieces and finally have resolution, peace, and most importantly, accountability. The entire cast of characters confront years of resentment, secret affairs, embezzlement, and sexual abuse— all while dealing with Alaine's mother's diagnosis of Alzheimer's. I feel as though I learned so much by reading this novel. Like Alaine, I was impatient to just gather the facts, and sincerely hope that the Beauparlants' story continues in a sequel. In the meantime, I cannot wait for what the Moulite sisters come out with next!
PRR Writer, Jackie Balbastro

Content Warnings for Dear Haiti, Love Alaine by Maika and Maritza Moulite: Sexual assault, colorism, absent parent, miscarriage, Alzheimer's, mentions of parental death, smoking, divorce, hospitalization