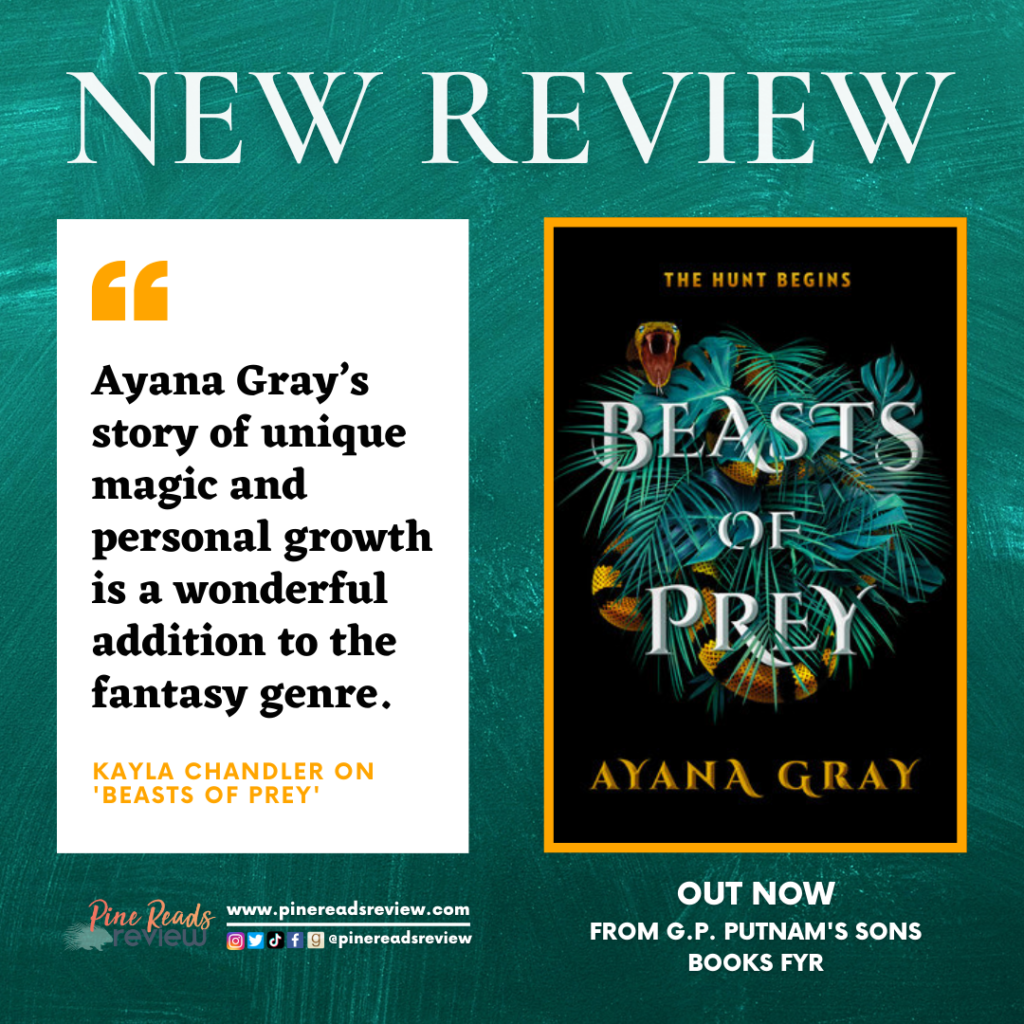 Beasts of Prey by Ayana Gray
Out Now from G.P. Putnam's Sons Books for Young Readers; 496 pages
Content Warnings: Mild gore and violence, discussion of indentured servitude and slavery, brief racism/prejudice and classism
About the Author: "Ayana Gray [She/Her] is a New York Times and Indie bestselling author of speculative fiction and a lover of all things monsters, mythos, and #MelaninMagic. Originally from Atlanta, she now lives in Little Rock, Arkansas where she reads avidly, follows Formula One racing, and worries over the varying moods of her adopted baby black rhino, Apollo, and her mini goldendoodle, Dolly. Her debut novel, BEASTS OF PREY, is being adapted for film by Netflix." (Bio taken from author website.)
Find Ayana Gray on the following platforms:
---
"The creature she'd laid eyes on had been a thing built from nightmares, a mass of raw pink skin stretched tight over tendons and bone."
Beasts of Prey is author Ayana Gray's debut in young adult literature, and it tells the story of two strong-willed characters, both trying to survive the harsh realities of life within the city of Lkossa. Ekon Okojo strives to live up to his family's legacy by joining the Son of the Six city guard, and it is only after being saved from an almost-deadly encounter with the rumored Shetani beast that Ekon is first united with Koffi. Koffi is an indentured servant working alongside her mother as a beast tamer for the "Night Zoo"—an attraction run by the rich and greedy Baaz Mtombé, who reneges on his agreement to free Koffi and her mother after eleven years of labor. Ekon and Koffi are immediately at odds because of their difference in station; however, they are forced to work together when Koffi realizes that capturing the Shetani beast is also her only path to survival.
When I first opened Beasts of Prey and saw two maps, I knew that this YA fantasy debut would be a wonderful journey. I was not disappointed as Ayana Gray lyrically weaves together pan-African storytelling with the fantasy-staples of discovery, romance, and magic. The magic system is distinctly non-Western with a good balance between introducing African concepts, worldbuilding, and character development. I was immediately captivated by the descriptive imagery. This connected me with the characters as soon as they were introduced with their engaging emotion and backstory. Ekon and Koffi are unique in their character voices, and because of their socially contrasting lives, there is a palpable tension when they begin their hunt for the Shetani beast. Ayana Gray's story of unique magic and personal growth is a wonderful addition to the fantasy genre.
PRR Writer and Editor, Kayla Chandler