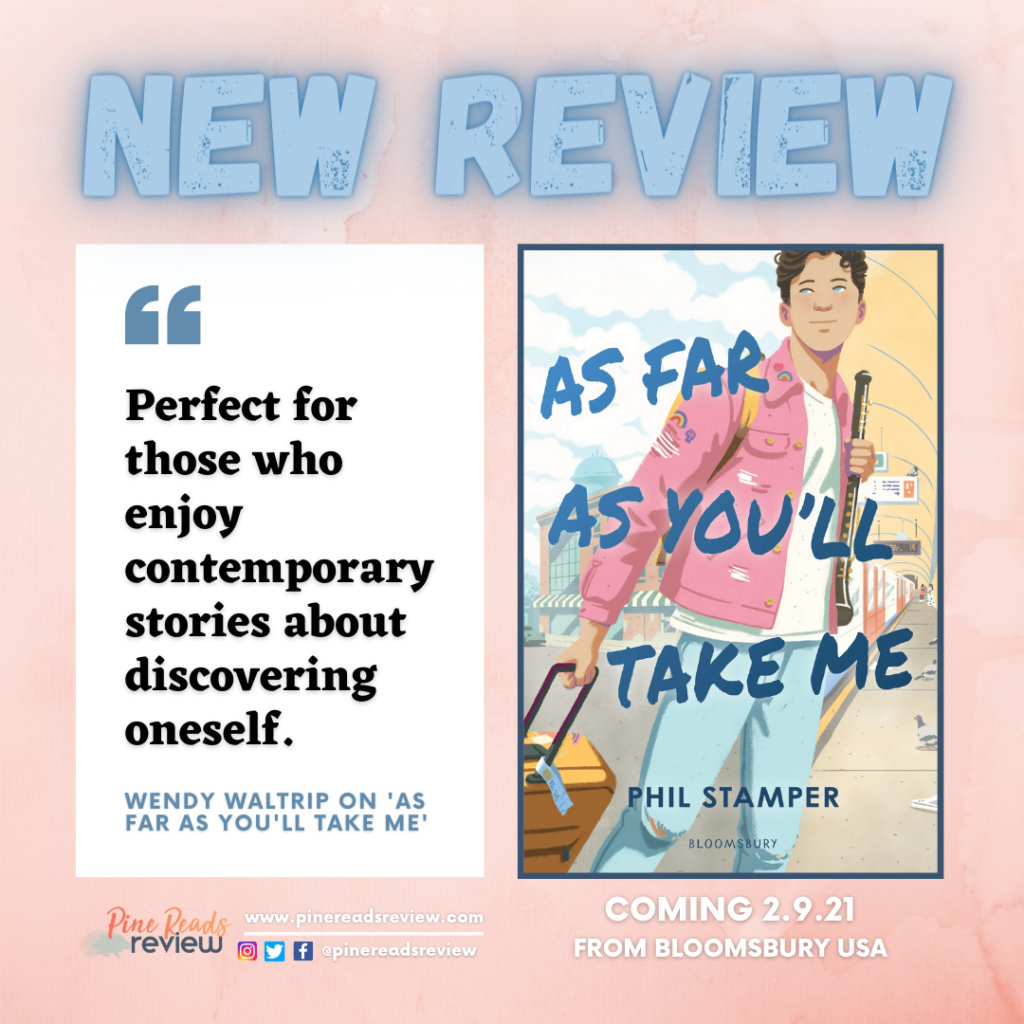 As Far as You'll Take Me by Phil Stamper
Bloomsbury USA Children's Books; Releasing February 9, 2021; 320 pages
Content Warnings: A character publicly outed without consent, homophobia, anxiety, eating disorder, discussion of the death of a loved one, intimate scenes, strong language
About the Author: "Phil Stamper grew up in a rural village near Dayton, Ohio. He has a B.A. in Music and an M.A. in Publishing with Creative Writing. And, unsurprisingly, a lot of student debt. He works for a major book publisher in New York City and lives in Brooklyn with his husband and their dog. His bestselling novel The Gravity of Us came out in early 2020, and his sophomore novel As Far as You'll Take Me comes out in early 2021." (Bio taken from the author's website.)
Website: https://philstamper.com
Twitter: @stampepk
Instagram: @stampepk
Facebook: @authorphilstamper
---
"I've just gotten a taste of freedom, of being comfortable with myself, and for once I don't want to be careful. I just want to be."
Seventeen-year-old Marty has a plan: graduate high school early, fly to London, and find a job playing the oboe… somehow. He's looking forward to having the freedom to explore his sexuality without his religious parents frowning upon him, and after only a few weeks, Marty feels like everything is finally falling into place. He's made some great friends, he gets to travel around Europe, and he's even getting closer to a guy who could be a potential boyfriend. But when everything starts falling apart, Marty has to decide who and what really matters to him if he ever wants to find somewhere that truly feels like home.
I have been longing to travel to London for several years but so far it hasn't been possible, especially with the pandemic. Yet, Phil Stamper's sophomore novel provided me a wonderful window to explore the streets of London without ever leaving my couch… and what a fantastic exploration it was! Marty is a relatable character with realistic flaws and worries. As someone with generalized anxiety, I think Stamper does an excellent job providing insight into the mind of someone dealing with mental health issues without stigmatizing them. Marty's choices throughout, whether we agree with them or not, all feel realistic for a seventeen-year-old boy discovering the freedom to be himself for the first time. Stamper tackles quite a few difficult issues in this book, and does so with compassion and understanding. Marty's passion for the oboe and the joy the characters bring when playing together shine through the pages, making me miss my high school band days! With outstanding representation and amazing messages, this book is perfect for those who enjoy contemporary stories about discovering oneself.
As Far as You'll Take Me releases on February 9, 2021.
(Pine Reads Review would like to thank NetGalley and the publisher for providing us with an ARC in exchange for an honest review. Any quotes are taken from an advanced copy and may be subject to change.)
PRR Assistant Director, Wendy Waltrip