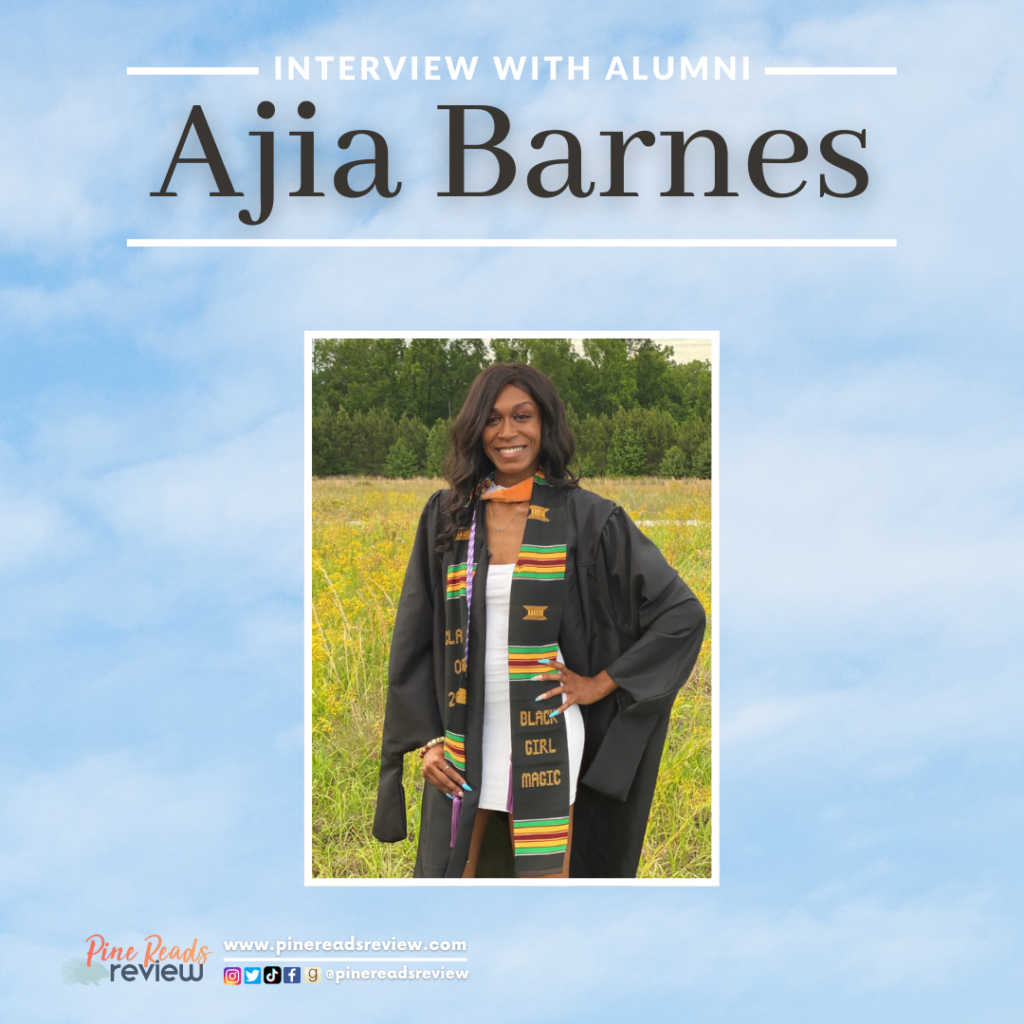 Ajia Barnes is a Pine Reads Review Alumni. She is an aspiring writer/poet who was raised in Warner Robins, Georgia. She was born in Hampton, Virginia but due to her family being military, she's gotten to travel overseas and to multiple states. When attended the University of Arizona, she studied English with a minor in music.
---
Thank you to Ajia Barnes for speaking with me about her experience at Pine Reads Review and the University of Arizona. 
---
Frances Drye (FD): What was your experience when interning at Pine Reads Review?
Ajia Barnes (AB): My experience at PRR was amazing. At first I was extremely nervous because I'm not the fastest reader, but once I got used to things it was so nice being able to juggle all my deadlines and readings. I felt so accomplished it was motivating. I was able to meet such wonderful creatives along the way while also having an impactful mentor and professor.
FD: How did Pine Reads Review prepare you for your future career?
AB: PRR helped prepare me for my future career by giving me that push I needed to continue my education. I interned at PRR my last semester of college and I knew that I wanted to do something that could help make a positive difference in the world and wanted to do something that would keep that spark alive.
FD: How did being an English undergrad and intern at Pine Reads influence the type of job you pursued after graduation?
AB: Being an English intern and a Publishing intern influenced the type of job I pursued after graduation by showing me that I can work well with kids. I substituted for awhile after undergrad, while pursuing my graduate degree. I was able to use what I've learned in English and children's literature and actually live out the dream of almost being a teacher for a bit. This led me to know that I want to be a part of the communications world and try to influence anyone that I can, so now I will be able to manage a group of individuals and try to make their workplace more enjoyable and safe.
FD: Do you have any advice for undergraduates considering continuing their education?
AB: Honestly, I say just go for it. Don't be intimidated by how hard you've heard it may be and just take that leap. It can be overwhelming sometimes, but just take it day by day and don't give up because the reward and opportunity afterwards is well worth it!
FD: What is your favorite YA novel and why?
AB: My favorite YA novel is Black Flamingo by Dean Atta. This is one of my favorite YA novels because of how it takes the reader along the life of the main character and showcases his growth and emotions so beautifully into who he's becoming. The story is also written in verse and I love poetry, so it has double points for me. 
FD: How has YA and Children's literature impacted you throughout your life?
AB: YA and Children's literature has impacted my life by giving me a different world or place to escape to while reading words on a page. I really love Children's literature because these are the books we remember most throughout our lives, so having those influential stories and more representation of cultures has always been so important to me, especially being introduced to it at a young age.
FD: How has your love for reading shaped your life?
AB: My love for reading has shaped my life by allowing me to put myself in someone else's shoes. I always find it so interesting being able to hear someone else's story and learn why they are the way they are. That's why I enjoy reading different stories and types of literature to figure out why the author wanted to share this particular story and how it makes the reader feel during and afterwards. 
---
PRR Writer and Outreach Lead, Frances Drye