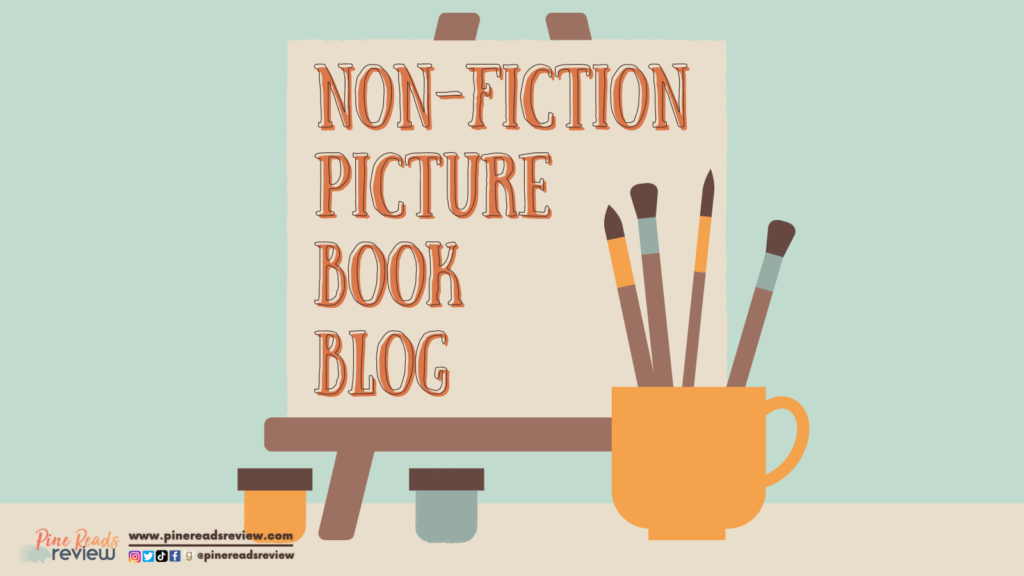 No kid is ever too young to start learning about the world or about some of the memorable people in it! That's why we here at Pine Reads Review have compiled a list of diverse, fun, and educational picture book biographies to get young readers started on their journey to learning about some of history's most memorable people. From scientists to athletes, these picture book biographies are bound to introduce kiddos to some extraordinary people!
---
Buzzing with Questions: The Inquisitive Mind of Charles Henry Turner, written by Janice N. Harrington & illustrated by Theodore Taylor III
Charles Henry Turner had always been fascinated by bugs, animals, and crustaceans. He wanted to know all about them and how they lived. If he couldn't find the answers to his questions about them in books, he took to nature to study them and find the answers himself. In this informative picture book biography, learn all about the life and career of the first-ever African American entomologist!
---
Drum Dream Girl: How One Girl's Courage Changed Music, written by Margarita Engle & illustrated by Rafael López
This beautiful and inspiring picture book biography tells the true story of Millo Castro Zaldarriaga, a Chinese-African-Cuban who changed the landscape of music in Cuba forever. The rule on the island was that no girls could play the drums. For as long as the rule had been around, none of its inhabitants ever questioned or defied it. That was until the drum dream girl discovered her love for the drums. She played and practiced in secret, and when she was ready, she brought her music to the people of her island and paved the way for other drummers just like her. 
---
Fauja Singh Keeps Going: The True Story of the Oldest Person to Ever Run a Marathon, written by Simran Jeet Singh & illustrated by Baljinder Kaur
Meet Fauja Singh, the first person over the age of 100 to run a marathon, in this inspiring biography! Fauja Singh wasn't always a record-breaking marathon runner. First, he was a young boy with legs that were too fragile to play sports with his friends or walk to school, but that didn't stop him from working hard to achieve his dreams. Over the years, he built the strength up in his body, his mind, and his heart. When he was 81 years old, he decided to become a marathon runner. Fauja Singh's story proves that with hard work and determination, anyone can do what they put their minds to!
---
Go Show the World: A Celebration of Indigenous Heroes, written by Wab Kinew & illustrated by Joe Morse
Get to know many memorable Indigenous people from the United States and Canada in this exciting biography collection! From well-known historical figures like Sacagawea to international athletes like NHL player Carey Price, this book briefly touches on the lives of many memorable Indigenous heroes. While their biographies may be brief, the impact they'll have on readers will be immense.
---
Mae Among the Stars, written by Roda Ahmed & illustrated by Stasia Burrington
In this adorably illustrated picture book biography, readers will learn all about the life of astronaut Mae Jemison. Ever since she was a little girl, Mae Jemison dreamed of one day going to space and traveling among the stars. Encouraged by her parents and propelled by her determination, Mae worked hard to become an astronaut at NASA and the first African-American woman to fly in space.
---
Magic Ramen: The Story of Momofuku Ando, written by Andrea Wang & illustrated by Kana Urbanowicz
After seeing so many people line up for ramen noodle soup following World War II, Momofuku Ando was determined to create an affordable and convenient version of the popular food. Working day in and day out in his food lab in his backyard, he tried—and failed—at different ramen noodle recipes. Finally, after a lot of experimentation and persistence, Momofuku nailed the recipe, and Instant Ramen was born.
In this delicious picture book biography, get to know Momofuku Ando, the inventor of Instant Ramen!
---
Nina: A Story of Nina Simone, written by Traci N. Todd & illustrated by Christian Robinson
Eunice Kathleen Waymon was born in a small town in North Carolina, and she loved music. As a child, she sang constantly and was encouraged and supported by her family and community to take music lessons. Eunice loved how powerful music could make her feel and decided to make a career out of it—Eunice became Nina Simone. As Nina's career took off, so did the Civil Rights movement. She found that her voice was just as powerful speaking out against racial injustice as it was singing.
Learn all about the iconic singer and civil rights activist Nina Simone in this jazzy biography!
---
Planting Stories: The Life of Librarian and Storyteller Pura Belpré, written by Anika Aldamuy Denise & illustrated by Paola Escobar
Pura Belpré arrived in New York City in 1921 and took a job working as a bilingual assistant in a New York Public Library. While working there, she shared stories of Puerto Rico with the children who'd come in. Her storytelling inspired many children and other storytellers to share their stories, and she paved the way for bilingual literature.
Get to know all about the life of Pura Belpré, New York City's first-ever Puerto Rican librarian, in this beautiful and inspiring picture book!
Check out our review of Planting Stories here!
---
Pride: The Story of Harvey Milk and the Rainbow Flag, written by Rob Sanders & illustrated by Steven Salerno
This inspiring and empowering picture book biography tells the story of Harvey Milk and the history and impact of the rainbow Pride flag. Harvey Milk was the first ever gay man to be elected to public office in California. Not only was he a politician, but he was also a social rights activist who fought for LGBTQ+ rights. In 1978, Harvey met designer Gilbert Baker, and together they created the iconic rainbow flag to represent the LGBTQ+ community!
---
Swish!: The Slam-Dunking, Alley-Ooping, High-Flying Harlem Globetrotters, written by Suzanne Slade & illustrated by Don Tate
This fun and energetic biography is all about the history of the iconic Harlem Globetrotters team! The Harlem Globetrotters are an American basketball performance team. If you think you're going to watch the team play an ordinary game of basketball, think again. The Harlem Globetrotters put on a show with tricks, and the team members are not just athletes—they're incredibly talented performers!
---
The Power of Her Pen: The Story of Groundbreaking Journalist Ethel L. Payne, written by Lesa Cline-Ransome & illustrated by John Parra
Ethel Payne had always been a storyteller. She wanted to tell stories that told the truth of the world and fought for social justice and civil rights. Her career as a journalist began as a reporter for her school newspaper in Chicago and took her all the way to Japan during World War II. She became the first African-American female journalist to make it to the White House briefing room where she wasn't afraid to ask tough, hard-hitting questions. Her contributions to journalism and her dedication to fighting for justice through truth earned her the nickname "First Lady of the Black Press."
Get to know Ethel Payne and learn all about her groundbreaking journalistic career in this empowering picture book!
---
The World Is Not a Rectangle: A Portrait of Architect Zaha Hadid, written & illustrated by Jeanette Winter
Growing up in Baghdad, Iraq, Zaha Hadid wanted nothing more than to build her own buildings and create her own cities one day. When she was old enough, Zana moved to London to follow her dreams and studied architecture at university. She opened her own studio and set to work designing the buildings she dreamed of. Though she faced a lot of adversity as a Muslim woman, she never let it get in the way of her dreams. With determination, Zana worked hard to make a name for herself as an architect, and it paid off—she's designed buildings all over the world.
Learn all about Zaha Hadid's career as an architect in this inspiring biography!
PRR Writer, Sadie Cruz