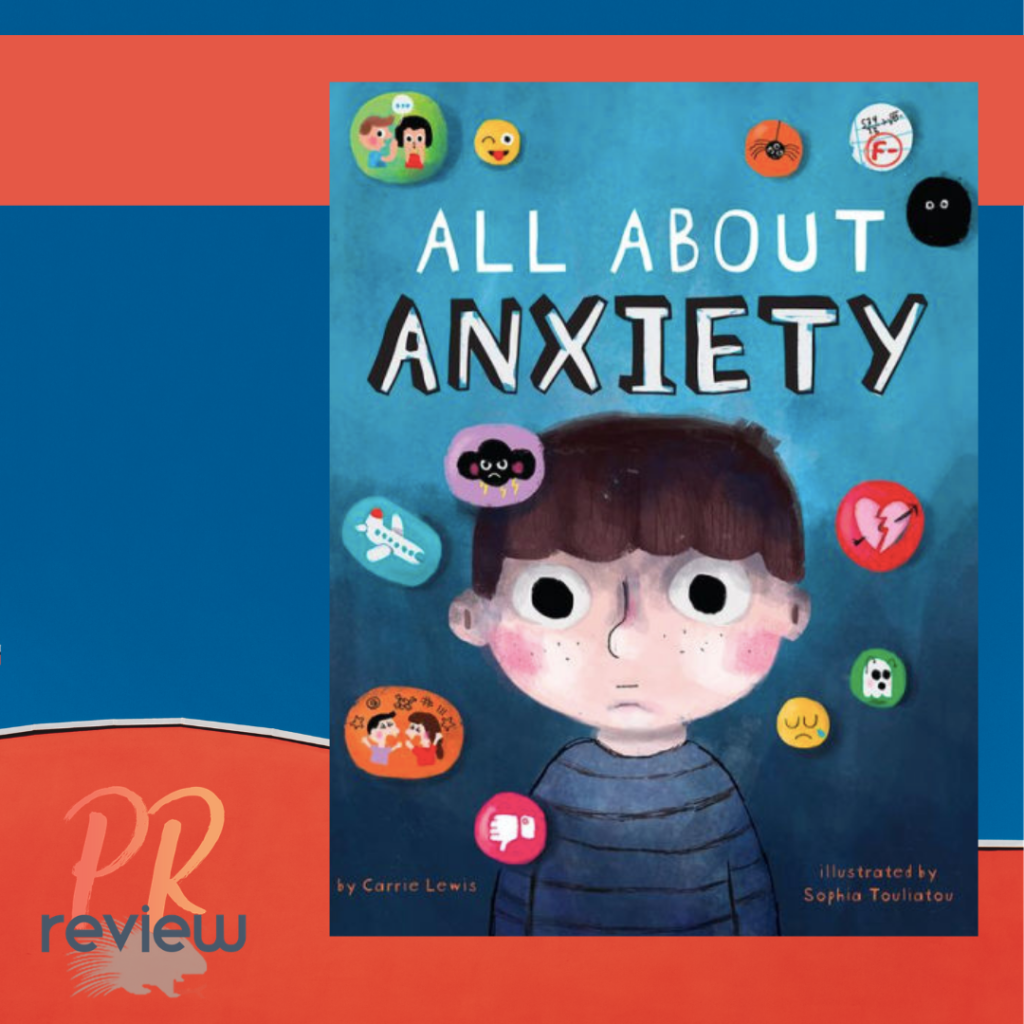 All About Anxiety by Carrie Lewis
Illustrated by Sophia Touliatou
Beaming Books, Releasing on July 7th 2020, 48 pages
Trigger Warnings: anxiety, discussion surrounding mental health
About the Author: "Carrie Lewis has edited and written more than 100 books for children. She has contributed to a wide range of educational resources and recently became a tutor working in the area of family learning. She is married with two children and plays the cello." (Bio provided by Beaming Books publicist) 
About the Illustrator: "Greek-born and Athens-based Sophia Touliatou has studied graphic design and works as an illustrator, doing mostly children's books, many of which have gained merits and awards. You can find her work in Greece, France, Italy, Germany, Spain, the United States and other countries around the world." (Bio provided by Beaming Books publicist)
Website: https://www.advocate-art.com/sophia-touliatou
Facebook: @SophiaTouliatouArtist 
"Whatever the reason for it, your anxiety is not your fault. Be kind to yourself, take care of yourself, and take steps to address your anxiety."
Everybody feels anxiety. Lewis uses this reminder to make readers aware that their anxiety is, in fact, valid. All About Anxiety presents itself as a toolkit for understanding and dealing with anxiety; it introduces anxiety (what it is and the different types) before getting into some of the causes that children may face, such as hormones and shifts in familial relationships. Lewis compares anxiety to a zoo filled with animals (thoughts) that sometimes need to be tamed. As readers are given tips on dealing with their anxiety, they are also told to remember their inner zookeeper and to ask for assistance if needed. In addition to providing useful self-care tips, All About Anxiety also lists several beneficial resources that children can use to seek help for their mental health. 
In a time of great uncertainty, Lewis' book is an exceptional resource for children. All About Anxiety touches on relevant issues, such as climate change, understanding the news, and navigating social media. As a very current-event conscious book, it does not shy away from mentioning the realities that many children face (e.g. poverty), nor the unrealistic expectations that social media can create (e.g. perfect bodies and lives). This book creates a safe space for children to begin to understand mental health and its importance. The "top tips" Lewis laces in throughout the story are great tricks from which children and adults alike can benefit. Not only does All About Anxiety raise mental health awareness, but it also includes entertaining illustrations. From an ax-wielding spider to neurotransmitters running across synapses, there are plenty of colorful and diverse illustrations which are appealing and also provide a visual aid to Lewis' explanations and examples. While this book mainly has children in mind for its audience, I would say that it is also a great resource—a much needed one too—for any individual seeking a better understanding of anxiety and how to manage it. 
All About Anxiety releases on July 7th 2020.
(Pine Reads Review was provided an ARC by Beaming Books in exchange for an honest review.)
PRR Writer, Kevin Sanchez
Pick up your own copy today!