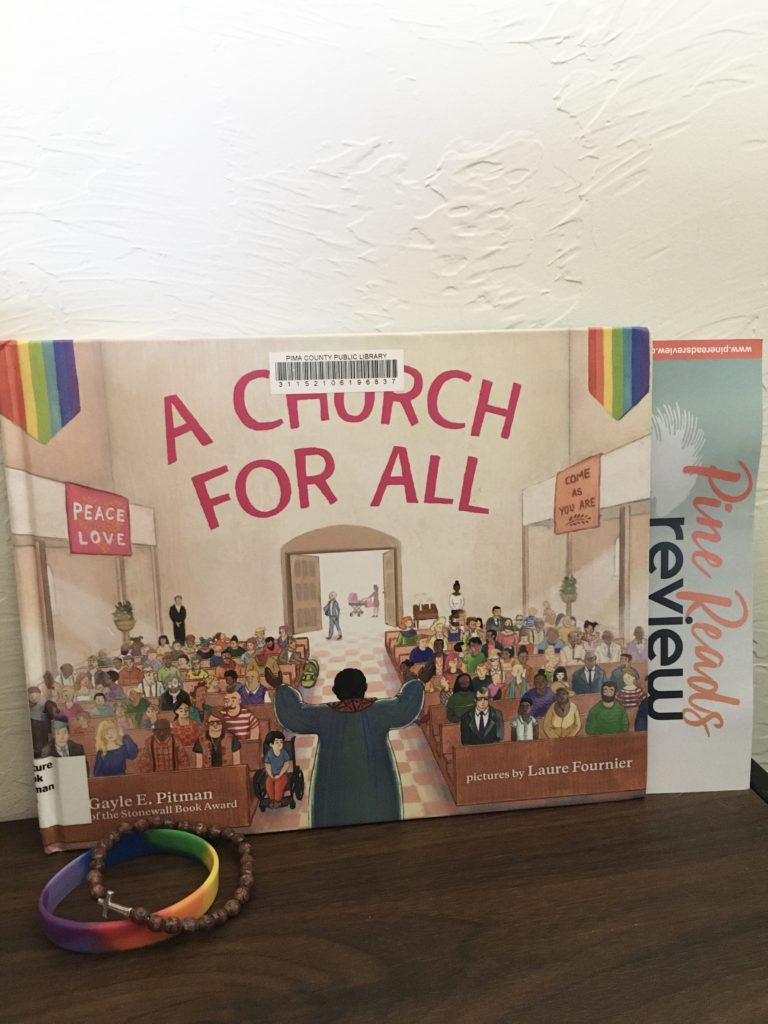 A Church for All by Gayle E. Pitman
Illustrated by Laure Fournier
Albert Whitman & Company, 2018, 32 pages
About the Author: Gayle E. Pitman is an award-winning author and professor at Sacramento City College. She debuted with her picture book This Day in June, which won the IRA's 2014 Notable Books for Global Society Award and the 2015 ALA Stonewall Award. She has written other books such as Feminism from A to Z and The Stonewall Riots: Coming Out in the Streets.
About the Illustrator: Laure Fournier studied at the Emile Cohl School of Art and later graduated from Swindon College in 2005. She has illustrated such books as Wake Up, City!, Cinderella, and My First Prayers.
"Candles glowing, Banners flowing…Come enter our church for all!"
It's Sunday morning and everyone is waking up. Families and friends of all kinds enjoy their breakfasts and the beautiful sunrise before heading out to church. They follow the bells up the hill to see a building with a cross and open doors. Here, people of all types and backgrounds are welcomed. This is a, "church for all."
Gayle E. Pitman has written a simple yet powerful children's book. A Church for All tackles serious LGBT and diversity issues in society by depicting a church that genuinely includes people no matter their sexuality, ethnicity and background. Laure Fournier's illustrations make this an accessible read for any young reader while Pitman's story will help foster much-needed community and inclusivity.
PRR Writer, Christopher Lee
Pick up your copy here!