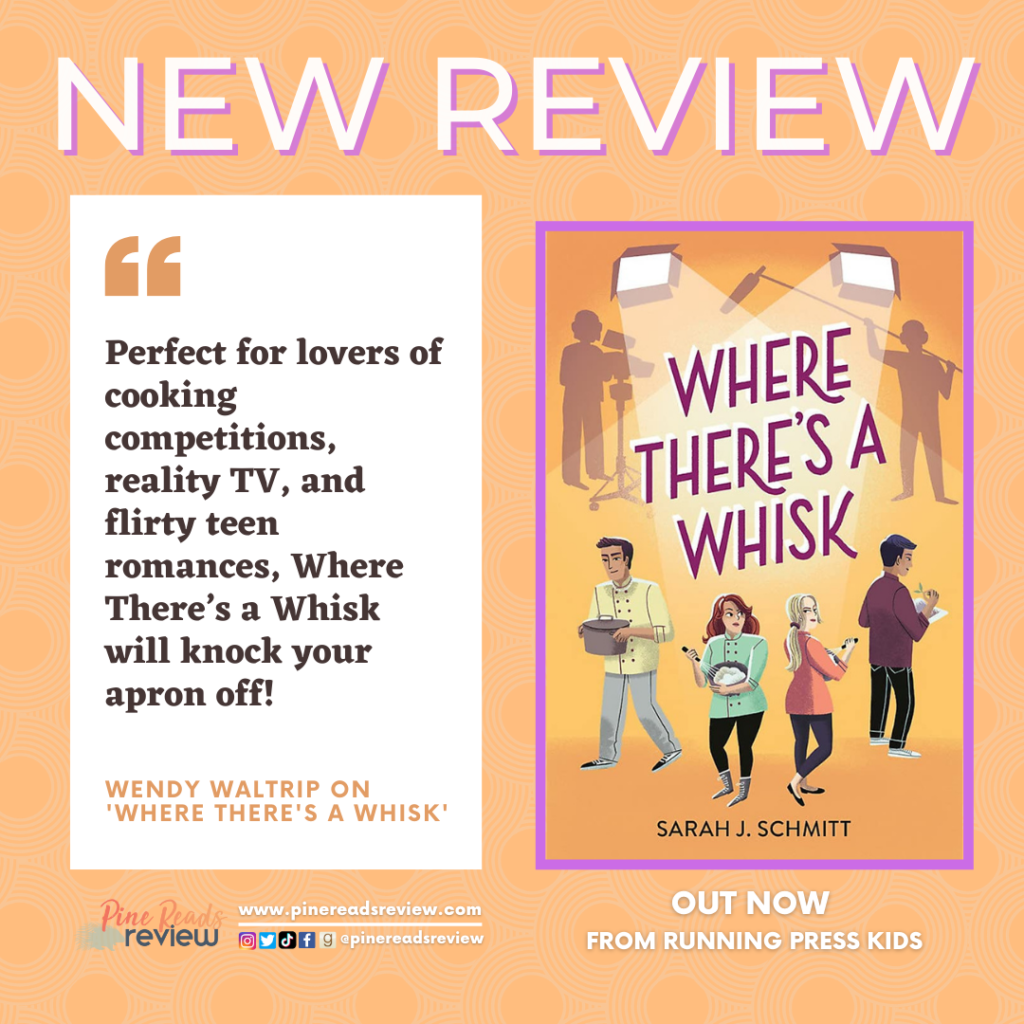 Where There's a Whisk by Sarah J. Schmitt
Out Now from Running Press Kids; 396 pages
Content Warnings: Moderately strong language, absentee parent (in jail), bullying, blood, classism
About the Author: "Sarah J. Schmitt, author of IT'S A WONDERFUL DEATH, is a former K-8 school librarian and Youth Service Professional for Teens at a public library. She has run after-school writing programs through local high schools and continues to teach writing to teens with her interactive school visits. Prior to immersing herself in the world of the written word, Sarah earned her Master of Education degree from Indiana University where she worked with recent high school graduates as they acclimated to college life. She's had the honor to serve on the William C. Morris Award Committee sponsored by ALA/YALSA and the Young Hoosier Book Award for Middle Grade Committee as part of the Indiana Library Association. She is currently serving on the Eliot Rosewater Indiana High School Book Award Committee (ILF). Sarah has taught classes at the Indiana Writing Center and presented workshops and presentations at Midwest Writers Workshop, the YALSA Symposium, and Children and Young Person Division (since renamed Youth Services Division) Conference. She lives near Indianapolis with her husband, two kidlets, and a cat who might be part ninja." (Bio taken from author's website.)
Find Sarah J. Schmitt on the following platforms:
---
"I feel like I'm in a dream, but this is all real—the competition, the opportunity, everything. It's not happening to someone on a screen but to me, right now."
When baker Peyton Sinclair is selected to compete on Food TV's newest cooking/reality television show, Top Teen Chef, it's the perfect opportunity for her to escape her dead-end waitressing job in Northern Florida. She's excited to compete for a full-ride scholarship to the American Culinary Institute, but when Peyton arrives on set, she realizes reality television doesn't have much, well, reality. From shady deals with the producer to fabricated storylines, she's in store for more than just cooking. And when Peyton's heart starts to get involved, she must decide what's real and what's scripted if she wants to stay in the competition and keep herself from getting burned.
Where There's a Whisk mixes together reality television, a cooking competition, and some good old-fashioned love to create the perfect recipe for a fun contemporary YA novel. Peyton is a fantastic protagonist who is so very relatable for teens struggling to find their way in the world. I loved the entire eclectic cast of characters, especially the eight teens competing for their futures. With unique personalities and cooking styles, I enjoyed getting to know every single one of them. Sarah J. Schmitt also does a brilliant job with the competition scenes, sprinkling in enough information about the cooking process to keep the reader from getting lost while simultaneously dunking it in enough tension that even I started to get nervous. This is the flawless cooking-show-turned-book I never knew I wanted. Perfect for lovers of cooking competitions, reality TV, and flirty teen romances, Where There's a Whisk will knock your apron off!
(Pine Reads Review would like to thank the publisher for providing us with an ARC in exchange for an honest review. Any quotes are taken from an advanced copy and may be subject to change upon final publication.)
PRR Assistant Director, Wendy Waltrip