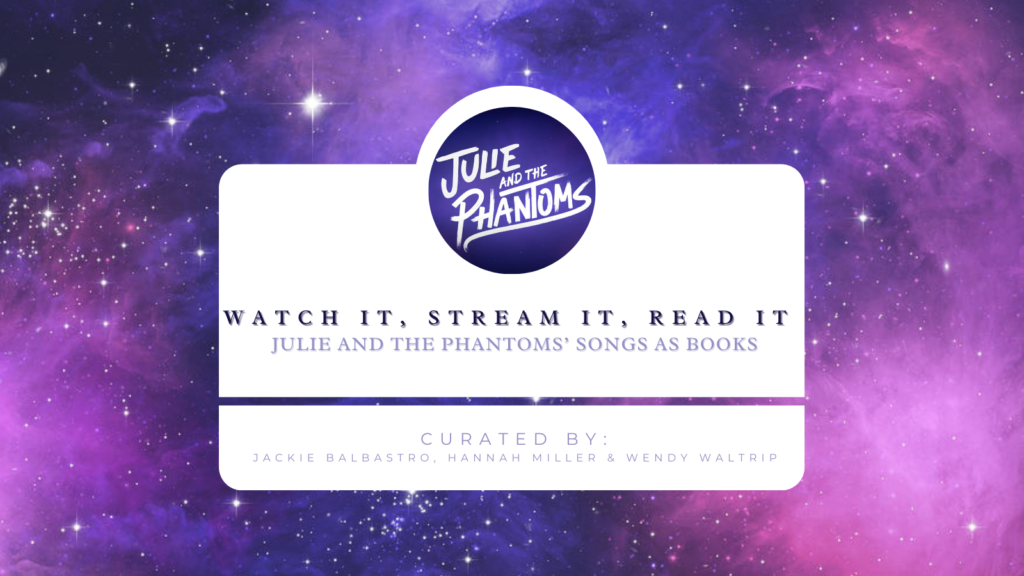 It's pretty much undeniable that Netflix's Julie and the Phantoms has stolen our hearts forever more. The story? Amazing. The characters? Beyond endearing. And the songs? Well, let's just say we've been listening to the season one soundtrack practically non-stop since the series aired. So, if like us, you can't get enough Julie and the Phantoms, then check out these books based on your favorite original songs from the show.
---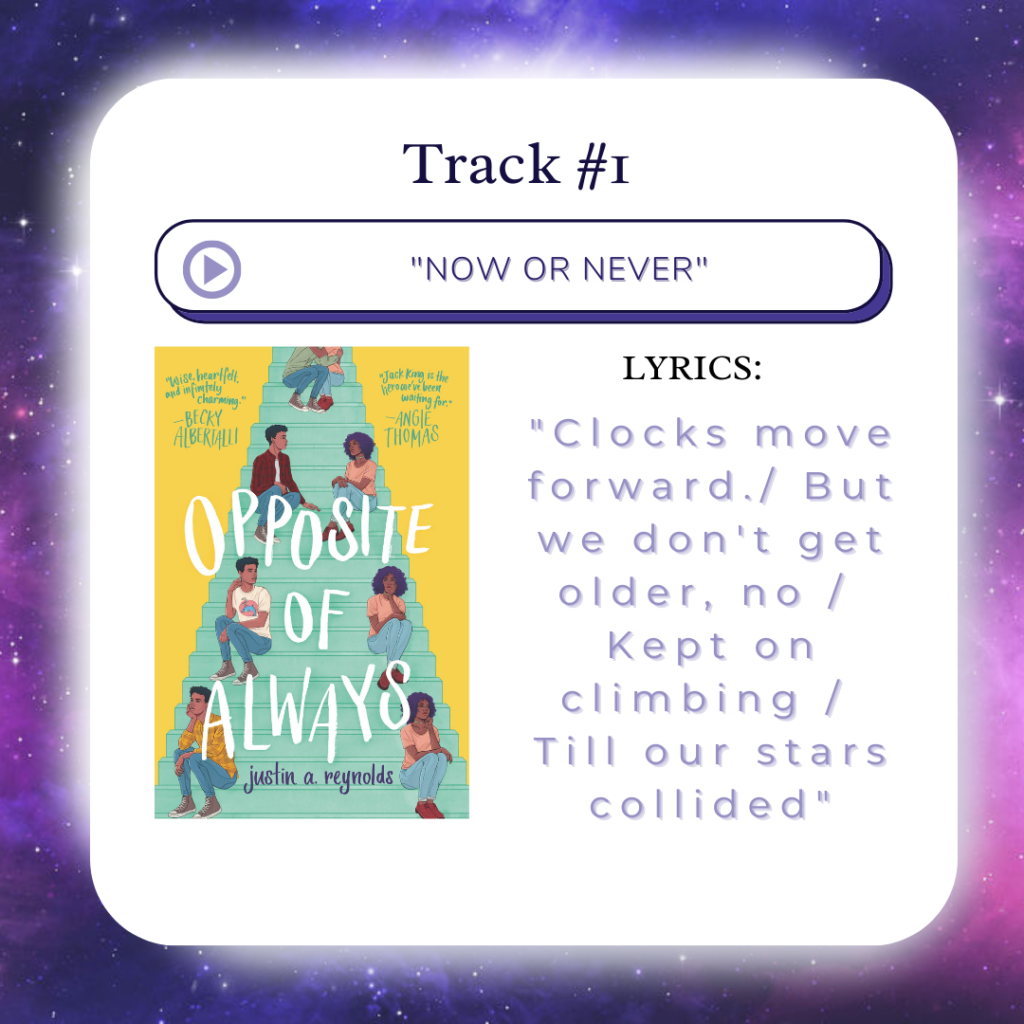 1. "Now Or Never" | Opposite of Always by Justin A. Reynolds
Lyrics: Clocks move forward / But we don't get older, no / Kept on climbing / Till our stars collided
With the same fast-paced energy this song exudes, Jack and Kate are running against a ticking clock. Best friends turned almost lovers, until Kate dies and Jack is given a second chance to save her. Thrust back in time to the night they first met, he rushes to rewrite the past. Pulled into their shared memories, Jack must live for the moment in his fight for love. With total Luke, Reggie, and Alex energy, it truly is "now or never."
---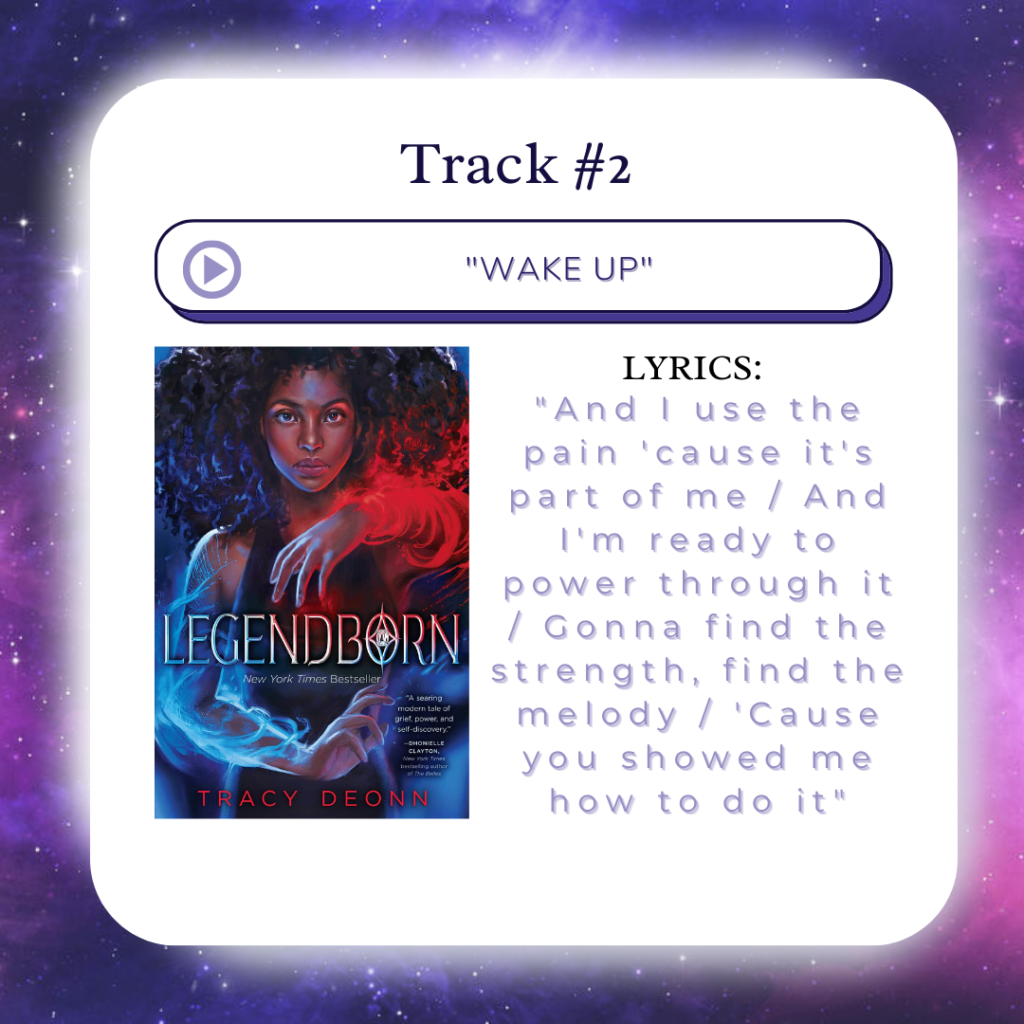 2. "Wake Up" | Legendborn by Tracy Deonn
Lyrics: And I use the pain 'cause it's part of me / And I'm ready to power through it / Gonna find the strength, find the melody / 'Cause you showed me how to do it
Just like Julie, Bree Matthew's story begins with the death of her mother in a strange accident, thrusting her into a fantastical world filled with secret societies, Arthurian legend, and family mysteries. In the midst of grief, both of these inspiring heroines fight to relight their inner spark and reconnect with those they've lost. With themes of empowerment, healing, and parental bonds, "Wake Up" is the perfect anthem for Tracey Deonn's award-winning YA fantasy.
---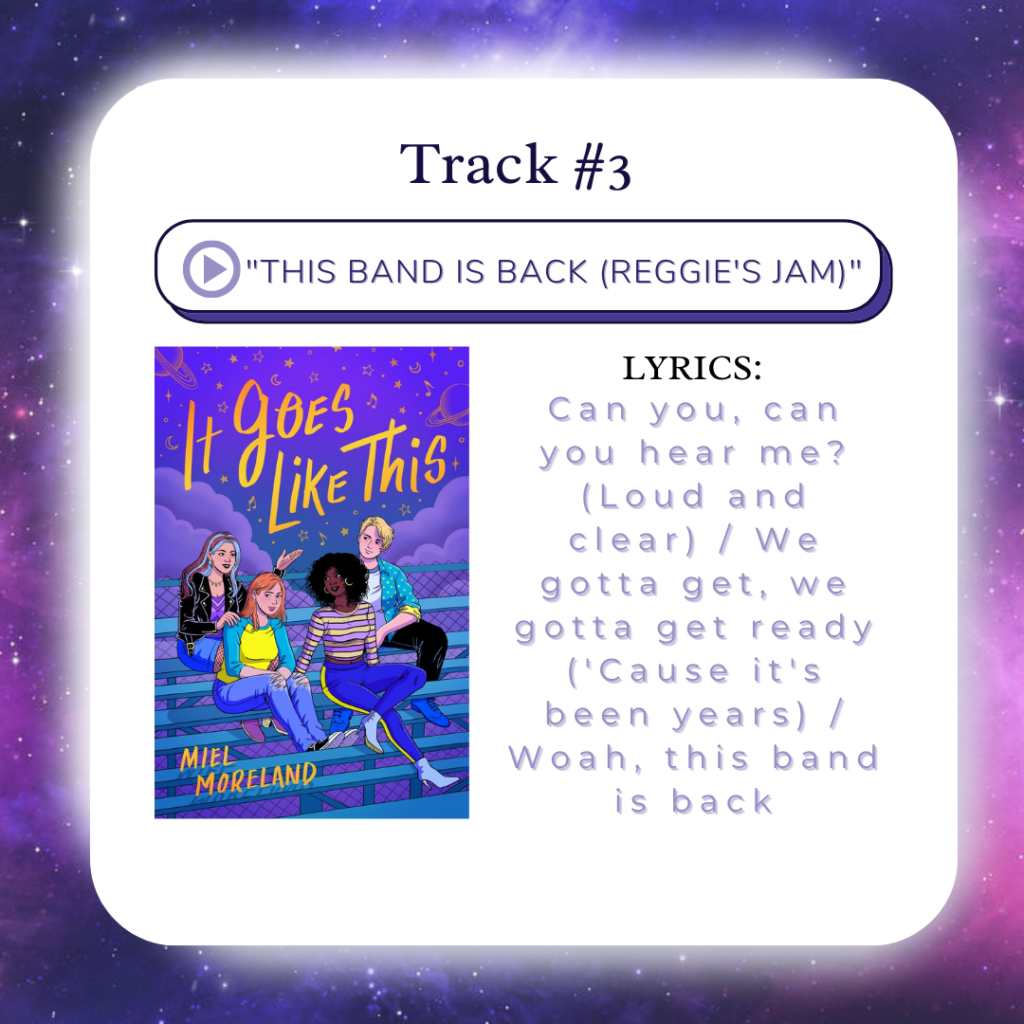 3. "This Band is Back (Reggie's Jam)" | It Goes Like This by Miel Moreland
Lyrics: Can you, can you hear me? (Loud and clear) / We gotta get, we gotta get ready ('Cause it's been years) / Woah, this band is back 
A highly anticipated summer release, It Goes Like This brings together four queer friends and bandmates, perhaps for one last time. The theme of second chances pairs this song beautifully with Moreland's novel. Her narrative and characters connect with Julie, Reggie, Luke, and Alex's found family, growing pains, romance, and the exhilaration of fame.
---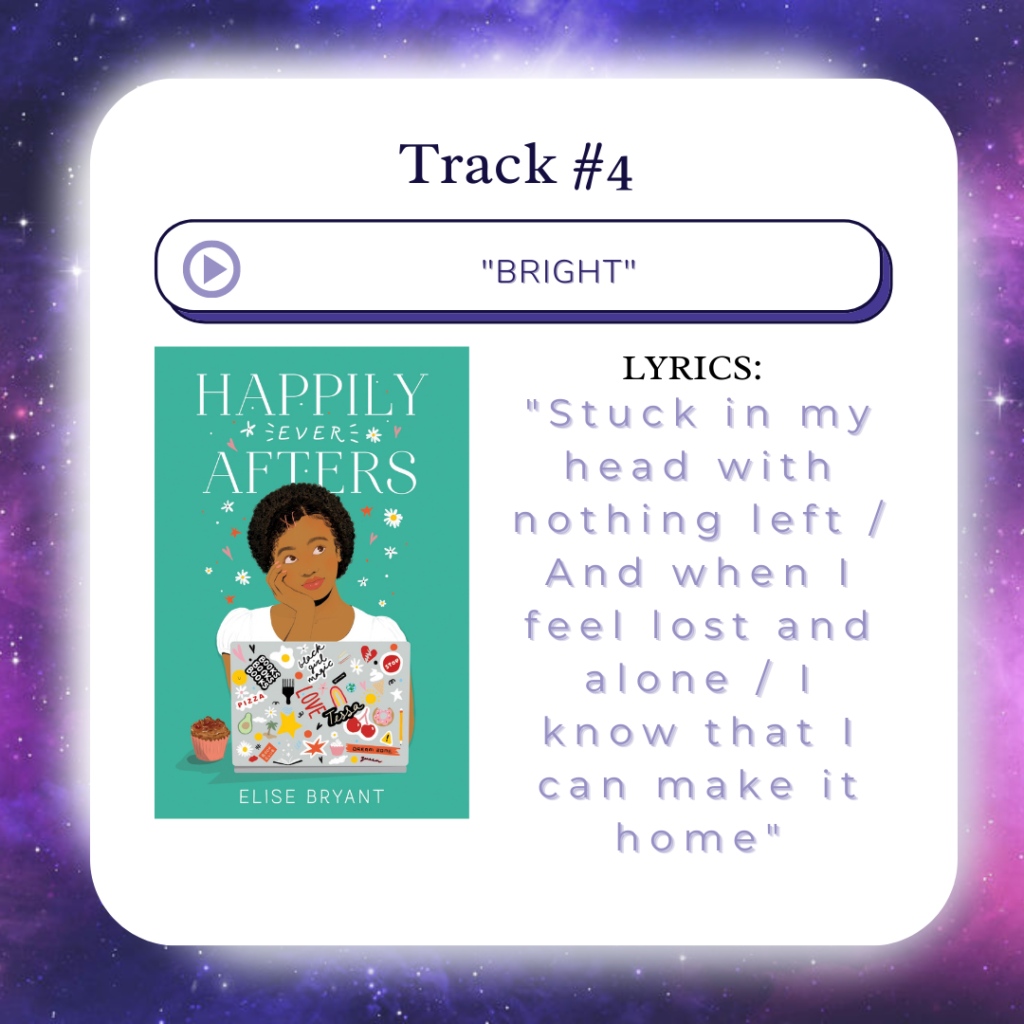 Lyrics: Stuck in my head with nothing left / And when I feel lost and alone / I know that I can make it home
Writing is everything for romance-lover Tessa Johnson. But when she's accepted into a prestigious art school and realizes that she has to show others the work she holds closest to her heart, the words that have always been there vanish. However, just as Julie finds the faith in herself to perform this thrilling number in front of a crowd, Tessa eventually discovers the confidence to let the world read her words…and boy, do they shine brightly! Full of romance on and off the page, yummy baked goods, and characters that leap into your heart, Elise Bryant's swoony and satisfying story is easy to fall in love with.
---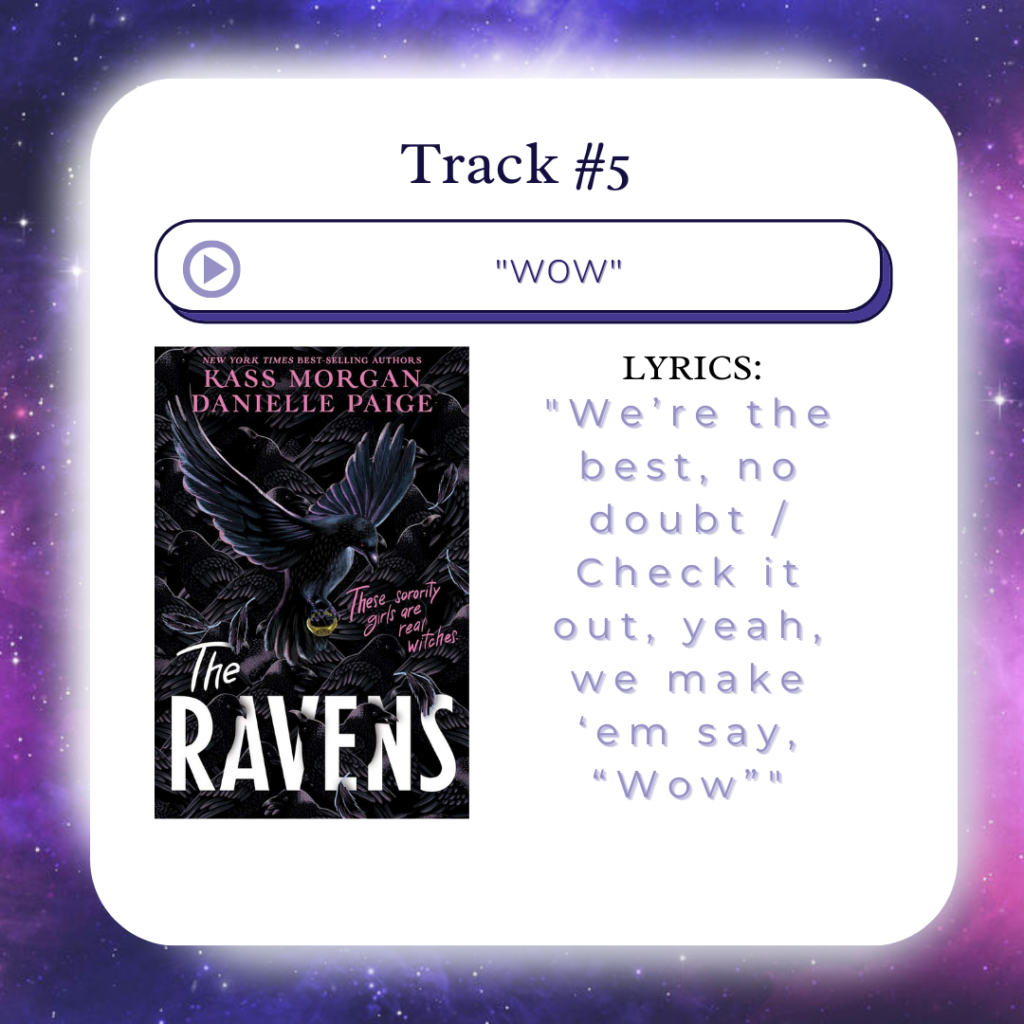 5. "Wow" | The Ravens by Kass Morgan and Danielle Paige
Lyrics: We're the best, no doubt / Check it out, yeah, we make 'em say, "Wow"
There's no doubt about it: the Kappa Rho Nu sorority of Westerly College makes everyone say "Wow!" Ambitious, smart, and beautiful, they're the most powerful girls on campus…literally. What most people don't realize is that they're also a coven of witches. The influential girls of Dirty Candy who sing this upbeat number also wow the school, although Julie and Flynn might use a different word to describe them. Magical, thrilling, and full of fierce female power, pick up a copy of Kass Morgan and Danielle Paige's spellbinding story today!
---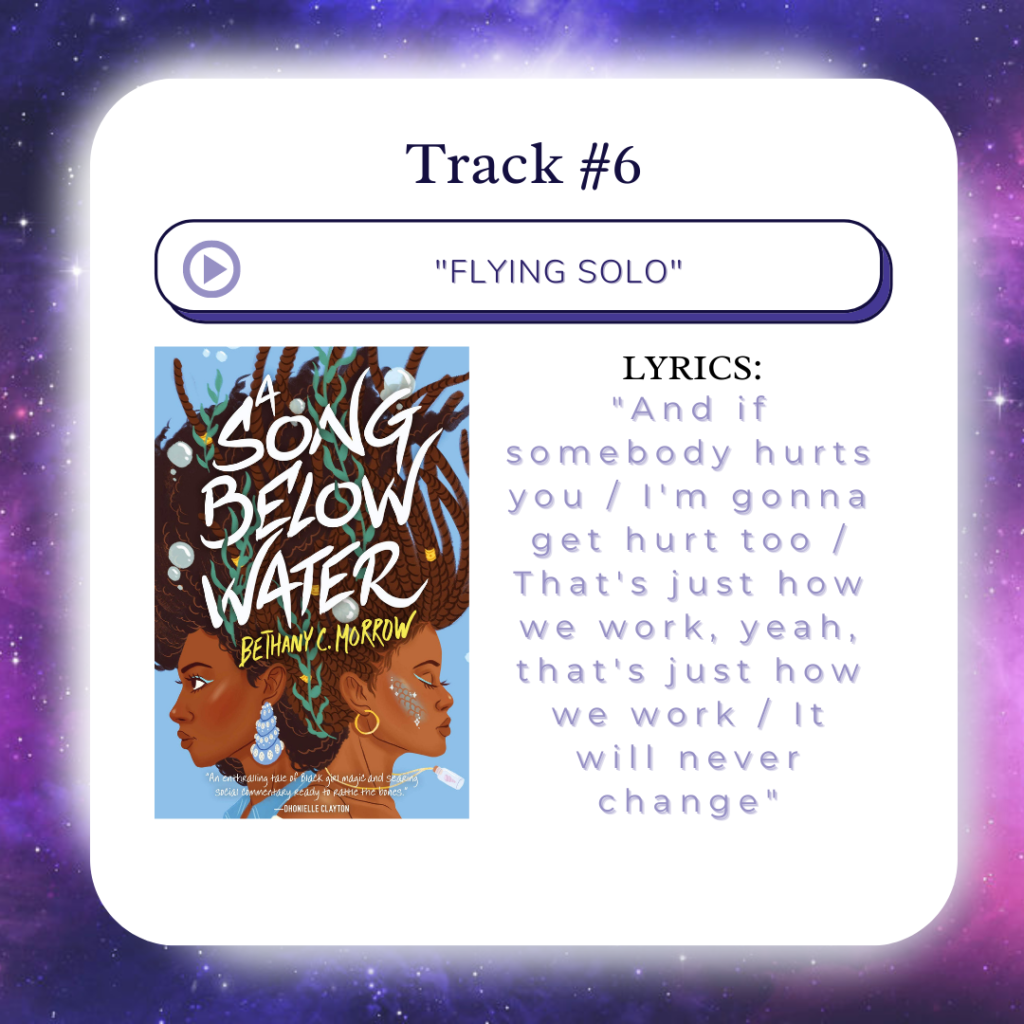 6. "Flying Solo" | A Song Below Water by Bethany C. Morrow
Lyrics: And if somebody hurts you / I'm gonna get hurt too / That's just how we work, yeah, that's just how we work / It will never change
Play-sisters and besties Tavia and Effie are one and the same—just like Flynn and Julie. Set in a magical world hidden within modern day Portland, filled with discrimination and misogynoir, they've got each other's backs no matter what. Morrow takes a stand for Black girls and sisterhood, and we love to see it. For fans of this empowering tale, "Flying Solo" is totally anthemic of Tavia and Effie's close-knit bond. 
---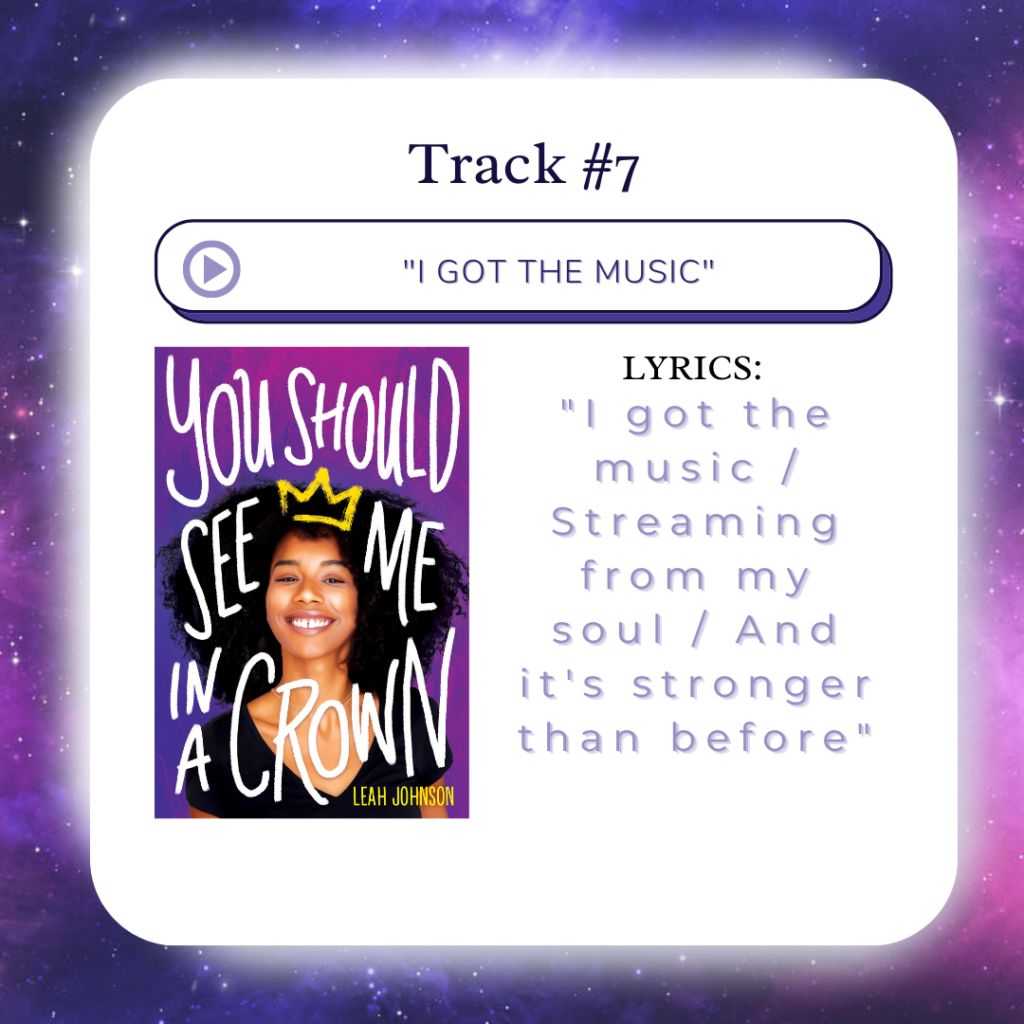 Lyrics: I got the music / Streaming from my soul / And it's stronger than before
Trust us when we say that You Should See Me in a Crown has big "I Got the Music" vibes. Not only is Liz Lighty a talented musician in her own right, but the entire book just feels like one fabulous, impromptu dance party. With the same star-bright spirit as Julie's symphonic daydream, Leah Johnson's Stonewall Honor Book will dazzle and inspire readers for years to come.
---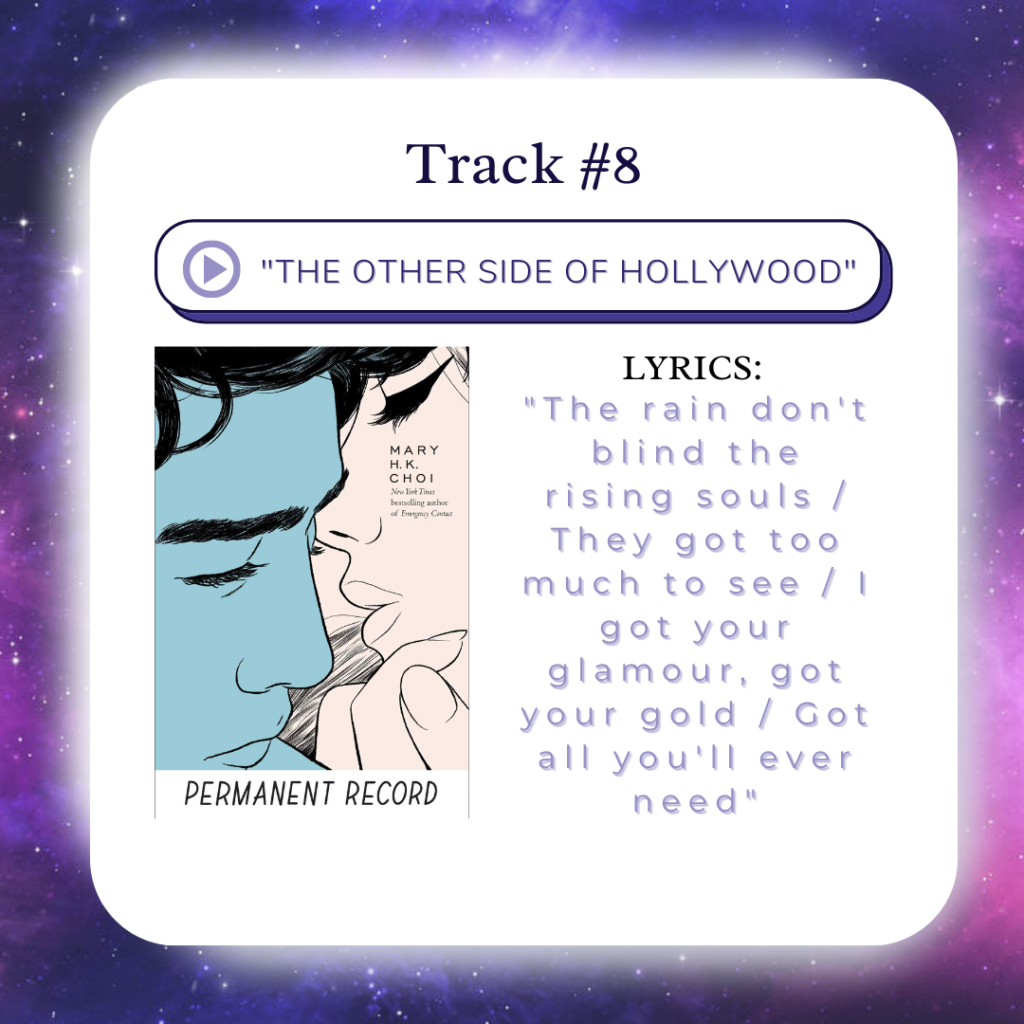 8. "The Other Side of Hollywood" | Permanent Record by Mary H.K. Choi
Lyrics: The rain don't blind the rising souls / They got too much to see / I got your glamour, got your gold / Got all you'll ever need
Former Disney starlet and pop icon Leanna Smart meets snack connoisseur and college dropout Pablo Neruda Rind one late night in a New York City bodega, and the two strike an instant connection over their differences. In a quiet story about exploring the harsh limelight and everyday struggle, Choi's characters speak volumes about the ways we sometimes try to force happiness— especially when it comes nicely packaged as your ideal soulmate. Caleb's over the top performance perfectly aligns with how the extravagant lifestyles of Lee and Pablo can feel both exhilarating and utterly hollow.
---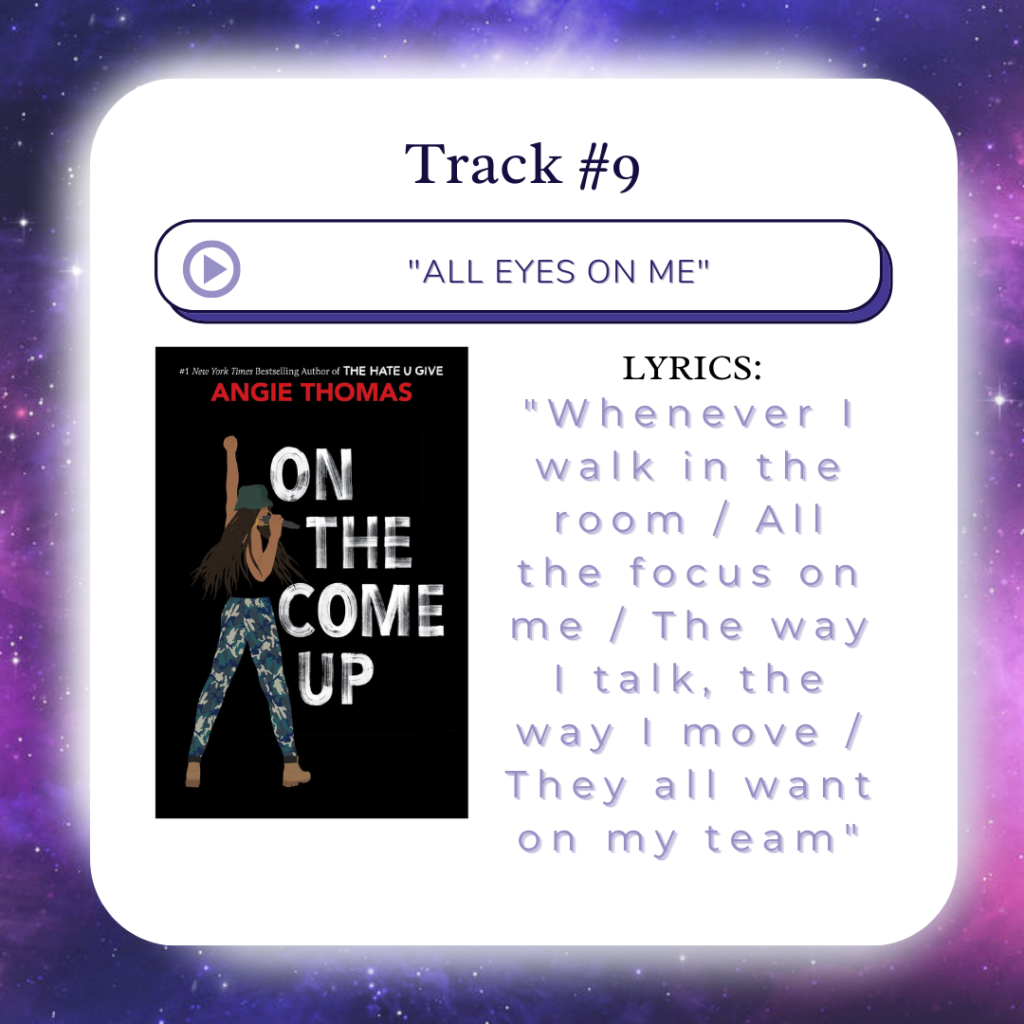 9. "All Eyes on Me" | On The Come Up by Angie Thomas
Lyrics: Whenever I walk in the room / All the focus on me / The way I talk, the way I move / They all want on my team
Determined to become one of the greatest ever, 16-year-old Bri Jackson is on the path to fame. Inspired by Biggie and her talented father, both gone too soon, Bri is intent on bettering her family's living conditions and finding success. She's confident, temperamental, and most of all, gifted—which makes her someone to beat. But Bri is not backing down without a fight. This song is a perfect tie to Thomas' Hip-Hop infused masterpiece, especially because it shares the same song name from one of her favorite rappers, Tupac's "All Eyez On Me."
---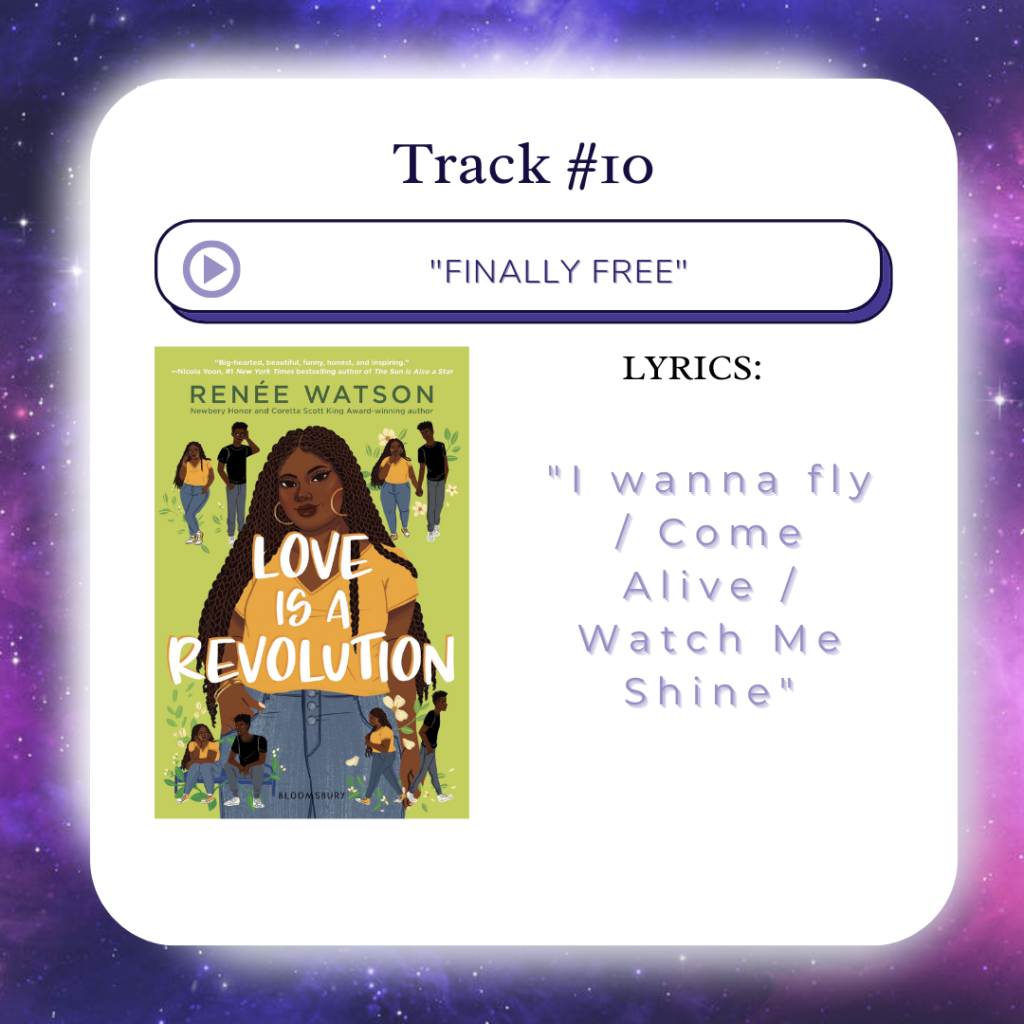 Lyrics: I wanna fly / Come alive / Watch me shine
During what should've been the perfect summer, Nala Robertson goes from pretending to be an active member in her community, and someone she doesn't even recognize, to a girl radiating self-love like her "heart's on fire." In this coming of age story, Nala learns to be her truest self and take pride in her "spark" —the unconditional love she shares with her family, cousin-sister-friend Imani, and Tye, the boy who has her heart. The freedom her character gains by exploring her identity outside others' expectations creates a magical and inspiring shift that strongly resonates with Julie's exuberant track.
---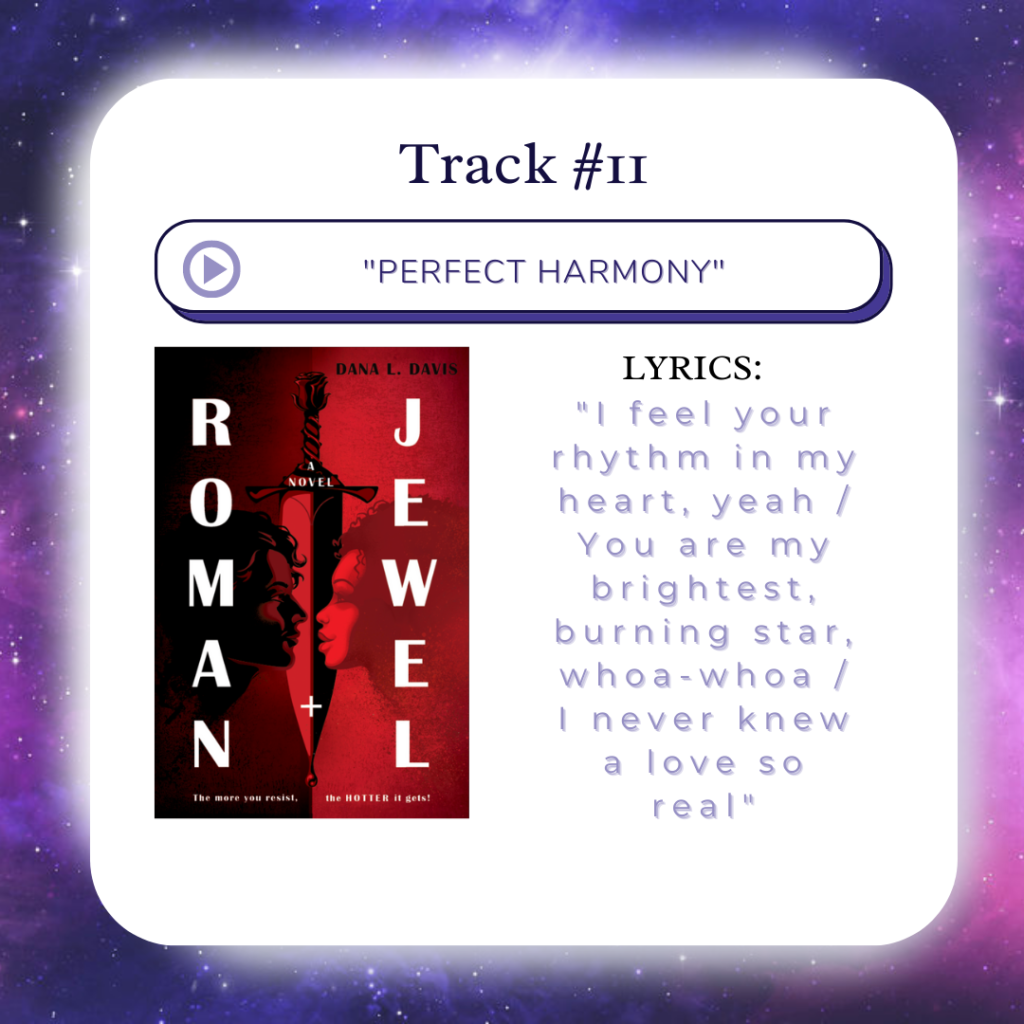 11. "Perfect Harmony" | Roman and Jewel by Dana L. Davis
Lyrics: I feel your rhythm in my heart, yeah / You are my brightest, burning star, whoa-whoa / I never knew a love so real
If you can't get enough of Julie and Luke's electric chemistry, then don't miss Dana L. Davis' showtunes-infused YA romance, Roman and Jewel. After landing an understudy role in a modern Hip-Hopera reimagining of Romeo and Juliet, 16-year-old Jerzie Jhames falls head-over-heels for the charming Zeppelin Reid, who just so happens to be playing Roman. Sparks fly both on-stage and off as these star-crossed teens navigate family, fame, and young love.
---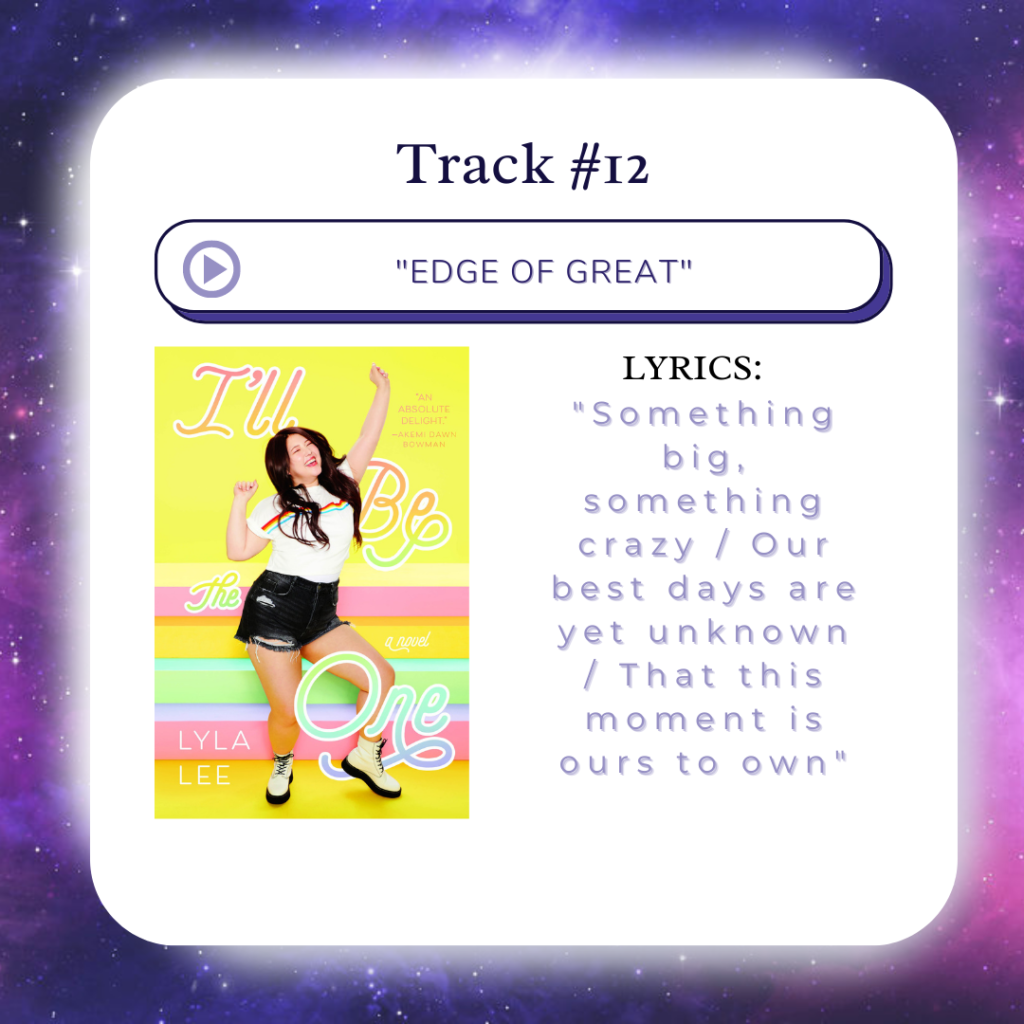 12. "Edge of Great" | I'll Be the One by Lyla Lee
Lyrics: Something big, something crazy / Our best days are yet unknown / That this moment is ours to own
There's no denying that Skye Shin has talent, even if the fatphobic beauty standards of the Korean entertainment industry tell her that the spotlight is no place for a girl like her. So when the opportunity to show off her amazing skills arrives in the form of a televised competition to become the next K-pop sensation, Skye won't let anyone stop her from pursuing her dreams. Bursting with personality and effervescent charm, I'll Be the One is a fantastic, body-positive rom-com that will inspire readers to believe in their own greatness no matter what.
---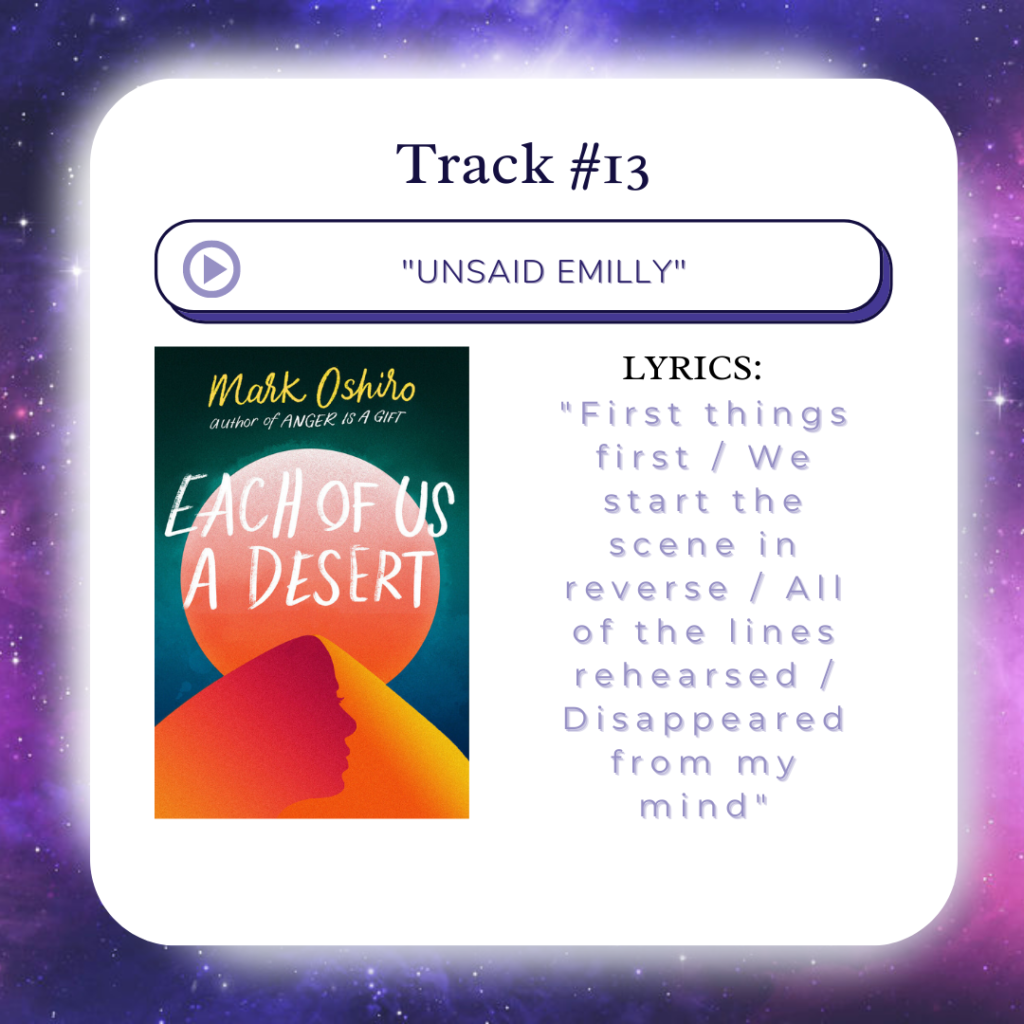 Lyrics: First things first / We start the scene in reverse / All of the lines rehearsed / Disappeared from my mind
From the poignant tone of "Unsaid Emily," to the lyrical content and remorseful themes, so much of this Julie and The Phantoms tune exudes the emotion of Oshiro's tale, Each of Us a Desert. Xochitl is a 16-year-old cuentista burdened with absorbing the stories of others to alleviate them from their memories, guilt, and secrets. To free herself from her power, Xo treks across the desert and connects with friends and foes along the way—even finding love. However, with every story Xo must tell, she loses a piece of herself as everything she's told "disappears from [her] mind." Overall, both Luke's somber ballad and Oshiro's artistic masterpiece are sure to make you bawl!
---
14. "You Got Nothing to Lose" | These Violent Delights by Chloe Gong
Lyrics: You know you wanna take a chance and be a little bit bad / Ain't nothing quite like living on the edge, so get ready to go / I'm chasing down a thrill, and looking fit to kill
After returning home to reclaim her title as heir of the Scarlet Gang, 18-year-old Juliette Cai wants nothing to do with Roma Montagov, her ex-lover and successor to rival gang, the White Flowers. But when mysterious occurrences arise in Shanghai, threatening the safety of both their people, Juliette and Roma are forced to team up to save their city. Full of 1920s debauchery, murderous monsters, and reluctant alliances, Chloe Gong's thrilling retelling of Romeo and Juliet hums perfectly to the tune of "You Got Nothing to Lose."
---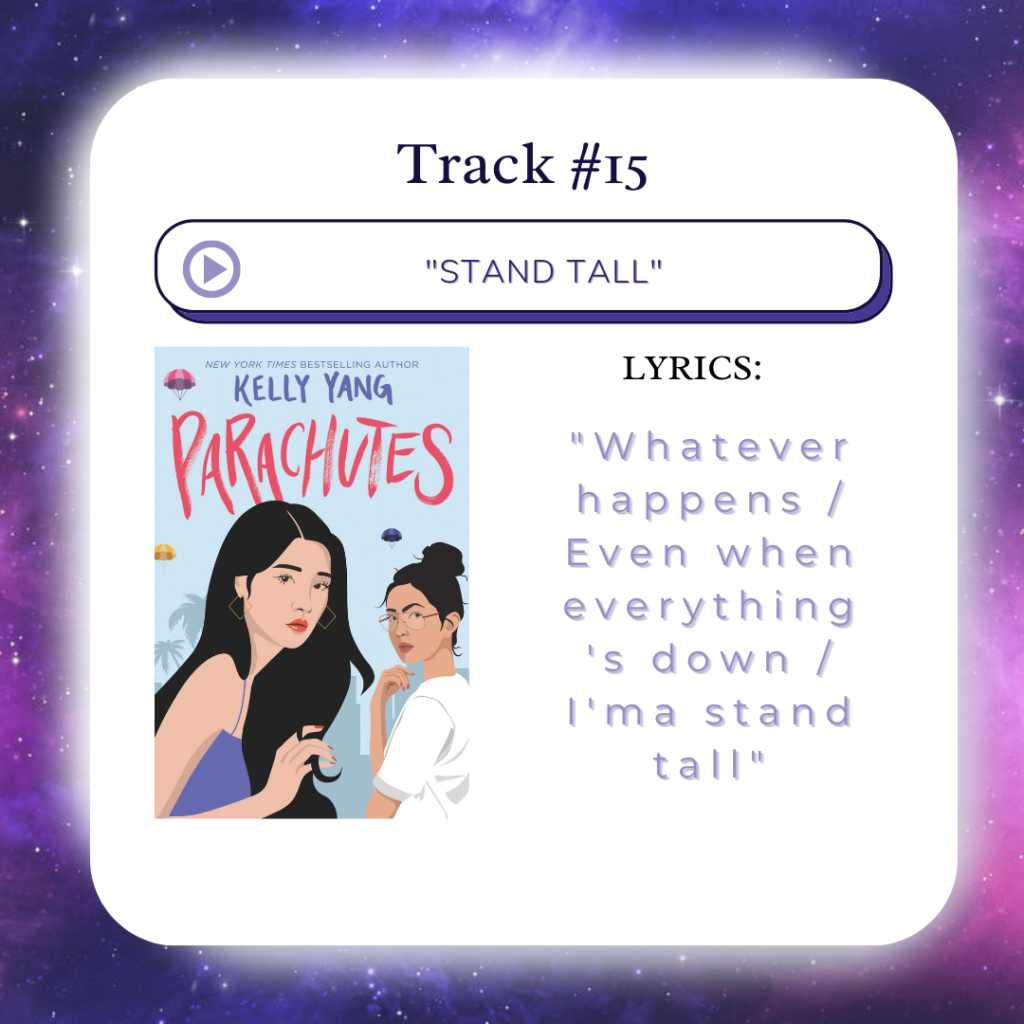 15. "Stand Tall" | Parachutes by Kelly Yang
Lyrics: Whatever happens / Even when everything's down / I'ma stand tall
Content Warning: Mention of sexual assault
Kelly Yang examines rape culture, power, and complex female friendship in her debut YA novel, Parachutes. After her parents enroll her in an American high school, Claire is forced to leave her privileged life in Shanghai behind, putting her on a collision course with host sister and debate-team star Dani, who is determined to achieve her dreams despite financial insecurity. Each confronted by life-altering events, Claire and Dani must navigate trauma and fight to find their voices amidst pervasive corruption and discrimination. Just like Julie's triumphant anthem, this inspiring story will empower readers to stand tall and speak up, even when all seems lost.
---
PRR Writer, Jackie Balbastro & PRR Assistant Directors, Hannah Miller & Wendy Waltrip