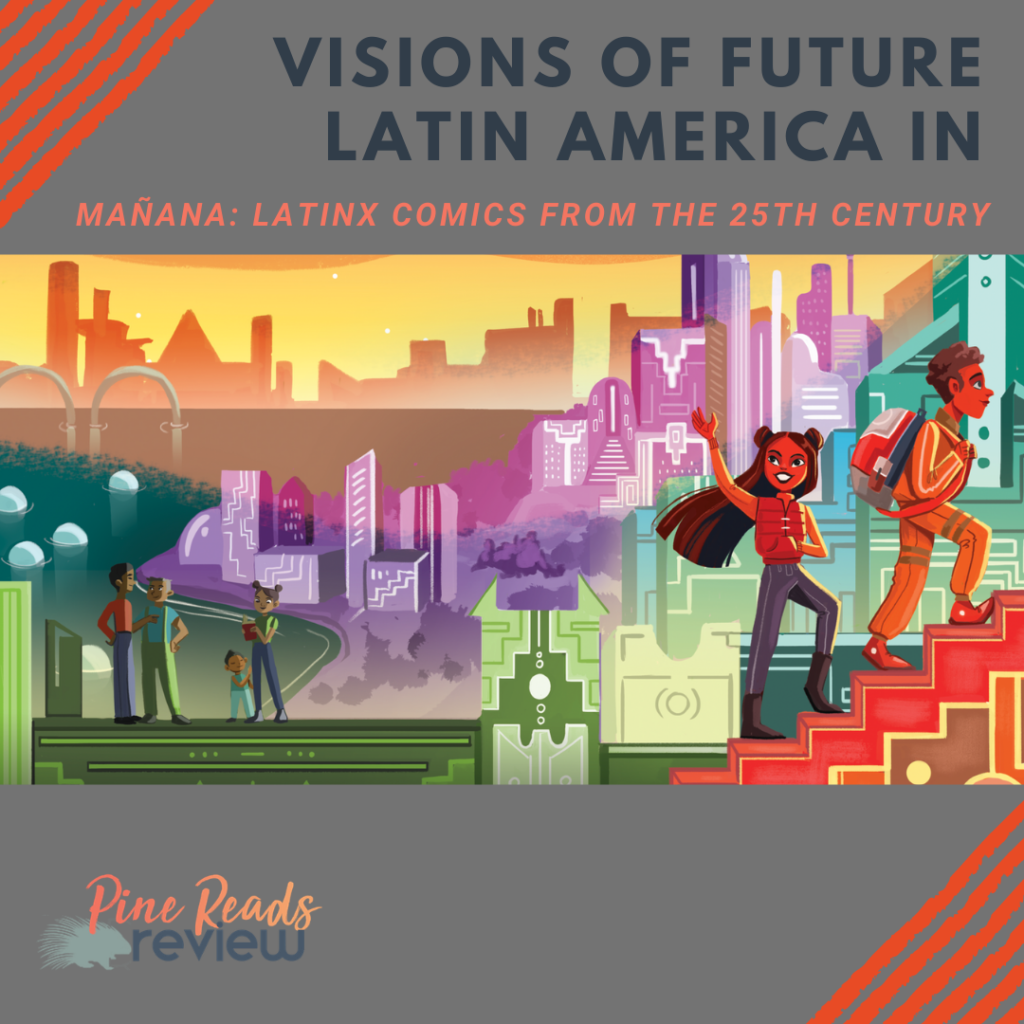 (Blog image: illustration taken from MAÑANA's Kickstarter website.)
Try to picture the world 20 years in the future.
It's probably easy to imagine that things won't be too drastically different than they are now. 20 years ago, I could speculate that the year 2020 might have flying cars—but the tire tracks in my driveway prove that two decades did not create utopia. Now, try to imagine what society might be like in another 400 years. It is slightly more difficult to picture that world, right? Well, for the writers and illustrators contributing to MAÑANA: Latinx Comics From the 25th Century, that vision is well-imagined. Published by Power & Magic Press, MAÑANA is a forthcoming anthology of sci-fi comics all set throughout Latin America in the 2490s. This anthology features 27 young-adult stories and illustrations created by 50 Latinx creators.
In order to bring the project to fruition, Joamette Gil (Cartoonist and Founder of P&M Press) created a Kickstarter in late July of this year. With a goal of $49,000 to fund the project, MAÑANA quickly gained backers. After running for a month, not only did the campaign meet their goal, but they exceeded it! MAÑANA raised over $75,000 with the help of 1,745 contributors, allowing the project to meet some of their stretch goals including raising the creator pay per page and translating the anthology into Spanish. In other words, thanks to many generous contributions, Latinx creators are receiving an even better rate of pay and will be able to share their work with an even larger audience, including some of their own family who may not speak English. These aforementioned creators include:
A. Cole and Fawn Prince • Alberto Rayo and Sebastian Carrillo • Alex Hernandez and Jemma Salume • Andres D. Bravo • Ashley Gallagher and Mar Julia • Desiree Rodriguez and Naomi Franquiz • H. Pueyo and Dante Luiz • Hernán Guarderas and Rosa Cólon Guerra • Jamila Rowser and Maddi Gonzalez • Joamette Gil (editor) • John J. Pérez and Beli de la Torre • Juliette G.M.M. López • Julio Anta and Anastasia Longoria • Kat Fajardo • Kayla Moore and Yury Guzman • Leonardo Faierman and Richard Zela • Malka Older and Gabriela Maria Palomo • Matías Julio and Fanfi • Mirelle Ortega (cover) • Omar Morales and Nic Touris • Paloma Hernando and Gabriela Gutiérrez • Rico Taveras and Lonnie Garcia • Ryan Estrada and Ana Hinojosa • Sylvia Artiga and Andrea Rosales • Taiyari • Terry Blas and Andrea Rosales • Tristan J. Tarwater and Molly Mendoza • Victor Santiago and Rodrigo Reyes Rico. (Names and links taken from MAÑANA's Kickstarter website.)
With Latinx Heritage Month coming up (September 15 – October 15) there is no better time to make note of forthcoming works from Latinx creators, as well as works including Latinx characters. What began as President Lyndon Johnson's celebration of Hispanic culture, histories, and contributions, which he cemented in Proclamation 3869, has since grown into an entire month of recognizing Latinx voices and lives. MAÑANA is a great example of a medium through which Latinx work is recognized; the anthology is not only written and illustrated by Latinx creators, but also includes Latinx characters who explore future Latin America in a variety of imaginings (anywhere from post-apocalyptic to utopic).
Now that this project is fully funded, I look forward to its publication (approx. Spring 2021) and cannot wait to see how the Latin America of the 2490s is brought to life.
For more information about the campaign and/or to pre-order your copy of MAÑANA, please visit the MAÑANA Kickstarter website here or the Power & Magic Press website here.
PRR Writer, Kevin Sanchez