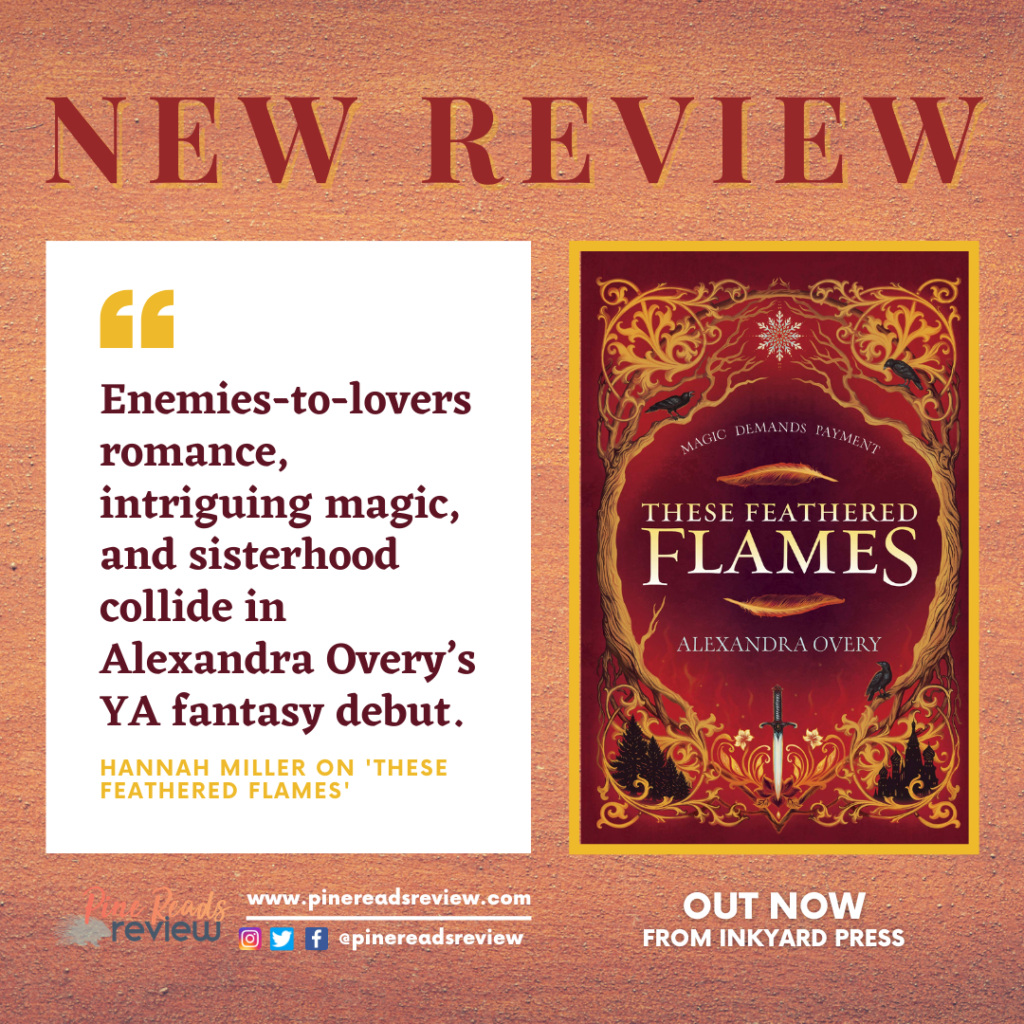 These Feathered Flames by Alexandra Overy
Inkyard Press; 2021; 496 pages
Content Warning: injury by fire (burning), death of a parent, emotional and physical abuse, on-page death, fantasy violence
Author Bio: "Alexandra was born in London, England. She lived there until she was 21, when she moved to Los Angeles to attend UCLA to study history. She went on to complete her MFA in screenwriting, also at UCLA. Ever since she was little she has loved being able to escape into another world through books. She's been writing as long as she can remember, everything from a screenplay about a stolen Gameboy, to the memoir of the youngest evil overlord ever, to novels about murderous princesses. She still lives in Los Angeles, and when she's not working on a new manuscript or procrastinating doing work, she can either be found obsessing over Netflix shows, or eating all the ice cream she can." (Bio taken from the author's website) 
Find Alexandra Overy on the following platforms:
---
"They'd been only ten, she and her sister, but that was the age their paths were to be determined. That was the magic of this land. Twin heirs, one destined to be queen, one destined to be the Firebird. Both needed for the queendom to survive."
Twin sisters Asya and Izaveta are destined for greatness: one was born for the throne and one to inherit the ancient magic of the Firebird. As legend dictates, the sisters parted ways at a young age, each forced to prepare for their respective role. Trained by her resolute aunt, Asya fears the fiery power burning inside her, and the terrible punishments she will be duty-bound to enact as the next Firebird. Within the walls of the palace, Izaveta lives in the shadow of her cold and relentless mother, the current queen of Tourin. The two sisters couldn't be farther apart, but when their mother suddenly passes away, Asya and Izaveta are brought back together once more. As a new Firebird and queen rise side-by-side, the twin princesses must deal with shifty court politics, the fading magic of their land, and their mother's mysterious death.
Enemies-to-lovers romance, intriguing magic, and sisterhood collide in Alexandra Overy's YA fantasy debut, These Feathered Flames, a queer retelling of the Russian folktale, "The Firebird." Asya and Izaveta are complicated characters that I couldn't help but root for at every turn. The former is a reluctant Chosen One whose dangerous power makes her question where she ends and the Firebird begins. Within the world of These Feathered Flames, magic comes with a price, and when that price is not freely given, Asya herself must collect it by whatever means necessary. Through her character arc, Overy interrogates themes of power, duty, and morality with honesty and a sharp edge. Readers will be left wondering if, when the flames settle, there will be anything human left of Asya—or if she will become the monster everyone else believes her to be. Izaveta is equally compelling, though in different ways. Raised to never feel good enough for her mother, she's driven to prove herself by outsmarting her opponents; and while she may project the image of a pristine ruler, behind the mask, Izaveta is also dealing with her own demons. The intricate dynamic between these two heroines lies at the center of this story, serving as its fiery, beating heart. Epic and emotional, These Feathered Flames is not to be missed!
(Pine Reads Review would like to thank NetGalley and the publisher for sending us an ARC in exchange for an honest review. Any quotes are taken from an advanced copy and may be subject to change upon final publication.)
PRR Assistant Director, Hannah Miller