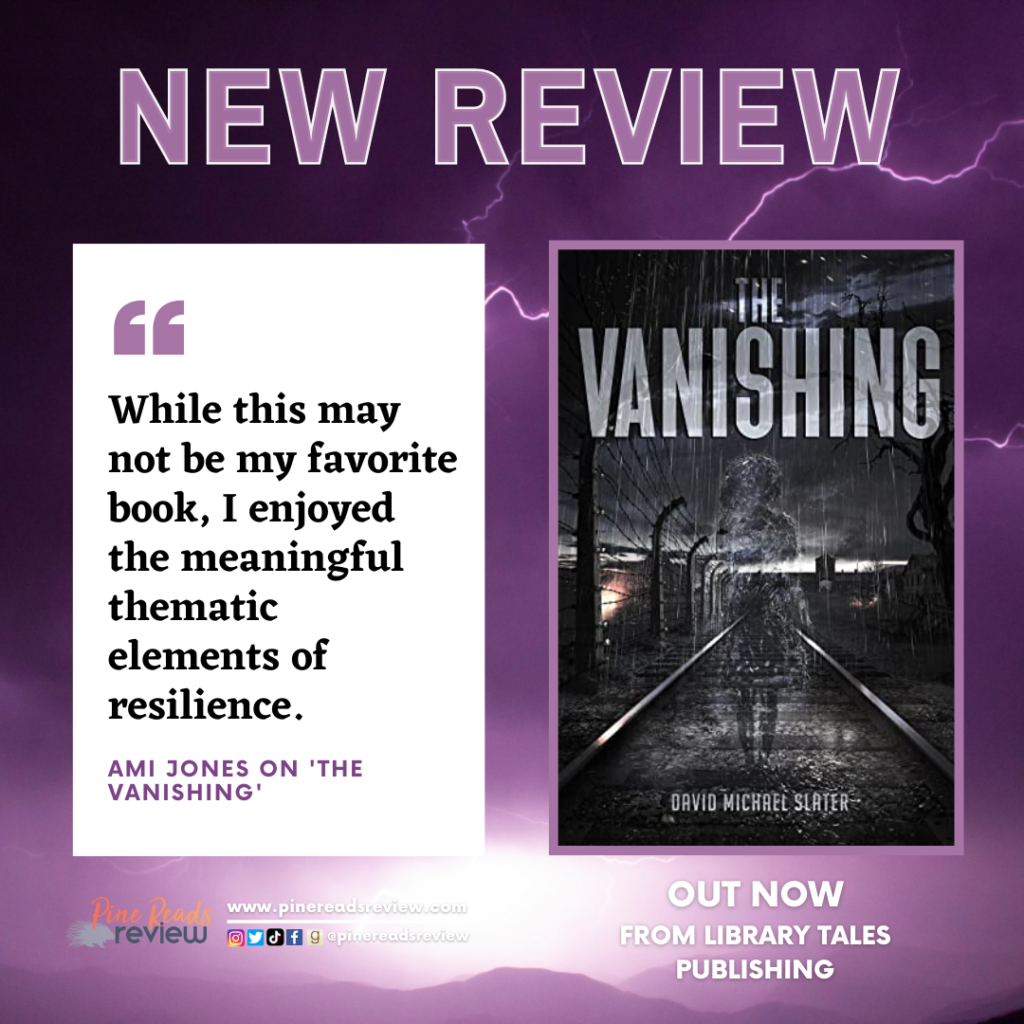 The Vanishing by David Michael Slater
Coming September 29, 2022 from Library Tales Publishing; 191 pages
Content Warnings: Holocaust, sexual assault, graphic violence, antisemitism, gun use, death, torture
About the Author: David Michael Slater is an acclaimed author of books for children, teens, and adults. He teaches in Reno, Nevada, where he lives with his wife and son. (Bio taken from author's website)
Find the author on the following platforms:
---
"The only truly dead are those who are forgotten."
Sophie Siegel wakes up one morning excited to become the Top Student of her class in recognition of all the hard work that she has done. But when she goes to tell her mom, she finds her mother sewing yellow Stars of David onto all of her and her neighbors' clothes. Rather than becoming Top Student, she is reprimanded and eventually barred from her school simply for being Jewish. The Vanishing follows Sophie's journey through the Holocaust. After watching her parents be brutally murdered, she finds that she has become invisible. As the rest of her neighbors are hauled away to a concentration camp, she continues to go unnoticed. She decides to become her best friend Giddy's Golem: a creature from Jewish folklore that protects Jewish communities. But can Sophie keep Giddy safe? How will she keep her humanity when the Nazis want to extinguish the light out of the Jewish race?
I am constantly looking for Holocaust fiction that doesn't sympathize with Nazis, and instead reflects Jewish resistance, redemption, and resilience. It is so important for us to never forget these horrific, cruel, and senseless events that occurred, and I was looking forward to reading this. The book is very complex, and I felt conflicted when I read it, since I really wanted to like it. The plot starts very slow and shows very graphic imagery of brutality and violence against Jews. To Jewish readers, I fear reading this depiction may trigger trauma related to Antisemitic hate crimes. The content warning on this book is definitely well-placed. If you're looking for a book that features an escape, I don't think this is the one for you. In spite of this, there were several things I liked. Throughout all of the events and even Sophie's revenge, she remains human; she refuses to give in to evils. I also enjoyed the elements of Jewish folklore and the Rabbi teaching lessons to the children in the ghetto. That being said, without giving too many spoiling details, after what seems like a happy ending, the twist at the end explaining Sophie's invisibility was disappointing. While this may not be my favorite book, I enjoyed the meaningful thematic elements of resilience.
Pine Reads Review would like to thank the author for providing us with a copy in exchange
for an honest review.
PRR Writer & Editor Ami Jones
---