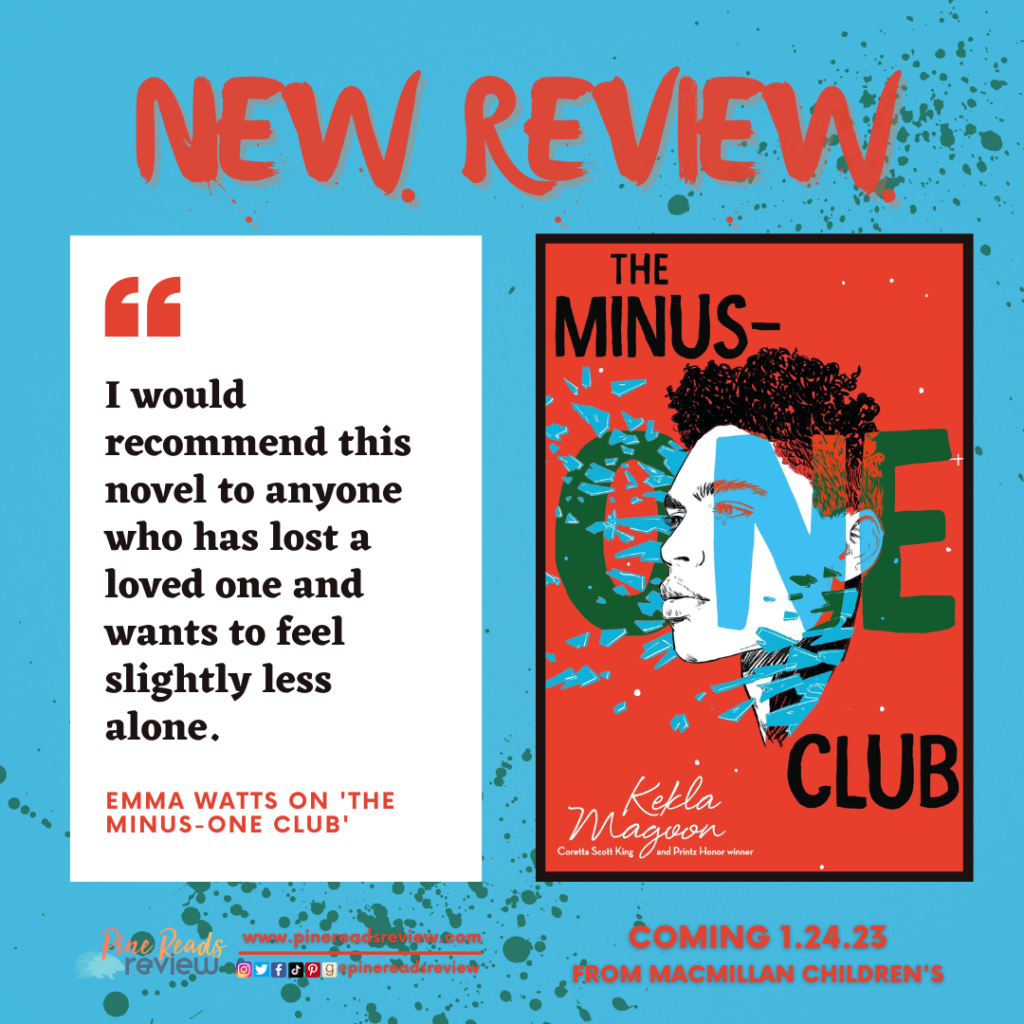 The Minus-One Club by Kekla Magoon
Out January 24, 2023 from Macmillan Children's Publishing; 368 pages
Content warning: Death, bullying, homophobic behavior, religious guilt, suicidal ideation
About the Author: "Kekla Magoon is the author of many novels and nonfiction books for young readers, including The Season of Styx Malone, The Rock and the River, How It Went Down, and Revolution in Our Time: The Black Panther Party's Promise to the People. She has received the Margaret A. Edwards Award, the Boston Globe-Horn Book Award, the John Steptoe New Talent Award, three Coretta Scott King Honors, the Walter Award Honor, an NAACP Image Award, and been a finalist for the National Book Award" (Bio taken from author's website).
Find Kekla Magoon on the following platforms:
---
"I trace the line of a crack in the baseboard to avoid having to look (for the millionth time) at her penguin cartoon, her BEHOLD, MY MESS, sign, the taped-up fortune cookie messages she favored. Before, these decorative things were so familiar as to be invisible. Now, they glare at me like oncoming headlights."
Fifteen-year-old Kermit Sanders is grieving his older sister, Sheila, who was killed by a drunk driver. On his first day back to school after the accident, he receives an anonymous invitation to meet in a storage room after school. When he shows up, he's greeted by fellow classmates who call themselves the "Minus-One Club." They have all experienced the loss of a loved one, and they band together to help each other through the never-ending feeling of grief. Kermit's long-time crush, Matt, is also a member of the club. In the months following Sheila's death, as Kermit becomes a member of the club and grows closer to Matt, Kermit begins to learn that even in the darkest of times, it is possible to experience moments of joy.
From topics of grief, sexuality, religious guilt, alcohol dependency, and suicidal ideation, The Minus-One Club tackles many components at once. The novel puts readers directly into Kermit's head as he tries to cope with Sheila's death while falling in love with a boy. Magoon portrays the relationship between Matt and Kermit in a really realistic way. It isn't something magical that completely pulls Kermit out of grief. It's a relationship between two teenage boys who are both experiencing loss while finding moments of solace with each other.
I lost my brother this past year, and I felt very seen by Kermit and the entire "Minus-One Club." Each character in the novel is flawed, but they're all doing the best they can. Magoon's descriptions of what it feels like to lose a loved one are spot on. At many points during the novel, I cried. I would recommend this novel to anyone who has lost a loved one and wants to feel slightly less alone. Even if you don't have a "Minus-One Club" in your own life, books as well-written and empathetic as this one can help, even if it's just a little bit.
(Pine Reads Review would like to thank NetGalley and the publisher for sending us an ARC in exchange for an honest review. Any quotes are taken from an advanced copy and may be subject to change before final publication.)
PRR Writer and Assistant Director, Emma Watts
---