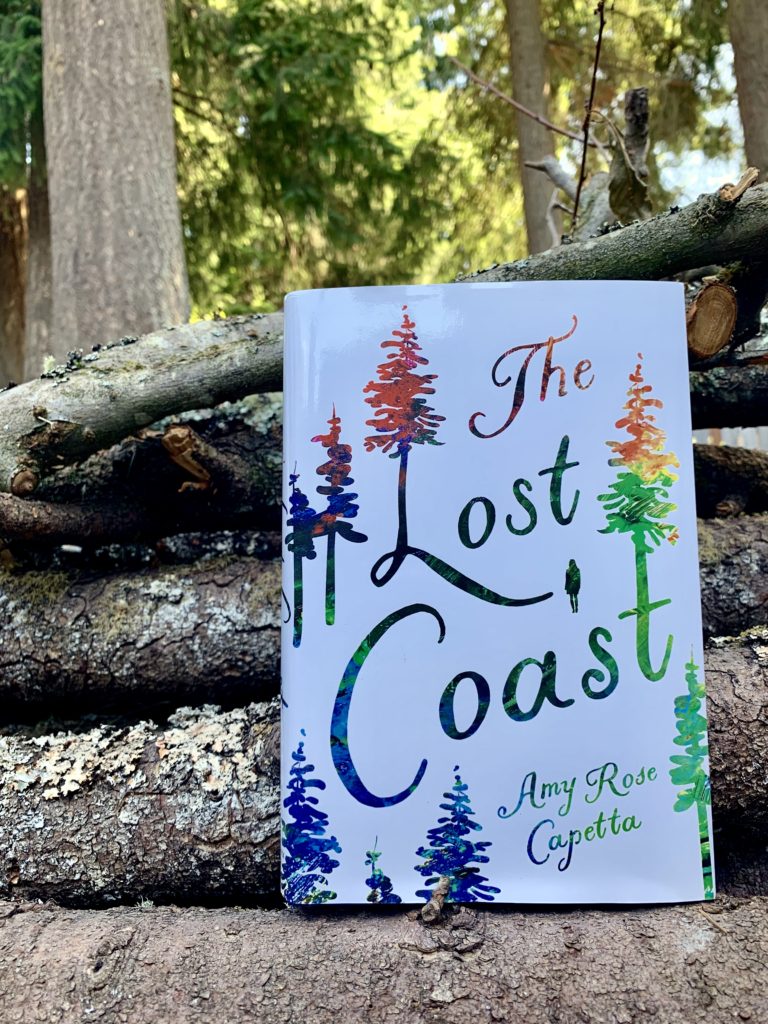 The Lost Coast by Amy Rose Capetta
Candlewick Press, 2019, 339 pages
Trigger Warnings: Death
About the Author: Amy Rose Capetta (she/her) is an author of YA fantasy, sci-fi, and mystery. Her first novel, Entangled, was a BEA Buzz Book and along with a sequel, Unmade, comprises a space duet. Echo After Echo, a queer love story wrapped in a murder mystery and set on Broadway, earned two starred reviews and was a Junior Library Guild Selection. The Brilliant Death, an Italian-inspired fantasy novel, also received two stars and was a chosen as a JLG selection and a Kirkus Best YA Book of the Year. Upcoming titles: Once & Future (co-written with Cori McCarthy, March 2019), The Lost Coast (May 2019) and The Storm of Life (sequel to The Brilliant Death, Fall 2019). Amy Rose holds a BA in Theater Arts from the University of California at Santa Cruz and an MFA in Writing for Children and Young Adults from VCFA. She co-founded the Rainbow Writers Workshop, the first-ever workshop for YA and middle grade LGBTQIAP writers. She lives in Vermont with her partner and their young son. Find more at www.amyrosecapetta.com, or follow her on Twitter at @AmyRoseCapetta.
"I wonder if that's what magic is. Being so bound up with things that you can't tell where they end and you start."
Enter the quiet, mystical world of The Lost Coast in this tale of friendship, magic and mystery set in the foggy California redwoods. After a seemingly random choice to move states, Danny and her mother move to the small town of Tempest, California, where Danny finds herself hanging out with a close-knit group of witches at her new school who call themselves The Grays and embrace the word queer. With Danny's arrival to Tempest comes her discovery of her own powers, the ability to dowse for people and objects. The Grays welcome Danny into their circle in exchange for Danny's help in finding their missing group leader, Imogen, who seems to have lost her personality and wanders around town like an unrecognizable ghost.
Capetta manages to create an overall whimsical tone through her effective use of poetic language to match the magical Pacific Northwest woods setting. The diversity displayed in the characters is refreshing if not at times heavy-handed in execution; the cast features a Filipina girl, a black girl, a non-binary person who goes by she/her pronouns, and varied body shapes and sizes. The narrative changes points of view frequently, from Danny to the Grays to trees, ravens, and bones; while this is certainly an interesting stylistic choice, it does make the storyline difficult to follow at times. The uncertain ending is reasonable given the overall ambiguity throughout the novel, however it left me feeling unsatisfied and wanting more. Overall, The Lost Coast delivers on its dustjacket promise and the atmosphere and lyrical prose make up for its shortcomings. Fans of The Raven Cycle (Maggie Stiefvater), The Wicked Deep (Shea Ernshaw) or Spellbook of the Lost and Found (Moïra Fowley-Doyle) will enjoy this witchy and diverse novel.
PRR Writer – Caroline Ross
Pick up your own copy here!