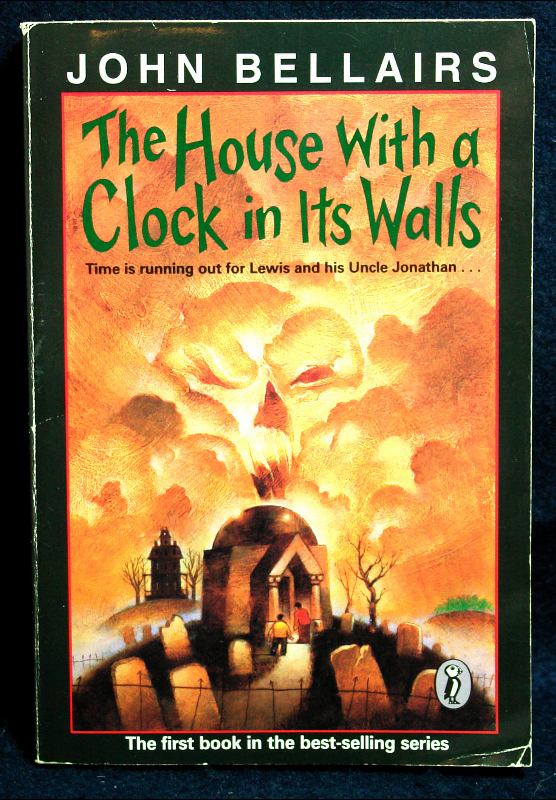 The House With a Clock In Its Walls
Movie Adaption by Universal Studios, released on September 21, 2018, Rated PG
Book first published by Puffin Books in 1973
179 Pages
Trigger Warnings: Dark content, death of parents, scary images
The House With a Clock in Its Walls is a 2018 movie adaptation of the famous book in the Lewis Barnavelt series by John Bellairs. Being that it's Halloween time and having heard of the Lewis Barnavelt books before as a must read in gothic children's mysteries, I took this as an opportunity to finally read The House With a Clock in Its Walls before seeing it on the big screen.
The House With a Clock in Its Walls was published back in 1973, but is based in the year 1943, and is a timeless mystery. Young protagonist Lewis Barnavelt goes to live with his uncle in New Zebedee, Michigan, after he lost his parents in an accident. Once there he meets his eccentric Uncle Jonathan and equally odd neighbor, Mrs. Zimmerman, who has a fascination with everything purple and makes killer chocolate chip cookies—what's not to love? Strange things begin to happen in his Uncle's mansion, wonderful, magical things—and scary things, like *spoiler alert* the ominous tick-tocking of a clock hidden in the walls of the house (obviously not a spoiler, considering the books title). Lewis is fitting right into his Uncle's home in New Zebedee, but of course, things cannot remain perfect: he starts to get bullied in school, for being a somewhat chunky and unfathletic kid who loves to read. This is a story that blends together magic, a spooky mystery, and a little boy who just wants to make a friend, live happily with his Uncle Jonathan and Mrs. Zimmerman, and eat chocolate chip cookies.
Admittedly, I am not the biggest fan of the middle grade book genre. I really enjoyed this book, however, and was anxious to see how the movie held up—which stars Jack Black.
The time period and scenery were spot on: a 1940s Gothic small-town setting, equipped with haunted mansion, creepy graveyard, and all the ominous old-fashioned clocks a girl could ever wish for. The movie kept all of the hilarious banter, and even added more humor, between Uncle Jonathan and Mrs. Zimmerman that made reading the book such a fun experience.
Then there was the adorable Lewis Barnavelt—who I simultaneously loved in the movie, and yet was the biggest letdown from book to movie. Lewis was depicted in the movie as just a "dorky" little boy who wore goggles fashioned after his favorite superhero; he was not overweight. In the novel his weight was central to how he was bullied as a character. I would have liked for the movie to stay true to Lewis's body type, which I think plays a major role for anybody of any age in this society, but especially for young kids, and should not be downplayed on the silver screen. Other than that, and a few other cinematic choices that differed from the novel—I give some leeway for a book to movie adaptation, as it is a different media—I really thoroughly enjoyed watching this movie. I highly recommend both reading the book (even the entire series, yes, there are many books in the Lewis Barnavelt series) and watching the movie, especially if anyone is looking for a Spooktacular movie to get them in the Halloween spirit!
PRR Editor, Sierra Jackson
GRAB A COPY!