The Cruel Prince | Holly Black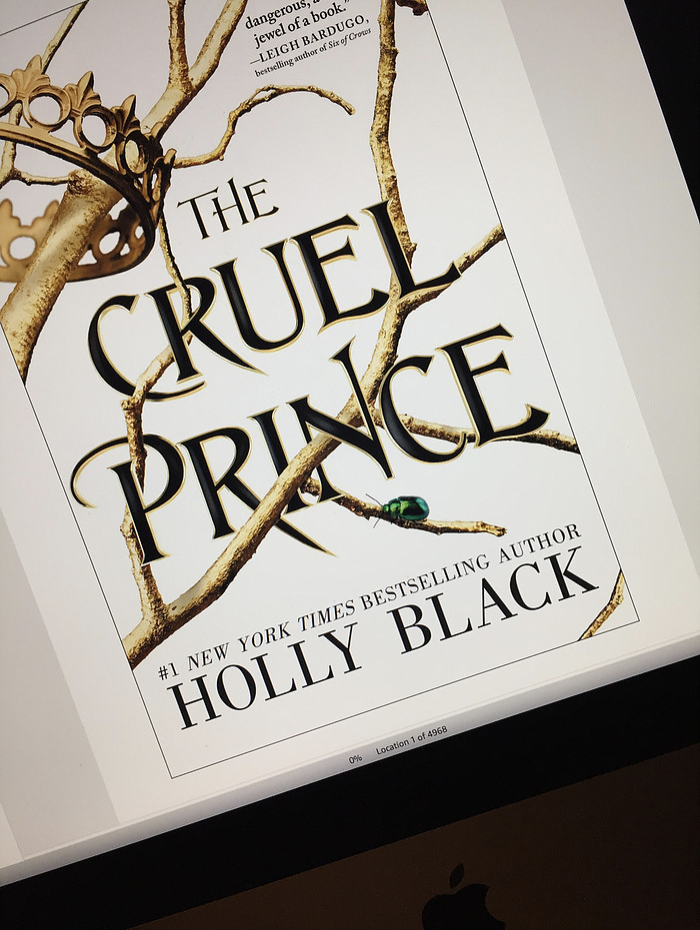 The Cruel Prince
From the "The Folk of the Air" series
By Holly Black
Little, Brown Books for Young Readers, 2018
385 pages, Kindle Edition
Age Range: 14 – 18
Trigger Warnings: violence and murder
About the Author:  Holly Black is the bestselling author of many successful young adult fantasy novels, including The Spiderwick Chronicles, which she cowrote with Tony DiTerlizzi. Some of her other novels include The Iron Trial (cowritten with Cassandra Clare), Tithe, White Cat, and The Coldest Girl in Coldtown. She has been the recipient of several awards including a Newbery Honor.
"I was raised by the man who murdered my parents, reared in a land of monsters. I live with that fear, let it settle into my bones, and ignore it. If I didn't pretend not to be scared, I would hide under my owl-down coverlets in Madoc's estate forever. I would lie there and scream until there was nothing left of me. I refuse to do that. I will not do that."
Seventeen-year-old Jude and her two sisters, Taryn and Vivi, grew up in the High Court of Faerie under the protection of the noble who killed their parents as children. Only Jude's half-fey sister Vivi could pass off as one of them. Being full-blooded humans, Jude and Taryn will only ever be victims to the cruelty and tolerance of fey like Cardan, the youngest prince. The only way to earn their respect is through becoming one of them: a killer.
Jude's world is both traditional and attentive to the world outside, falling somewhere between duels of honor and polka-dot bras. Jude's conflict between her naturally bold, moral nature and the world that demands her to be an exotic pet shine clearly through her actions. She rebels, and is punished for it every time. Attacks on her life only further convince her of a single truth: violence is justice in Faerie. Those with a love of dark fairy tales and political power struggles will enjoy this fantasy novel of a family divided by ambition.

PRR Writer, Kayla Wactor