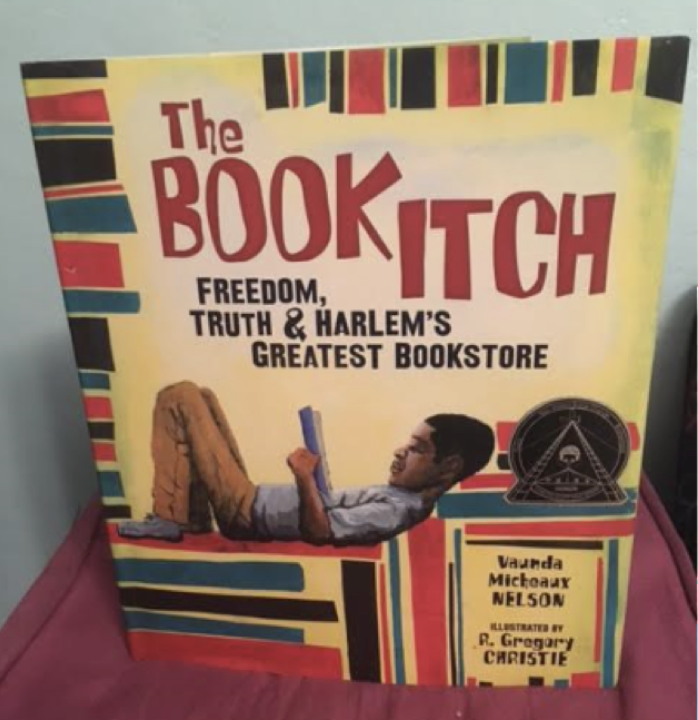 The Book Itch: Freedom, Truth & Harlem's Greatest Bookstore
Vaunda Micheaux Nelson
Illus. by R. Gregory Christie
Carolrhoda Books, 2015
32 pages, Age Level: 8-11 years

Trigger Warnings: Civil Rights violence
About the Author: Vaunda Micheaux Nelson has written many fiction and nonfiction books for children and young adults including the 2012 Boston Globe-Horn Book Award winner, No Crystal Stair: A Documentary Novel of the Life and Work of Lewis Micheaux, Harlem Bookseller; and Bad News for Outlaws: The Remarkable Life of Bass Reeves, Deputy U.S. Marshal, which garnered a handful of achievements, including the 2010 Coretta Scott King Award.
Much of her writing is influenced by her own family history or historical events and figures. Her great uncle, Lewis Michaux, is the inspiration for The Book Itch. She currently lives in New Mexico with her husband.
About the Illustrator: R. Gregory Christie is an artist, an illustrator and the owner of GAS-ART Gifts. He is based in Atlanta, where he advocates for the importance of art and literacy for young people through his business. His illustrations and artwork have spanned many mediums, including publications such as The Wall Street Journal and television stations like PBS. He won the 2016 Coretta Scott King Illustrator Honor Award for The Book Itch.
"Dad said he got the book itch and needed to scratch it."
Lewis Michaux knew the importance of information, the power of words in catalyzing social change. His lifetime of dedication manifested itself in an urban gem, a home for "common sense" and "proper propaganda": the National Memorial African Bookstore, a place where Harlem folks could find literature by and for Black Americans.
The Book Itch observes the impact of Michaux's work and the bookstore through the eyes of his son, who experiences childhood during the Civil Rights Movement. With cameos by historical figures like Malcolm X and Muhammed Ali, Michaux Jr.'s narration is brimming with childlike wonder, creating both an informational and powerful read. The book contains vibrant, full-page illustrations layered under a historically accurate, yet engaging text.
Kids will come away from The Book Itch having learned the same lessons as Michaux Jr.: "knowledge is power" and hard work is the author of dreams.

PRR Writer, Mandy Becker