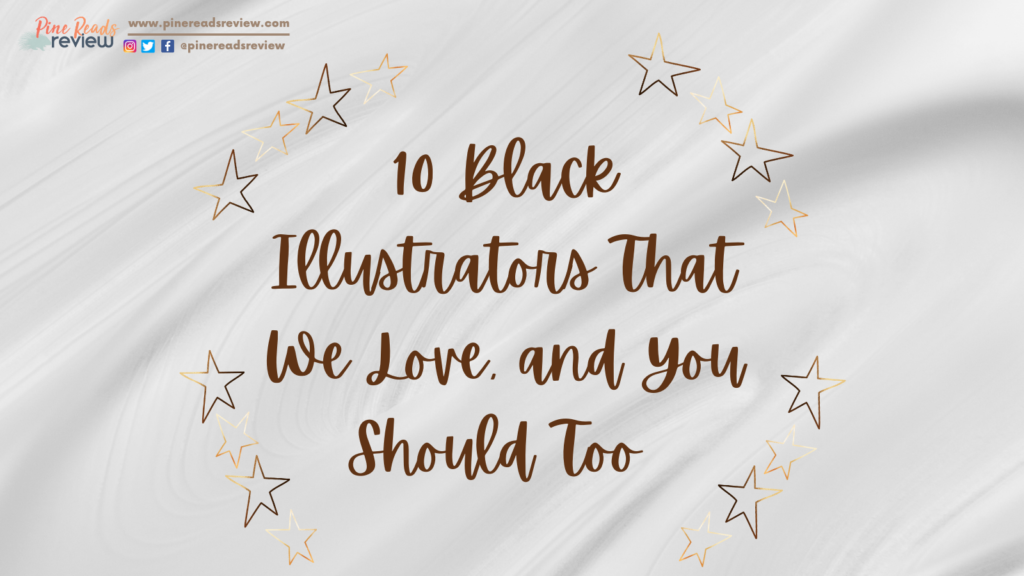 In publishing, there's always an announcement coming down the pipeline about the newest deal, publishing dates, and our personal favorite: cover reveals. However, artists tied to these works are not always given the credit they deserve. Today we've chosen to highlight some of our favorite Black illustrators who have some beautiful stories to life. We encourage you to follow these authors and keep a look-out for all the fabulous upcoming projects they have planned!
---
Known for her captivating illustrations for both Sulwe and Hair Love, The New York Times best-selling author, Vashti Harrison is also a writer and filmmaker with a tremendous amount of praise surrounding all of her works. Regardless of artistic medium, Harrison always offers a special touch of immense emotion and warmth. She has designed covers for both her own book series that centers on "Leaders & Dreamers," as well as for others, including an upcoming 2021 release titled, Hello Star. Harrison has also created covers for several middle grade books, including Calling My Name by Liara Tamani, Love Like Sky and Forever This Summer by Leslie C. Young, and another upcoming release titled Ophie's Ghost by Justina Ireland. We absolutely adore the way that Harrison models her interpretations of characters with such whimsy. Her style is so distinct and stunning! Her lovely illustrations were even brought to life in the Sony Animated film Hair Love, which won an Academy Award and Black Reel Award. If you're interested in her work, she has a shop with a lovely selection of offerings that everyone should definitely check out!
---
Author and illustrator of My Hair, a board book celebrating Black hair, and designer and sole owner of Black plush toy brand "Zuri & Dre," Danielle Murrell Cox is a Canadian artist dedicated to representing positivity and creativity within the Black community. We fell in love with Cox's work as soon as we read My Hair. She highlights not only the many hairstyles of Black culture, but also the diversity of Black skin color and features. Each child represented is sweetly drawn and a wonderfully positive image for young Black readers. Cox has also written and published a coloring book, Black Queens and Kings: Colouring Book—with Positive Affirmations, and has done illustrations for Big Dreamers: The Canadian Black History Activity Book for Kids, a children's activity book written by Akilah Newton and Tami Gabay. Head over to her website to browse her original prints, find her shop, bio video, and more!
---
Kadir Nelson is an award-winning artist, illustrator, and author who has often left us staring at his books in awe. His work not only graces the covers of books, but also hangs in several high-profile locations, including the U.S. House of Representatives and the Lucas Museum of Narrative Art. With an expansive resume, Nelson has created concept art for the Oscar-nominated feature Amistad and for the Dreamworks film Spirit: Stallion of the Cimarron. Nelson made his authorial debut with The New York Times best-seller, We Are the Ship: The Story of Negro League Baseball. Other notable novels he has illustrated include Ellington Was Not a Street by Ntozake Shange, Please Baby Please by Spike and Tonya Lewis Lee, and The Undefeated by Kwame Alexander. Additionally, Nelson fabulously composed an array of illustrations that accompanied Dr. Martin Luther King's "I Have a Dream" speech. Throughout all of these books, his imagery is filled with detail and depth that is simply unmatched. The color palettes Nelson utilizes make for such rich and vivid pieces. He has won numerous awards, including the Caldecott Medal, the Coretta Scott King Award, multiple Caldecott honors, and an NAACP Image Award. Basically it is safe to say that Nelson is a can't-miss artist. He also has a store that features numerous hyper-realistic pieces that will draw you in!
---
Frank Morrison is an African American artist who began his career doing graffiti work in New Jersey. Morrison states that his approach to art seeks to "highlight and preserve the soul of the city through the lens of hip-hop culture and urban iconography." His illustrations can be found in over twenty books, including How Sweet the Sound: The Story of Amazing Grace by Carole Boston Weatherford, The Roots of Rap: 16 Bars on the 4 Pillars of Hip-Hop by Carole Boston Weatherford, and Let the Children March by Monica Clark-Robinson. What we love most about Morrison's artwork is his stylistic depictions of urban life. Morrison illustrates characters with energy, rhythm, and personality— making paintings and drawings feel like real moving people. He also beautifully blends the historic culture of Black communities with the reality of modern day. Morrison is currently creating more original artwork, with paintings and books available to purchase. Take a look at his website to see his amazing work!
---
Jackson's magical work will make you smile as soon as you see it. She has illustrated numerous books, including the Kids Like Mine series by Latashia M. Perry. Jackson brings her particular flair to these heartwarming picture books, enveloping readers in the world she co-developed with Perry. We love how the duo approaches diversity, family, and self-love. The way that Jackson's imagery reflects Black skin of all shades and showcases natural hair is a triumph for representation. A personal favorite among the books she's illustrated is the 2019 release, Parker Looks Up, which conveys the power of representation and how it can change a person's whole world. We adore the ways that Jackson and illustrators like her are giving a spotlight for Black children to see themselves on-page. While Jackson seems not to be offering commissions at this time, keep an eye out on her Deviantart for updates!
---
California native Kaylani Juanita is a Black queer artist who says she "illustrates inclusive picture books, editorial art, and afros." Juanita's illustrations can be found in When Aidan Became a Brother by Kyle Lukoff, Magnificent Homespun Brown: A Celebration by Samara Cole Doyon, and The Little Things: A Story About Acts of Kindness by Christian Trimmer. We love how Juanita uses mixed mediums to create simple yet stylistic characters. Her drawings resemble the whimsy and creativity of children's drawings, while also having a stylistic sophistication unique to her art style. Juanita embraces the styles and textures of Black hair and illustrates characters with distinct expressions and personality—which we absolutely love. Currently, Juanita is creating and sharing her own original works and illustrations for future picture book projects through her website, Instagram, and Twitter. Follow Juanita to support her and her beautiful artwork!
---
Atlanta-based illustrator Ebony Glenn is clearly passionate about bringing beautiful stories to life with equally gorgeous and diverse imagery. She has had numerous clients across the publishing circuit, including some at Bloomsbury, Penguin Random House, Candlewick Press, and Simon and Schuster. Glenn usually works in two styles and both are enchanting. She has an array of pieces that will capture all who see them, such as her illustrative work in titles like Mommy's Khimar by Jamilah Thompkins-Bigelow and Not Quite Snow White by Ashley Franklin. Also, as lovers of fan-art, we are obsessed with her Marvel pieces featuring Miles Morales and the iconic women from Black Panther: Shuri, Nakia, and Okoye. We were excited to discover that she is making her middle-grade illustration debut with the novel Hex Allen and the Clanksmith. While we all patiently await the release date, check out Glenn's fabulous shop featuring designs that radiate energy!
---
Five-time Coretta Scott King Award winner and winner of the 2004 Caldecott Honor Award, E. B. Lewis is a legendary children's illustrator. With art in over seventy children's books, Lewis has gained fame for his watercolor paintings. Lewis' illustrations can be found on the cover of Because of Winn Dixie by Kate DiCamillo, in Jacqueline Woodson's books Coming Home and Each Kindness, in D is for Drinking Gourd by Nancy Sanders, and I Love My Hair! by Natasha Anastasia Tarpley. We grew up seeing Lewis' artwork all over our local libraries, in school book fairs, and in almost every bookstore we visited. Lewis beautifully illustrates Black men, women, and children across different time periods and countries. His illustrations are vividly life-like with detail, colors, and textures. Today, Lewis visits and talks at schools all over the country, conducts book signings and workshops, and has his works displayed in art exhibits. To learn more about Lewis' work, check out his website!
---
Gordon C. James is an artist and illustrator intent on portraying lyricism and expression through his varied works on and off the page and in galleries. In Patricia C. McKissack's picture book series Scraps of Time, James encapsulates striking imagery through black and grey penciled images that lean into the ambiance of the stories being told. In other books such as Campy: The Story of Roy Campanella by David A. Adler, the multi-award winning book Crown: An Ode to the Fresh Cut and I Am Every Good Thing by Derrick Barnes, James brings in his fine art finesse and makes every page a masterpiece to behold. The way he portrays Black boys, family, history, and joy is breathtaking. Check out his Instagram to see more of his phenomenal work!
---
Ekua Holmes is a multimedia artist and children's illustrator. Her art style is influenced by African culture, with unique geometric shapes, cutouts, and layered paper and prints. Holmes' work can be found in Out of Wonder: Poems Celebrating Poets by Chris Colderley, Kwame Alexander, and Marjory Heath Wentworth. Holmes' other artwork collections, "There's No Place Like Home" and "From the City to the Sea," can be found on her website. We love artists who use various art mediums, and Holmes' incorporation of colors and textures that are influenced by African and urban culture immediately captivated our attention. Holmes creates visually dynamic pieces in all of her work. Through her art, she celebrates both the world around us and the people who inhabit it. Her artwork shows the positivity and history within the Black community, blending old and new through her illustrations. Prints of Holmes' work (including a MLK Google Doodle!) are available for purchase. Take a look at Holmes' website to see more of her awesome work!
PRR Writers, Jackie Balbastro and Erika Brittain