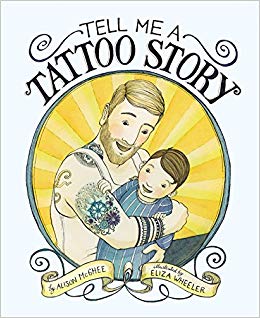 Tell Me A Tattoo Story
Alison McGhee, Illus. by Eliza Wheeler
Chronicle Books, $16.99
32 pages, Age Level: 5-6 years
Trigger Warnings: Tattoos
About the Author: Alison McGhee is the author of Someday, a #1 New York Times bestseller, and her Pulitzer Prize-nominated novel Shadow Baby was a Today Show Book Club pick. Her work has been translated into more than 20 languages and has won many fellowships and awards. McGhee has taught creative writing at Metropolitan State University, Vermont College, Hamline University's MFA program, and on her own. Pablo and Birdy, a children's novel, and Never Coming Back, a novel for adults are her most recent books.
"You wanna see my tattoos? Why, little man, you always want to see my tattoos. Here we go then…"
"Tattoos are everywhere these days. They're so lovely and interesting, and there's always a story behind them. Some of the stories are so moving that I almost weep when people tell them to me." – Alison McGhee
About the Illustrator: Eliza Wheeler grew up in Northern Wisconsin in a family of teachers, musicians, and artists. Drawing was her favorite form of play as a child, her emotional outlet as a teen, and currently is her passion as an adult. Some of the strongest influences on her creativity have been the wild Wisconsin seasons, canoeing the Brule River, picking blueberries with her Grandmother, and digging through the snow with her brothers. In July of 2010 she received the SCBWI LA National Conference mentorship program award, the catalyst for her 2011 win of the portfolio showcase grand prize award. The prize was a trip to New York and arranged meetings with publishers. In June 2011, Nancy Paulsen of Penguin Books offered a contract for her first book, MISS MAPLE'S SEEDS, which came out in April 2013 and debuted on the New York Times Bestseller List. Currently she is writing and illustrating her own stories as well as the stories of others.
For a lot of people, their tattoos have a meaning, a story. For one father there is a great deal of thought put into his tattoos, stories that his son loves to hear over and over again.
McGhee writes a touching conversation as a father tells his young son the story behind each of his tattoos that he has acquired throughout his life. Whimsical illustrations of blues, grays, greens and yellows from Eliza Wheeler pair together with McGhee's thoughtful and loving language that depicts the father as he tells each story to his son as he gets ready for bed. There is a lot of thought and craft put into this picture book that really makes you look at life and how precious the little moments are, especially when they are captured in such a meaningful piece of art like that of a tattoo. Pick up this book to celebrate the art form of tattoos and to meditate on life's priceless experiences that we all carry along, whether inside ourselves or inked onto our skin.
PRR Writer, Julia Shelton