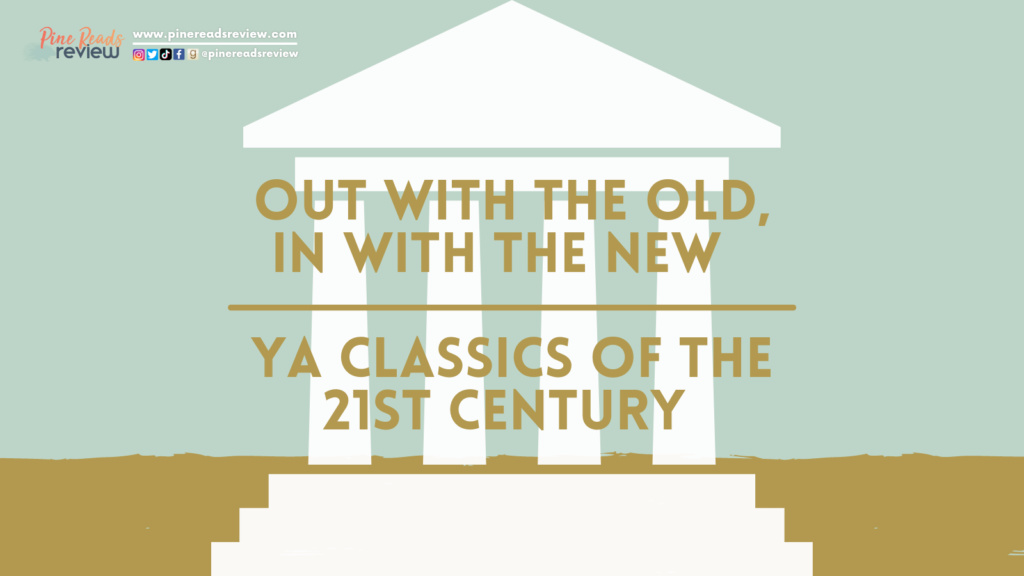 The Great Gatsby, Frankenstein, Romeo and Juliet. These are classic titles that we all know, but they are a little outdated, don't you think? On our latest podcast episode (which you can listen to here!), we discussed three modern YA books/series that we believe define our generation and will one day be known as "the classics." But then we got to thinking—there are so many other books out there that are redefining what it means to be considered a classic. With the help of everyone here at Pine Reads Review, we've compiled a list of 12 titles that we think are going to be The New Classics.
---
A fierce assassin princess, fae warriors, and an ancient force raising a demon army to take over the realm are combined in this high-fantasy series. With epic worldbuilding echoing the works of Tolkien, Maas establishes herself as a queen of fantasy. Readers will never experience a dull moment following Celaena as she overcomes the tragedies of her past and learns to accept her fate to take back her kingdom.
From the first page of the seven-book series, I was whisked away into a fantastical world unlike any other. I think this series encapsulates classic fantasy elements, yet it also introduces a twist with inspiration from fairy tales and modern insert of a kickbutt female protagonist. Whether you're looking for heartbreak, magic, betrayal, love, adventure, epic wars, fantastical creatures, or a battle between fate and destiny, Throne of Glass has it all!
PRR Writer, Taylor Quinn
---
Set in a dystopian America, all teenagers must put their names into the reaping for the Hunger Games, a deadly competition that pits teens against each other to appease the ruling Capitol. When Katniss Everdeen's sister's name is called, Katniss does the unthinkable and volunteers to go in her place. She's catapulted into a world where friends can be foes and even nature can be a trap. Will she be able to work with her fellow tribute from District 12 to emerge from the Games alive? Or will she meet a brutal end?
I think The Hunger Games is a modern YA classic because it is well-known, and it somewhat started the era of popular dystopian novels that coincidentally made up my teen-hood. Collins does a fantastic job of taking a complex topic and making it easy and fun to understand. The message of this series is also so superb, and the writing is stunning. The Hunger Games really brought people together as they argued playfully about Team Peeta vs. Team Gale, which district they would be from, and how they would do in the Games. With stellar movie adaptations as well, The Hunger Games truly marked the beginning of an era and has become a modern YA classic.
PRR Assistant Director, Wendy Waltrip
I think The Hunger Games by Suzanne Collins is definitely my pick for a new YA classic. The worldbuilding throughout the entire series was incredible. I also loved the character arc for Katniss as she begins to trust her own instincts and morals despite what everyone tells her. The Hunger Games is an essential dystopian read because the characters struggle with larger world issues that readers can recognize in their own world.
PRR Assistant Director, Mikayla Kaber
---
When Starr Carter witnesses a loved one's murder by the police, her world turns upside down. Starr struggles between anger at the injustice, sadness at the loss of a friend, and pressure to keep up a façade at her mostly white school.
With themes of race, stereotyping, and identity, this book is incredibly educational and meaningful to young adult readers. This is one of many books of this decade that shows that YA literature can be more than supernatural romances and love triangles. It reflects real life people living through real world struggles. That has not gone unnoticed, and it is what has generated so much love for The Hate U Give and will make it a classic.
PRR Social Media, Frances L.
---
Zélie Adebola wants to bring magic back to the kingdom of Orïsha. She is a maji, but when she was young, the oppressive ruling class of non-magical kosidán, led by King Saran, figured out how to strip the maji of their power. Throughout the book Zélie and her brother are fighting to bring magic back.
I think Tomi Adeyemi's debut novel Children of Blood and Bone stands out to me as a new YA Classic for a few reasons. Firstly, because of its instant popularity. This book was released by a major publisher and spent 90 weeks on the New York Times bestseller list. I believe that this book paved the way for other diverse YA fantasy writers to get published. My second reason is that this book was spectacularly well written. The West African mythology and culture brought the world to life, and the characters and plot were complex and entertaining.
PRR Writer, Frances Drye
---
15 year-old Clary Fray is introduced to the strange and violent world of the Shadowhunters when she witnesses teenagers with strange weapons and unique tattoos make short work of a nightclub patron whose body seemed to disappear upon being slain. Soon after, Clary is entangled in the world of the demon-hunting Shadowhunters and equally intrigued by a brooding Shadowhunter named Jace. Clary soon finds that she might not be as average as she once thought after all.
I consider City of Bones and the Mortal Instruments series as a whole to be a YA classic because of how it helped to define the dark fantasy genre. Even almost 15 years after its release, we still want to hear the stories about complicated teens fighting demons, vampires, and werewolves in a world both vastly different and similar to our own. The drawn-out tension between Clary and Jace is the epitome of slow-burn, angsty romance arcs. Additionally, this series was also one of the first I was exposed to as a child that included LGBT+ characters in a significant way.
PRR Assistant Director, Grace Kennedy
---
Twins Jude & Noah were once inseparable. But after circumstances push them apart, Noah recounts their early years, and Jude tells about their later years. They each have a piece of the puzzle that they must put together with the other to reveal the full story.
When I started reading this one fateful night, I didn't expect myself to end up reading it on my bathroom floor until 5 am. The cast of characters were so lovable and unique, and when I finished, it took a piece of my heart with it. I think this book will one day be considered a new YA classic because I think a lot of others would and have felt the same while reading this novel. It affects you so profoundly after you read it, and it's a story you can't let go of once you start. I'm not much of a rereader, but this is a book I'd read all over again.
PRR Writer, Sohi Kang
---
The Selection series by Kiera Cass centers on the story of America Singer, a young woman who has been chosen to participate in the Selection — a competition for the heart of Iléa's Prince Maxon. Unlike others, America finds participating in the Selection to be a complete horror, as she leaves her secret love, Aspen, behind. As the series progresses, America soon finds herself torn between her old and new loves, but she must decide if she's willing to commit to the role of Iléa's future queen.
Cass' The Selection series is one of my favorite "new classics" because of its charm and staying power. I first read the original trilogy in middle school, but have since returned many times to continue to relive the relationship that flourishes between Maxon and America. Both characters have such strong and dynamic personalities that it becomes difficult not to fall in love with the both of them. The friends-to-lovers trope greatly contributes to the series' enchantment. Across the first three books, the slow build-up of America and Maxon's relationship makes it all the worthwhile for when they do officially decide to be together. All in all, I'm always glad to return to this new classic when I'm in a reading rut or need a little pick-me up.
PRR Lead Social Media Manager, Carmen Rivero
---
When Lara Jean is in love, she writes a letter. She confesses the depths of her feelings, seals and addresses the letter, and stores it in a hatbox that her mother gave her as a child. The letters are Lara Jean's way of moving on. They're meant for her, not the boys they're written to. But then the letters get sent out. And Lara Jean's life is swept up in a romantic, confusing, and all too movie-esque whirlwind.
With Korean-American representation, fake dating, and a major theme of sisterly love, Jenny Han's trilogy is a contemporary rom-com sure to be a new YA classic. Jenny Han incorporated Korean-American representation, and featured a main character who enjoyed typically feminine activities, during a time in YA history where these were not common traits in popular books. Lara Jean was a softer character who stood out from other YA heroines in the best way. I also think these books could become new YA classics because of the longevity of the books' success. The To All the Boys series captivated the Booktube community (Youtube community focused on YA books), inspired aesthetic Pinterest boards and Tumblr collages, and embodied a love for baking and fashion that was relatively new to mid-2010s YA books. Han's books then gained a new audience when Netflix adapted the trilogy into original movies, with the first movie made in 2018. The To All the Boys films created opportunities for Asian-American actresses to lead a YA rom-com, and also played a big part in a revival of YA book-to-movie adaptations. Jenny Han's books will always have a special place in my heart, as an Asian-American reader and romance lover, but I also think the series carries a major significance in the greater YA history.
PRR Writer, Erika Brittain
---
Divergent series by Veronica Roth
The Divergent series is the unique story of a post-apocalyptic society sectioned into factions. Defined by a sole characteristic, these factions establish the idea of a more advanced human race, but the story also contains intense romance and family ties versus teenaged independence that rapidly develops an emotional storyline. The plot opens on Tris, a sixteen-year-old girl, and her brother Caleb as they face a ceremony to choose which faction they will remain in for the rest of their life. Amidst betrayals and shocking reveals that any YA reader will love, the first book in particular will forever hold a place as a new YA classic.
This book was my first real introduction to Young Adult literature when I was in middle school, and I remember devouring the first one in under a week and then making my parents buy me the second and third books. The engaging, quick-paced storytelling and fantastic worldbuilding mixed in with a dynamic romance all serve to create a trilogy that has undoubtedly made a lasting impact on the YA genre. This series cemented in me a deep love of dystopia and intense storytelling that I have tried to emulate in my own creative writing! I do honestly believe that the first book in particular deserves to be placed in "Classics" status.
PRR Writer, Kayla Chandler
---
Every November the capall uisce, water horses, rise from the sea, and the Scorpio Races begin. Sean Kendrick is the reigning champion of the races, but this year, much more than a trophy is on the line. Puck Connolly is not a racer, but to save her home, she enters the competition. She is the first girl to ever do so. As the day of the race draws nearer, Sean and Puck must decide how far they are willing to go to win.
I see this story as a new YA classic because it tackles many complex and relatable topics and wraps them in absolutely gorgeous writing. This is a coming-of-age story that always reminds me of Catcher in the Rye in its fading, youthful demise. This story's focus on nature, grief, family, and change renders it one of the most unique YA stories I've ever read, and I can see it going on to become a beloved classic.
PRR Writer, Sam Key
---
Liesel Meminger doesn't know that picking up an accidentally abandoned copy of The Gravedigger's Handbook at her little brother's gravesite is going to change her life. After being sent to a foster family in Nazi Germany at the beginning of World War II, her foster father finds her book and teaches her how to read. Liesal begins stealing books any chance she gets and becomes The Book Thief. Despite the circumstances of the world, Liesel finds solace in book stealing. But the stakes rise even higher when her foster family begins to hide Max, a Jewish man, in their basement.
Zusak's The Book Thief is a beautiful and heartbreaking piece of literature. It's been my favorite book since I read it for the first time when I was in high school. Even now, years later, I find myself thinking about it often. For such a young character, Liesel exhibits strength and resilience, and I admire her deeply for that. I consider The Book Thief to be a classic because of its longevity and the profound impact it has on readers. It's been over sixteen years since it was first published and nearly six years since I read it for the first time, yet it's still being talked about today. It's my go-to when giving people book recommendations. The Book Thief is timeless and can be read by anyone at any time — it's bound to leave a mark. This is the kind of book that people never forget after they read it, ensuring its spot as a YA classic.
PRR Writer, Sadie Cruz
---
Best friends and partners in crime, Royal Moroi Lissa Dragomir and her guardian-in-training Rose Hathaway are on the run from their boarding school, St. Vladimir's Academy. Once found and captured, the two are taken back to St. Vladimir's and have to adjust to a life of magic, nocturnal schedules, high school drama, love, vampire feedings, physical training, and Strigoi.
The Vampire Academy series is a YA classic of the 21st century because it takes the most popular tropes and uses them in the most inventive ways. It not only has vampires, but Moroi and Strigoi which are good and bad vampires. St. Vladimir's Academy is not just a boarding school, but a nocturnal, magic teaching boarding school. Lissa and Rose are best friends, but they are also shadow-bonded and have a guardian-and-guarded relationship. Not to mention, the series was adapted into a movie in 2014, and it is getting a tv show adaptation in 2022. People still want to experience Lissa and Rose's story. Richelle Mead used all of the best and most popular tropes and took them a step further, making The Vampire Academy series a YA classic of today.
PRR Writer, Adrianna Muñoz
---
All of these stories, and more, are the YA classics of the 21st century. They've defined a generation of readers and embody everything that a classic novel should be. Let us know in the comments below what YA books YOU think are going to be The New Classics!
PRR Writers, Sadie Cruz and Adrianna Muñoz