Nothing But Sky | Amy Trueblood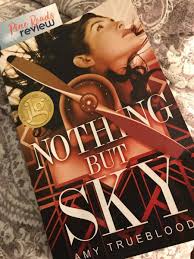 Nothing But Sky
Amy Trueblood
Flux, 2018
Paperback, 284 pages
Trigger Warnings: Explicit Language, alcohol
About Author: Amy Trueblood grew up in California only ten minutes from Disneyland which sparked an early interest in storytelling. As the youngest of five, she spent most of her time searching for a quiet place to curl up with her favorite books. After graduating from the University of Arizona with a degree in journalism, she worked in entertainment in Los Angeles before returning to work in public relations and advertising in Arizona. When she's not writing, she's crafting a Spotify playlist for her next book or drinking her favorite iced tea. Her debut novel, NOTHING BUT SKY, a Spring 2018 Junior Library Guild selection, is available now. Her second book, ACROSS A BROKEN SHORE hits shelves in Fall 2019. For more on Amy, check out her website, AmyTruebloodAuthor.com or follow her on Instagram, Twitter, Facebook, Goodreads, or Tumblr.
"Earning enough money for Chicago and winning that Hollywood contract was the only thing that mattered. My heart and everything else would have to wait."
Grace Lafferty is not your usual eighteen-year-old. Orphaned at the young age of thirteen and living with her uncle ever since, she only feels alive when she is up in the sky hanging from a plane. Nothing But Sky tells the story of Grace, a post-World War I wing walker who is trying to make it to the World Aviation Expo in hopes of winning a Hollywood contract for her barnstorming team. However, getting to the Expo becomes harder than anything she had imagined. Especially when she starts to develop feelings for the team's new mechanic, Henry Patton, a World War I vet still trying to heal his battle wounds.
Amy Trueblood's debut novel Nothing But Sky is full of action-packed and heartwarming moments. Not only does Trueblood take readers into a high-flying adventure, but on the rollercoaster that finding your first love is.
PRR Writer, Michelle Sanchez