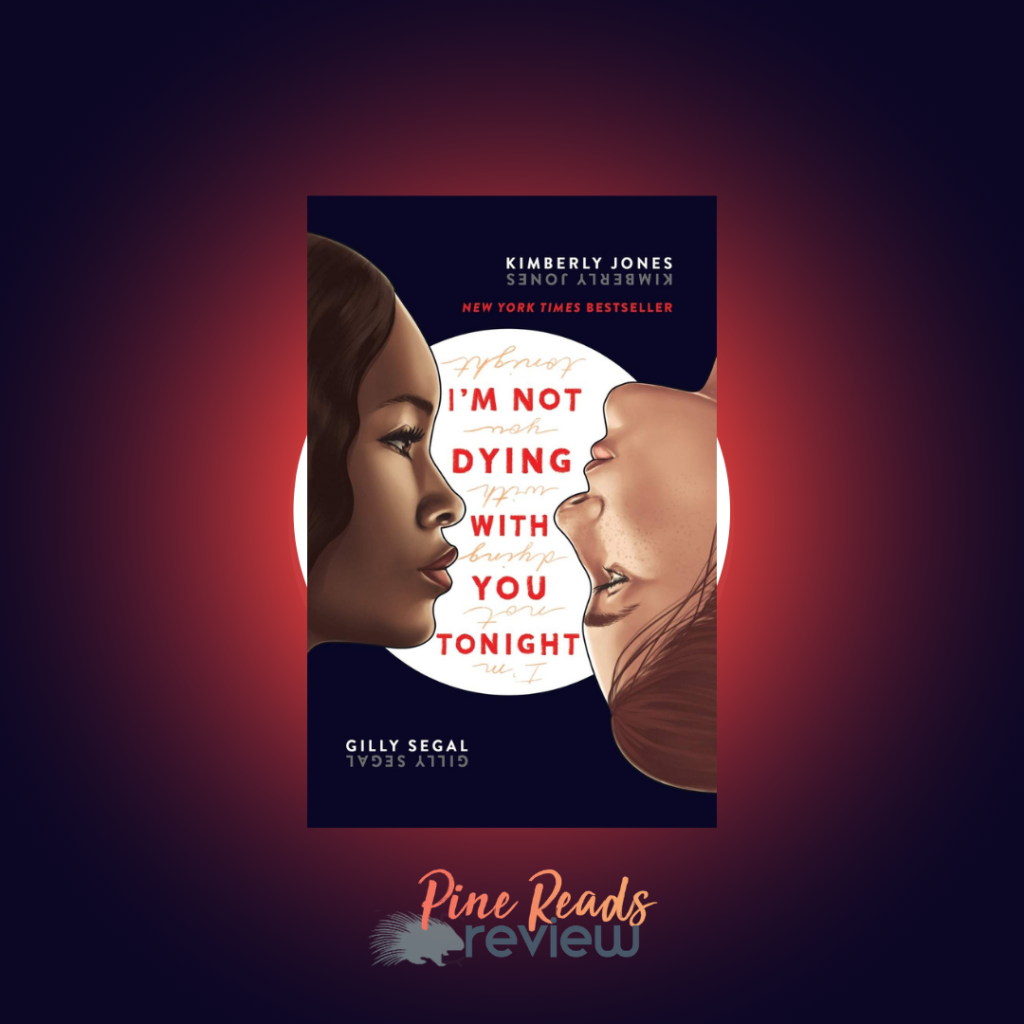 Content Warnings for I'm Not Dying With You Tonight: Violence, police brutality, racism
I'm Not Dying With You Tonight released on August 6, 2019 from Sourcebooks Fire, and is co-written by Kimberly Jones and Gilly Segal. Only a few months ago, Jones went viral online with videos of her discussing the very detrimental issues that impact the Black community in the United States. In one of the videos she states, "They are lucky that what Black people are looking for is equality, not revenge!" Her raw energy and continued efforts drew instant respect from me, and I knew it was time for me to read her young adult novel that was released only a year ago.
I'm Not Dying With You Tonight covers topics of racial bias, rioting, and police brutality as it follows two teen girls, Campbell and Lena, over the course of one night. Campbell is white and Lena is Black and this drives the tension when incidents around town go from chaotic to life threatening. The two girls attend their high school's Friday night football game for different reasons, but due to a racially charged altercation, are forced to team up in an effort to travel across the city, make it home safely, and hopefully survive the night.
I'm Not Dying With You Tonight is a fast-paced story, and although it touches on incredibly important topics, it ultimately falls short in certain aspects. The novel takes place in Atlanta, Georgia, where Campbell is forced to live with her father and Lena reigns supreme as the most stylish girl in school. Unfortunately, the characterization of these two young women slightly devolves into racial stereotypes. Campbell is a meek girl who simply gets "caught up" in all the drama that is set in the "bad" side of town, assuming that Lena, the more outspoken one of the two, would know her way around. Despite witnessing city-wide rioting and somewhat acknowledging her own racist remarks, Campbell is still unconcerned with the grander implications of the night that lie outside of her own privileged bubble. While walking around town, she spends much of the novel wishing she was back in her former neighborhood (which we can only assume to be predominantly white).
However, her character is not alone in being self-involved. Lena spends the entire novel concerned with getting to her college-aged boyfriend, nicknamed "Black," which brings up other complications that aren't necessarily addressed on-page, namely that Lena is a high school student and Black is twenty. However, their relationship is not only problematic because of the age difference: Black's seeming lack of concern for Lena is also troubling. While age-gap romances are far from taboo and not inherently harmful, their interactions do call for a larger discussion of how young girls especially, for a variety of reasons, can potentially find themselves in imbalanced, toxic, or even abusive relationships with older men. I had hoped that this would be somewhat acknowledged in the novel, but instead Lena is the only character who knows how old Black is, and in the end, his apathy is more of an issue than his age. Moreover, similar to Campbell, Lena is only concerned with her intentions for the night and her life, at times forgetting that Campbell is even around. There's misunderstanding from both sides, underscored by the fact that this novel is told from a first-person point of view that alternates between Lena and Campbell's perspective. 
The characters each have a distinct voice and are, intentionally, flawed. Lena and Campbell are just two teenage girls trying to figure themselves (and the world) out, and should by no means be held up on a pedestal. I must note that Campbell is new to Atlanta, but it also seems as though she's new to the concept of racism — which forms the crux of the novel. Campbell is pushed outside of her comfort zone by teaming up with Lena, someone she wouldn't normally hang out with if their lives weren't threatened. The intent is for Campbell to confront her ignorance and complicity when it comes to the systemic oppression of the Black community, but the novel doesn't quite succeed in accomplishing this. By the end, both Lena and Campbell don't really change that much. Even so, it realistically takes someone more than a few hours to grow as a person, so this can't necessarily be held against these characters.
Furthermore, it is unclear who the intended audience of the book is (outside of the general YA demographic), but it felt like it was meant for non-Black readers to check their privilege like Campbell. The rioting and racially charged violence seems to be used as a device to "teach" Campbell about systemic racism, rather than to affirm the Black experience in the United States. However, I wouldn't call this an educational text either. Campbell does not become a productive white ally nor does she fall into the problematic white savior trope; as I stated before, she simply remains the same Campbell as she started.
Additionally, I'm Not Dying With You Tonight does not subvert some stereotypes but instead perpetuates them. It contains harmful stigmas of Black people and of homeless people that we should be making a conscious effort to diminish—the homeless character, for instance, is portrayed as predatory and referred to as a "crackhead." With that said, this novel does not have all the answers, and instead leaves readers with more questions than answers.
Overall, I'm Not Dying With You Tonight doesn't defeat racism or solve inequality. The story tries to showcase how, even today, people need to understand others as individuals, rather than just make assumptions based on race or socioeconomic status. Unfortunately, it doesn't quite succeed in forcing readers to confront Campbell's (and possibly their own) ignorant perspective, including her dismissal of racial issues and her wishes to escape it all just for the sake of her own comfort.
However, the novel literally points out that nothing is as black or white as it may seem. Characters make several mistakes, and more than anything, this story is sure to spark much-needed conversations about prejudice and maturity. Lena and Campbell are not perfect, and I wouldn't want them to be. There are certainly points where I wished specific ideas were challenged more, but this book is not meant to offer clear-cut solutions; instead, I'm Not Dying With You Tonight is a brief look into today's world of unrest through the eyes of prejudice.
PRR Writer, Jackie Balbastro