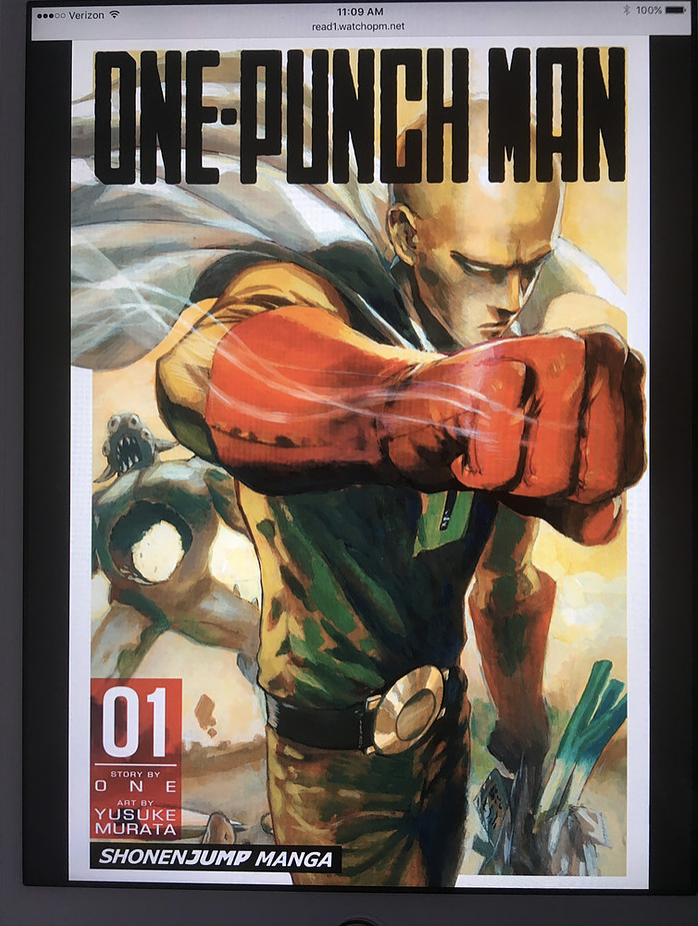 Trigger Warnings: violence, some crude humor
About the Author: ONE is the pseudonym for the manga artist of two popular manga series, One Punch Man and Mob Psycho 100, both of which have been turned into anime series.

While I haven't had the chance to read this series yet, I have seen the anime, which was phenomenal!

"You gotta train like hell until the point your hair falls out. That's the only way to become truly strong."

One Punch Man is a continuing sixteen volume series set in an Earth-like world where strange monsters and supervillains wreak havoc on the population. Heroes with extraordinary powers rise to fight the evil. Saitama is just an ordinary guy with a desire to become a hero. After training for three years to become strong, Saitama discovers something amazing about himself, he can win any battle against an enemy in one punch!
But that gets a little boring after a while, and Saitama wishes for someone who could at least give him a good fight before falling victim to his mighty blows. It's not too long after that Saitama is greeted by a young cyborg named Genos, who just wants to be Saitama's apprentice! Together, the two form a formidable team to fight evil!
After watching the anime, I expect this series to be 5/5 stars. Have a comment on this series? Be sure to send us a message!

PRR Writer, Meghan Reinholz

Who would win in a fight? All Might or Saitama?
Check out ourreview of My Hero Academia now!