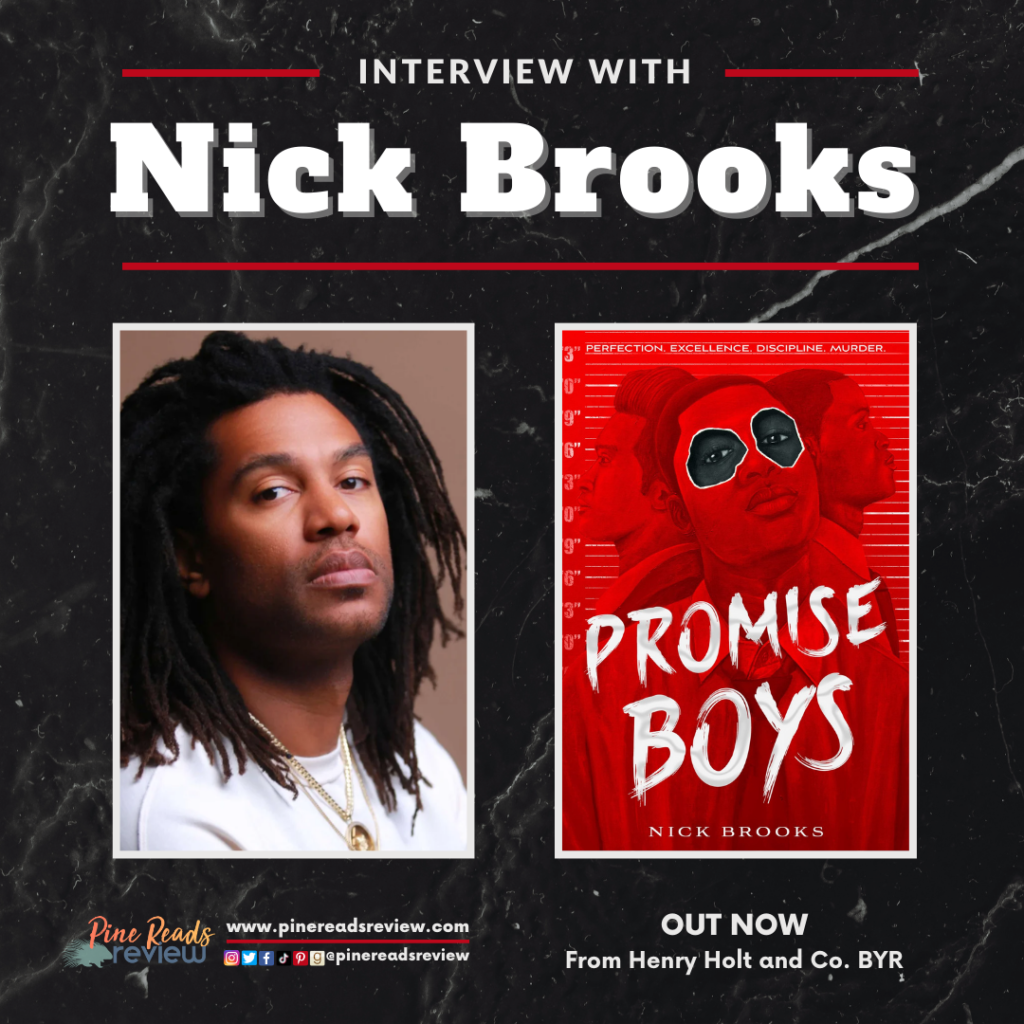 About the Author: Author and award-winning filmmaker, Nick Brooks, hails from Washington, DC. He's a 2020 graduate of the University of Southern California's TV and Film Production program, earning both the prestigious George Lucas Scholar Award and the James Bridges and Jack Larson Award for Writing and Directing. In 2022 he published his first middle grade novel, NOTHING INTERESTING EVER HAPPENS TO ETHAN FAIRMONT, the first book in a three book series. His first YA novel, PROMISE BOYS debuted January 2023 and has already been deemed a much-anticipated read of 2023 by Buzzfeed, Seventeen and Forbes. Truly a multihyphenate, Nick writes and records hip hop under the moniker Ben Kenobe and is most noted for working with G.O.O.D Music artist, Tony Williams. He recently acted as Lyricist for the rap film, THE CYPHER, executive produced by Ben Corey Jones. The film made its world premiere at the 2020 Tribeca Film Fest and was acquired by HBO. As a storyteller he strives to tell stories that are timely and timeless." (Bio taken from author's website.)
Find Nick Brooks on the following platforms:
---
A huge thank you to Nick Brooks for taking the time to do an interview with us at Pine Reads! His debut YA novel Promise Boys is out now from Henry Holt and Co. BYR. Be sure to check out our review of Promise Boys here!
---
Erika Brittain: To start the interview, I want to congratulate you on your debut YA novel, Promise Boys (Henry Holt and Co. BYR), which is out now for readers to enjoy! How has life been since officially becoming a YA author?
Nick Brooks: Thank you! Life has been an amazing adventure since pub day. And even though it's only been 5 months, it feels like forever. I'd make the choice again.
EB: So, we met at the Tucson Festival of Books (TFOB) back in March, and you shared that you made a conscious effort when writing Promise Boys to use language that non-readers related to. You also talked about breaking down stereotypes that culture has about Black and Brown teens and young men. Can you share a bit more about how you wrote Promise Boys with these things in mind?
NB: Yep, I wrote keeping in mind that my community speaks in a distinct way. I wouldn't say I necessarily used language non-readers related to, but more made sure the text was accessible and fun to read. And relatable, which is why I break down different stereotypes potential readers have probably faced.
It was natural for me to keep this in mind while drafting PB because as an educator I always made sure I met students where they were. And writing PB was no different.
EB: During TFOB, you also mentioned previously being a teacher in D.C. How did your history working in the education system shape the characters and world of Urban Promise Prep?
NB: My experience as an educator was tremendously informative in telling this story. Working specifically with boys considered, "at-risk", I came across countless, Treys, Ramóns and J.B.s, and my time spent with these young men helped me visualize the main characters of the story. Many of the staff, family, and community characters that make up the world are also inspired by real interactions I had during my time as a teacher.
EB: Something I loved about Promise Boys is that the story is not just told by our three leads, J.B., Ramón, and Trey. Throughout the book, we get chapters from various side characters providing their own speculations and commentary. Did you always plan to unravel the murder mystery through extra POVs, or did that story structure come later?
NB: Having multiple POVs was always baked into the concept of the book. I read Kekla Magoon's "HOW IT WENT DOWN" as a sort of manual of how to pull it off.
EB: To talk more about J.B., Ramón, and Trey, I absolutely loved how each character had their own nuanced interests, came from different backgrounds, and showed emotional vulnerability. How did you go about developing each character and their arc? Was one character particularly easier or harder for you to write?
NB: For my characters I love to identify their want, need, closest loved one, biggest flaw and darkest secret. This helps make sure they're well rounded. I let these things drive their decisions, ensuring the plot and character arc stay connected.
Ramón was the toughest to write because of the nuances of his culture. I wanted to be sure I was representing the Salvadorian community accurately and respectfully.
EB: Promise Boys may be set at a fictional prep school, but the social issues in the book are very real in our world. The book discusses racism, systemic injustice, and abuses of power. What was the appeal of incorporating these issues into a murder mystery specifically in the YA genre?
NB: With so many important conversations happening it's become tougher to get folks to pay attention to any one cause. It seemed like a fun, though thrilling, murder mystery would be a great way to discuss these issues and the issues of our education system. And because our kids are the most impacted by the broken education system, it's only right we experience that system through their POV.
EB: In addition to writing books, you are also an award-winning filmmaker and hip-hop artist. How have your experiences in film and music influenced your journey as an author? And on the flip side, has book publishing given you new insights into film or music?
NB: Absolutely! Writing music helped with the musicality and cadence of my writing. Writing screenplays helped me sharpen my dialogue and allowed me to make PB as cinematic as possible.
Conversely, writing this novel helped make me a better storyteller overall. It pushed me in ways I hadn't been before and I'll definitely take that into writing my next screenplays and songs.
EB: Finally, to wrap up our interview, I want to know what's next for you! Any new projects or upcoming events you'd like to share with our readers?
NB: I'm currently working on my next YA mystery and I can't wait to share more!!
---
PRR Assistant Director, Erika Brittain