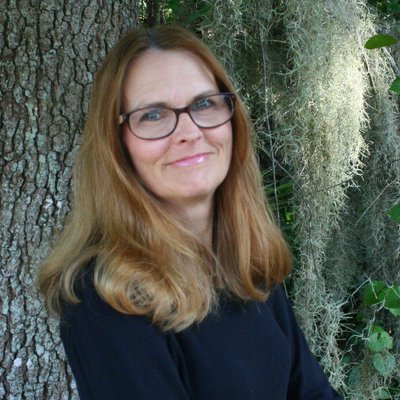 About the Author: Jan Eldredge was born and raised in Louisiana. She now lives in Florida with her husband, their children, and a house full of cats. When she's not writing, she spends her time reading, going to theme parks, and exploring old cemeteries. She is particularly fascinated with monsters, magic, and all such eldritch things.
Her debut novel, Evangeline of the Bayou is a middle-grade supernatural mystery and includes wonderfully spooky illustrations by Joseph Kuefler.
"A middle-grade fantasy set in the Louisiana bayou, the book stars Evangeline Clement, a Swamp Witch apprentice who is studying the ways of folk magic and superstition until she and her grandmother encounter a monster that's been after her family for generations."
Find Jan Eldredge on the following platforms:
---
A huge Thank You to Jan Eldredge for taking the time to talk with PRR about her debut novel, Evangeline of the Bayou, and the inspiration behind it. Check it out!
---
Sierra Jackson: Evangeline of the Bayou tells such a culturally immersive story of the lore in Louisiana. Were there any particular legends that you heard growing up that brought you inspiration for the creatures that Evangeline faces?
Jan Eldredge: There are two mythical beings from my Louisiana childhood that have stayed with me all these years. They're actually the inspiration for characters in two new middle grade novels I'm working on.
One is the Honey Island Swamp Monster. My big brother spent many days traipsing through the Honey Island Swamp, trying to get proof of the creature's existence. While he never got actual photographic evidence, he did manage to lift a plaster casting of a very large, wide, and mysterious clawed foot. In homage to my brother and this elusive creature, I'm writing a swamp monster into the sequel of EVANGELINE OF THE BAYOU.
Another famous local legend I'm still fascinated by is the terrifying Onion Head, a graveyard caretaker with a misshapen head and a murderous temper, someone you'd never want to encounter after dark. He's no doubt the inspiration for the scary caretaker character that appears in the graveyard-themed novel I'm currently working on.
SJ: Evangeline is a young girl apprentice that hails from a long line of strong female haunt huntresses, the powers expressly pass down from female to female — making this story a delightful depiction of rich female empowerment. Did you know that message was going to be read from your novel, and how did the idea come about?
JE: I don't know if I consciously set out to portray Evangeline as an empowered female character, but I suspect it was definitely there in my subconscious. One of the things I love about Evangeline is that it doesn't even occur to her that she cannot do something because she's a girl. And if anyone were ever to suggest such a thing, I imagine she'd arch an eyebrow at them and suggest they try one of Gran's intelligence-inducing elixirs.
Before I'd even written one word of EVANGELINE OF THE BAYOU, I knew my monster-hunting apprentice would be a girl. I'd just finished reading, and very much enjoyed, some middle grade fantasies about apprentices, but the main characters in each of them were boys. I immediately knew it would be fun to write about a rough and tumble, independent girl and the spooky adventures she embarks upon. I'm thrilled that Evangeline is seen as strong and empowered. I hope she's an inspiration to all girls.
SJ: Evangeline of the Bayou is written for a middle grade audience; why did you decide to tell the story of Evangeline at that age? Did you always want to write for that period of life?
JE: I love middle grade fiction, particularly if it's in the spooky, fantasy, or adventure genres.  In fact, middle grade is pretty much the only category I read. I can't remember the last "grownup" novel I read. I especially love writing middle-grade spooky fantasy adventure because it's so challenging to do. As an author, you have to get pretty creative when you're inventing protagonists who are too young to drive, too young to possess credit cards or large amounts of cash, and who have no easy access to the usual weapons of self-defense. Armed with a little more than their courage and wits, these young heroes must defend themselves, their family, and their friends, and still defeat the villain, all without the assistance of an adult.
SJ: In your bio it says that you are a native to Louisiana — do you have any recommendations for fans out there who love reading about a story that takes place in Louisiana?
JE: I love Augusta Scattergood's southern middle grade novels, MAKING FRIENDS WITH BILLY WONG and GLORY BE. They don't take place in Louisiana, but being set in Mississippi and Arkansas, they're very southern.
A fun, action-packed book that does take place in Louisiana is Jonathan Maberry's THE NIGHTSIDERS: THE ORPHAN ARMY, a middle grade novel about magical creatures and villainous alien bugs.
SJ: Do you have a favorite novel that has helped you to write? Or how about a novel that you find to be highly underappreciated?
JE: I love Jonathan Stroud's LOCKWOOD & CO. books. They're so smart, well-written, and wonderfully atmospheric and spooky. They're a happy reminder that we don't have to dumb down our stories and our language for middle grade readers. We can write spooky books for kids that teens and adults will love reading too.
Fortunately, the Lockwood books are highly successful and have many fans. They're definitely not underappreciated. It's also heartening to know that Stroud's books about kid ghost-hunters are loved all through the year. As my fellow spooky author friends and I always say, "Spooky books aren't just for Halloween. They're great all year!"
SJ: This is your debut novel: was there anything about your publishing process that changed Evangeline of the Bayou? What was your publishing process like?
JE: The biggest thing that changed about the original manuscript was its title. And it changed a lot. It started out as SWAMP WITCH, but my editor preferred not to use the word, witch, so it was retitled as, EVANGELINE OF THE BAYOU. When our foreign rights team was shopping it around the world, they asked if we could alter the title to THE HAUNT HUNTRESS since other countries don't have bayous. When we sold it to Scholastic UK, they wanted it to have a commercial and Halloween feel, so they renamed it, WITCH GIRL. We've also sold rights to Turkey and Germany, and I'm really looking forward to seeing what titles the book will have there.
Other than the multiple titles, my publishing experience followed the standard, slow-moving process that is traditional publishing. We sold the book to HarperCollins in September 2016, and it was released on May 01, 2018. Before its publication, we did a few rounds of revisions in which my editor suggested I shorten some of the early swamp scenes so we could get Evangeline and Gran to New Orleans sooner. My editor also wanted me to delve deeper into the history of the haunt huntresses. While it was a bit of work, I really enjoyed discovering more about Evangeline and her ancestors.
SJ: Evangeline, Gran, Julian, the wonderful familiars — will we get to be reading more about them soon?
JE: Yes. I'm working on a sequel to EVANGELINE OF THE BAYOU which takes place entirely in the swamp this time. Julian Midsomer ends up there at the shack with Evangeline and Gran where he's a real fish out of water. There's also a delightfully-evil villain based on traditional Louisiana folklore, as well as a couple of new, fun and quirky characters. I don't know when it will hit the shelves though, since I'm still in the process of writing it.
SJ: If you could be any character in your book and any character in one of your favorite books, who would you be? Hero, villain, or trusty sidekick?
JE: This is a tough question to answer since terrible things always happen to our favorite characters. From EVANGELINE OF THE BAYOU, I'd like to be as wise and confident and brave as Gran, though perhaps with a few less battle scars. From one of my favorite books, maybe Miss Penelope Lumley, the patient and resourceful governess to a group of wolf-like children in Maryrose Wood's THE INCORRIGIBLE CHILDREN OF ASHTON PLACE.
SJ: Any words of wisdom for aspiring writers out there?
JE: I love talking about the creative writing process. I think about it a lot. My words of wisdom for aspiring writers are as follows: Accept the idea that we essentially write with two different parts of our brains, the creative side and the editorial side. The two do not work well together. Begin writing your story with the creative part of your brain, ignoring the editor. Then when you have a completed rough draft, set the editor free to clean up the spelling and grammar, to choose better wording, and to tend to all those other housekeeping sorts of things.
If your dream is to be traditionally published, persistence with improvement is the path to success. Don't give up after a few rejections from agents or editors. Keep querying your manuscript, but also keep improving your craft. You improve by continuing to write, and by reading and learning as much as you can about story writing.
---
PRR Editor, Sierra Jackson