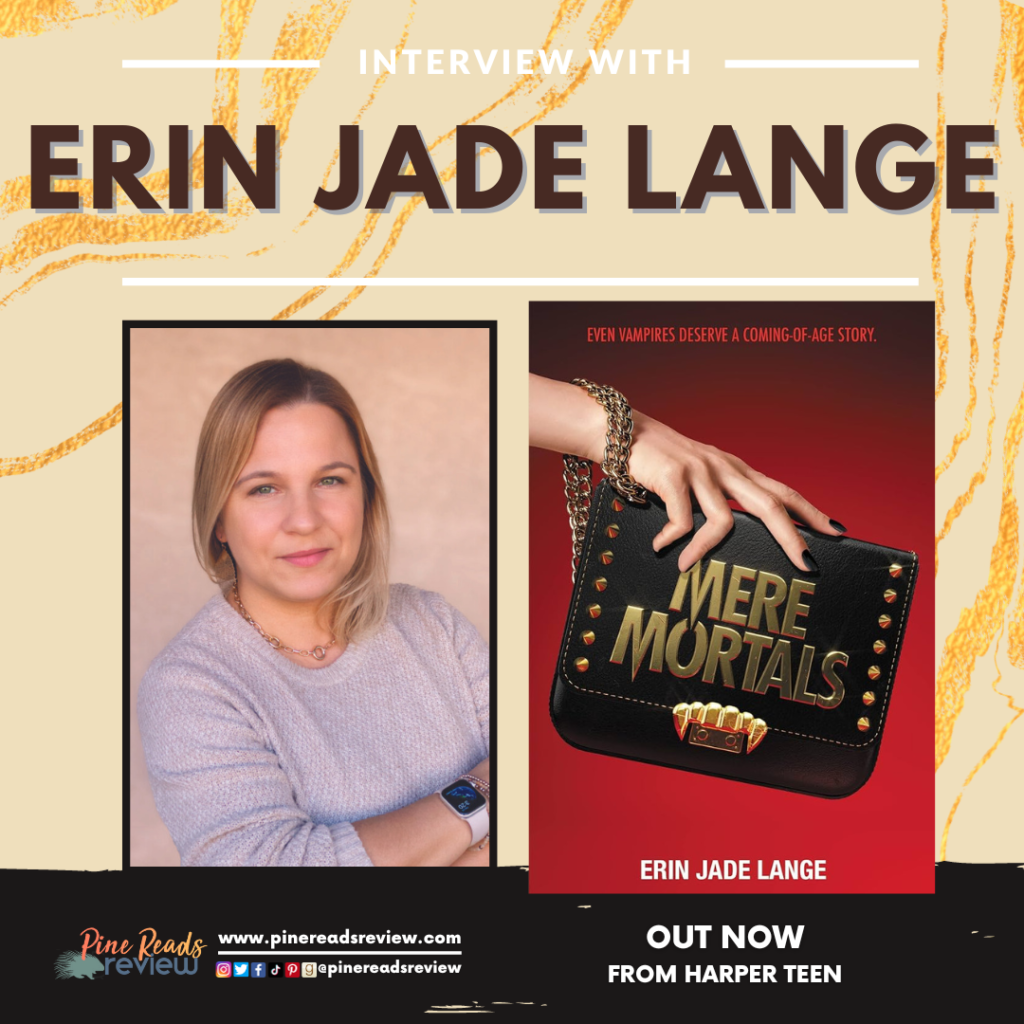 About the Author: "Erin Jade Lange is the author of Mere Mortals as well as four other young adult novels, including her debut, Butter. As a former journalist, Erin wrote facts for 18 years. Her contemporary novels confront real-world issues from a teenage lens, and her paranormal novel provides young adult readers with an escape from that real world" (Bio from the author's website).
Find Erin Jade Lange on the following platform:
---
A huge thank you to Erin Jade Lange for taking the time to do an interview with us at Pine Reads! Her novel Mere Mortals is out now from HarperTeen.
Also, be sure to check out our review of Mere Mortals here!
---
Emilee Ceuninck: Thank you for taking the time for an interview! Mere Mortals is your fifth young adult novel. What draws you to write for teens?
Erin Jade Lange: I have always felt that young adult novels are for teens and anyone who has ever been a teen, so adults as well. It is such a formative time in our lives, a period of discovery and mistakes and growing up and figuring out who we are going to be. There is no more interesting time of life to write about than the time when we come of age.
EC: Having published a significant number of books, did you always know that you wanted to be an author? When did your passion for writing start?
EJL: My earliest memories of writing date back to first or second grade, and my mom has this wonderful binder full of all my school-age writings, from stories to plays. My first attempt to write a novel was in college, and it ended up getting eaten by a computer virus. I continued to write professionally, but I wrote facts instead of fiction, as I was a journalist for almost 20 years. I did not try to write a book again until my late 20s and sold my first novel at 30.
EC: The vampire-to-human reversal storyline in Mere Mortals is fascinating. How did you think of this story idea? How did you approach writing Charlie and Reg's human transformation?
EJL: I can't recall where the initial germ of the story came from, but whenever I have an idea that feels original, I tend to latch on to it. This particular idea first came to me almost a decade ago, and took seven years of tinkering, off and on, between other books before the time was right to focus on it. I just could not let go of such a fun concept! The physical transformation of Charlie and Reg obviously happens quickly and could be as fantastical as I wanted, so that scene was a blast to write. But the real transformation is the slow development of Charlie's humanity throughout the story. That had to happen at a more human pace to feel relatable to young readers. Charlie's transition from shallow and self-centered to a person with more depth and empathy is a transition any human teenager might go through as they mature.
EC: An interesting aspect throughout the book is the names of the local establishments and the town. Why did you choose to name the village Nowhere and the high school Hope High? Are the names accurate reflections of how the townspeople feel about their home?
EJL: I have Midwest roots, and this whole tale is a love letter to the cornfields and small towns of America's heartland. So many young people growing up in rural areas dream of "getting out" and moving to a big city or somewhere along a coast. For me, it felt like I lived in the middle of nowhere, so I got a kick out of actually naming a town Nowhere. Looking back now, I am incredibly proud to have grown up on the banks of the Mississippi in a community that encompasses both Illinois and Iowa. I want any young reader who feels like they live "nowhere" to realize that it is the people who make a place somewhere and that magic can happen anywhere.
EC: The town motto, "No more, no less," is often repeated during different events throughout the novel. What does this phrase mean to you? Why is it an accurate mantra for Nowhere?
EJL: At first glance, "no more, no less" sounds kind of boring or middle-of-the-road, and that's an accurate reflection of how Charlie first views the town. To me, though, "no more, no less" means just right, a perfect balance. This, of course, reflects the evolution of how Charlie starts to feel toward Nowhere, but I also had that perfect balance in mind when considering where I might go with the story if I ever wrote a sequel. The town itself is a character in Mere Mortals, and I planted a few seeds to further explore the town's history in the future.
EC: One of the main themes throughout the novel is the discussion of mortality and death. Charlie and Reg often emphasize how short human lives are. What is the main message you hope readers gain from these discussions?
EJL: There is a passage in the book when Sal is realizing how "teen" Charlie and Reg still are, and he tells them: "I suppose it must be your age. Think you're invincible and death is light-years away—just like human kids." I think many teenagers feel immortal in a way. That's a period when you are in a hurry to grow up and get started on your life without fear that the future holds aging, illness, or death. I also wanted to illustrate that when you have forever to live, you may not be motivated to achieve greatness. Charlie and Reg embody this. They've been alive for a century, and all they do is feed, shop, and sleep. Humans, by contrast, have the desire to make their mark in the world, to leave a legacy that will live on after they are gone, either by building a family or through their work. Without any specific spoilers, it's one of the important discoveries near the end of the book that there's more than one way to be immortal.
EC: One of my favorite characters in Mere Mortals was Charlie, with her good-natured, snarky mindset. How did you approach writing Charlie as a character? How did you ensure that Charlie remained likable despite her attitude?
EJL: I love a complicated, sassy heroine! One of my favorite things to do when creating a main character is to take someone who is usually on the fringe of a story and only given one-dimensional treatment (i.e. the snarky "mean girl" in every high school story) and put them in the spotlight to show they are much more complex than that. When you show all sides to a character, you can see that sometimes the snark and attitude are only skin-deep, and sometimes it's even a layer of armor to shield our more tender, vulnerable insides.
EC: Charlie and Reg are faced with a big decision about whether or not to reclaim their immortal lives. If you had the opportunity, would you become a vampire or stay human?
EJL: I will cheat a bit by answering this question indirectly. I would like to be Lina when I grow up.
EC: The twist and ominous ending leave me wondering what is happening now in Nowhere. Would you ever consider continuing Charlie and Reg's story?
EJL: Absolutely! I've outlined the arc of a story that could span two or three total books and have written a chunk of it. However, I haven't fully committed to making this a series, and I do think Mere Mortals stands on its own as a coming-of-age story. If I ever release more of the tale, I would love to dig deeper into the paranormal, exploring the mysteries of Nowhere and the origin of vampires and slayers. I'd also like to write the new dynamic between Charlie and Reg, given their circumstances at the end of Mere Mortals.
EC: Mere Mortals left me eager for more of your work. Are you currently working on any other projects? Are there any particular topics you would like to write about in the future?
EJL: I would normally answer that I am always writing, even if I'm not always publishing, but that's not true at the moment. I've taken a little creative hiatus to focus on other priorities. I have a very demanding career and two little girls, so I tend to write in the margins of my own busy life. A project really has to grab me by the throat to distract me from work and family. When the right idea hits, it will be screaming to get out, and I will probably write it in a whirlwind. My first four books were contemporary young adult, so the paranormal aspect of Mere Mortals was a departure for me. It felt good to get out of my lane, and it gave me permission to try other genres. I'd love to write a middle grade adventure story, something my daughters and I could read together!
Emilee Ceuninck, Pine Reads Review Lead Writer & Editor 
---