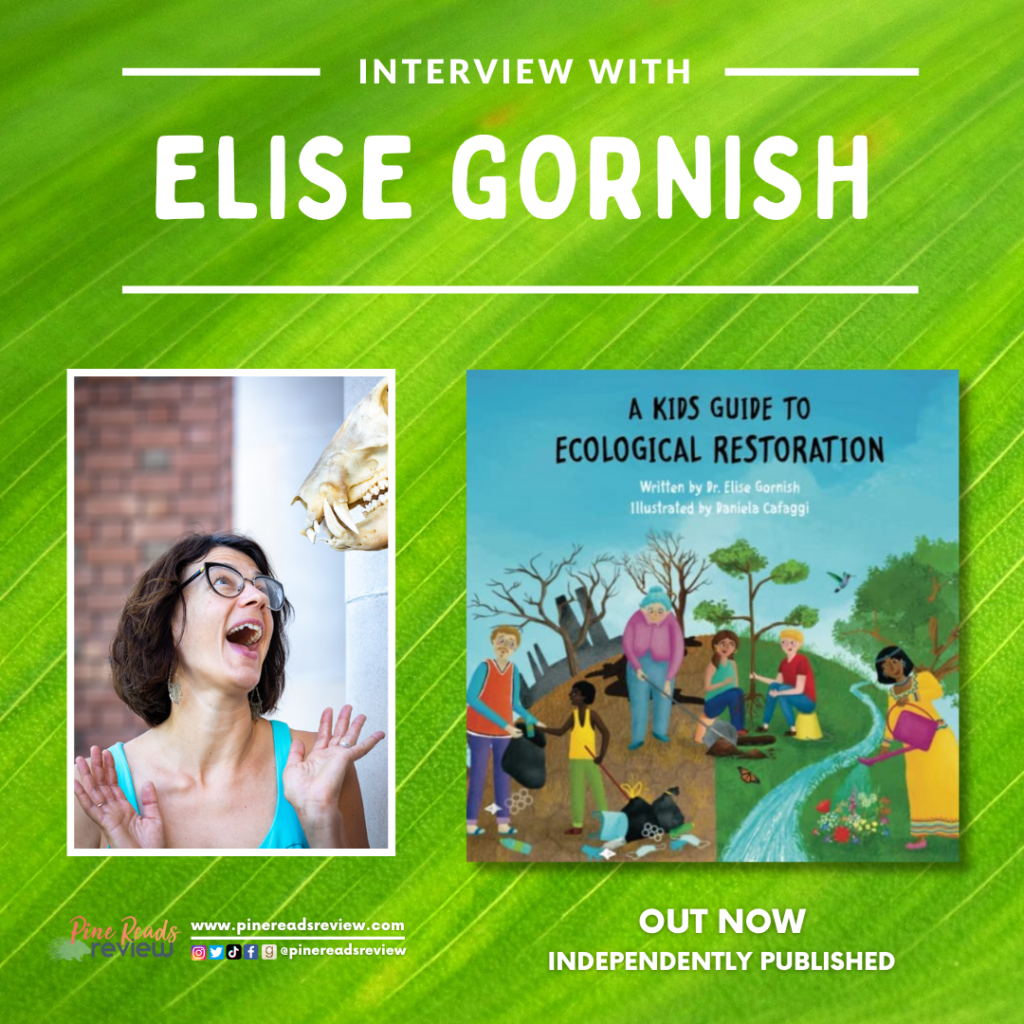 A Kids' Guide To Ecological Restoration written by Elise Gornish and illustrated by Daniela Cafaggi
Out now (self-published and available on Amazon).
About the author: "Dr. Elise Gornish is a Cooperative Extension Specialist in Ecological Restoration at the University of Arizona. She thinks a lot about native and weedy desert plants. Elise is originally from New York and now lives in Tucson, AZ with her husband, daughter and three cats. She likes reading, salty snacks, and puns. (Bio taken from the physical copy of A Kids' Guide to Ecological Restoration.)
Find Dr. Elise Gornish on the following platforms:
---
A special thank you to children's book author and Tucson resident Elise Gornish for the following interview! We loved talking with her over email about her debut book, A Kids' Guide to Ecological Restoration! If you haven't already, check out our review of the book here.
---
Sophie Applin (SA): To kick off the interview, we would love to know more about your work! You currently hold a position at the University of Arizona as a Cooperative Extension Specialist in Ecological Restoration. Can you tell us a bit about what that entails?
Elise Gornish (EG): Sure! Very briefly, I help people in Arizona get and keep native plants on the ground. Less briefly: my job is to essentially identify ecological and management challenges faced by anyone in Arizona who has an interest in native plants (ranchers, farmers, backyard gardeners, conservation managers, state parks, etc.) and help address those challenges through research. So, I talk to lots of people and hear about their management priorities (things like, how to keep soil healthy, how to manage plants during drought, how to get more pollinators on a landscape) and then conduct research (often in partnership with these folks) to get answers to their questions. Finally, once I finish my research, I deliver that science to the very people who will apply my recommendations on the ground. I do this through workshops, blog posts, email blasts, and posting on social media.
SA: Your first children's book, A Kids Guide To Ecological Restoration released in June of this year. As far as we can tell, it seems to be one of (if not the only) children's books focused on ecological restoration in print at the moment. What inspired you to write a children's book about this subject?
EG: I was looking for a book on ecological restoration for my 7 year old nephew and was astonished to find none available (I mean, there are 'physics for babies' books!). Ecological restoration is one of the most critical things we can do for the planet to mitigate the effects of climate change and provide resilience to future changes. This is why it's so important for kids to know about it. So, I figured, if there weren't any books on restoration targeted to kids, then I would write one. The next generation is going to hopefully save us from ourselves and the destruction of the planet so they should learn from an early age one of the most important tools to use: restoration!
SA: While reading the book, I was surprised (and happy) to find how hopeful it is. Is there a reason you approached the story from a more positive angle?
EG: Yes! There is actually a ton of social research that shows how differently people interpret (and believe) information depending on the messaging. Although it's not an easy road, we DO have the capacity – as individuals and groups – to institute meaningful change. Empowering kids with that message is (I think) a key component to not only making them realize how important restoration is for the planet, but also helping them believe that they can be agents for this positive change.
SA: As this is your debut, I imagine it was quite an interesting process to both write and publish a book. Can you shed some light on what it's like to be a first-time author?
EG: Authoring a children's book is much different than authoring a peer reviewed science publication! I actually feel like this book will have more of an impact than any of the formal research I will ever do. If even just one kid sees the book and changes their behavior in a way that better accommodates for a changing world, then I have succeeded in something huge. I actually do readings of the book now, and seeing so many little kids listening to the book and learning about restoration just makes me really hopeful for the future.
SA: Do you have any upcoming projects we should keep an eye out for?
EG: Nothing in terms of kids books (although this book was just recently translated into Spanish)! Right now, I'm working on the 2022 cohort of GALS (Girls on Outdoor Adventure for Leadership and Science), a free outdoor science program for high school girls.
---
PRR Assistant Director and Writer, Sophie Applin
---
Interested in purchasing the book? Check it out on Amazon!