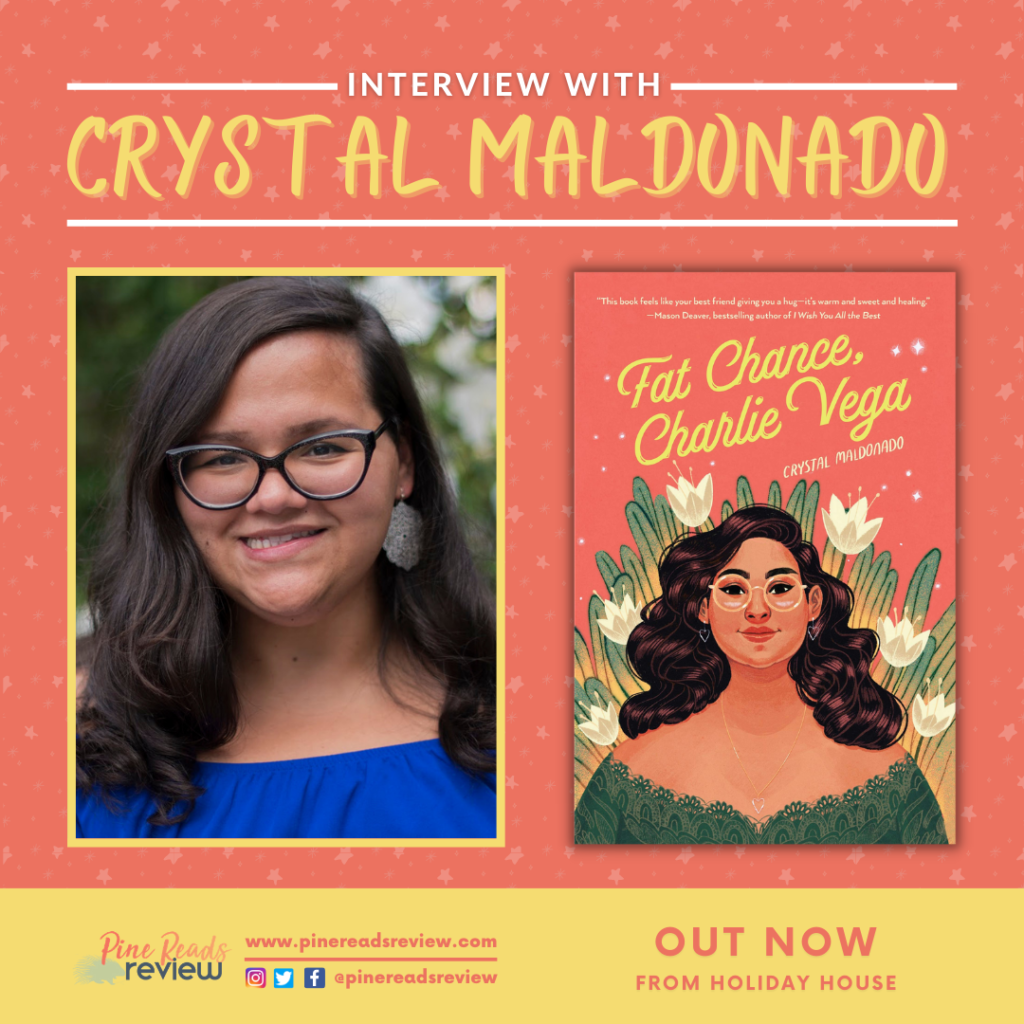 Spoiler alerts ahead for Fat Chance Charlie Vega!
About the Author: "Crystal Maldonado is a young adult author whose debut novel, FAT CHANCE, CHARLIE VEGA (Holiday House), will be released on Feb. 2, 2021. Born and raised in Connecticut, Crystal has spent her life adoring all things books and writing. She is a proud feminist who hopes to use her books to tell stories that make others feel represented, seen, and loved. By day, she is a social media strategist working in higher ed, and by night, a writer. Her work has been published in the Hartford Courant, Buzzfeed, and Latina Magazine. She earned her bachelor's degree in English and journalism, with a minor in women's studies, from the University of Connecticut. She currently lives in western Massachusetts with her husband, daughter, and dog. Follow her everywhere @crystalwrote or visit her website at crystalwrote.com." (Bio taken from author's website.)
Instagram: @crystalwrote
Twitter: @crystalwrote
Website: https://www.crystalwrote.com/
---
A huge thank you to Crystal Maldonado for the following interview on her debut novel, Fat Chance Charlie Vega, out now from Holiday House! In this interview, Crystal talks about her next book, teenagehood, fat rep in YA, films, a Charlie adaptation, Mariah Carey and Beyoncé, as well as some of her favorite things in pop culture! 
Note: We've only highlighted select questions and answers from Crystal and Jackie's discussion. Watch the video to experience the full interview!
Jackie Balbastro: As writers often state, no book is perfect on draft one, how many rewrites did you go through to get to the point of having this version of the book?
Crystal Maldonado: I started this in like 2016-ish and so I had at least one or two read throughs on my own before I even did anything with the book and I like to go back and when I'm writing and rewriting I tend to go like to the beginning of the book and reread it for like flow and everything so it probably ended up being like a lot of rereads as I was writing this first draft just cause that's kind of how I work to get back into the voice of Charlie. Like it kind of just helped me sort of see everything and see how those puzzle pieces fit together. So there were a couple of read through and drafts to start and then there were a couple of other ones too.
So like, once I got to the place of being ready and feeling like it was okay enough to so that I could start querying agents and things like that. Once I heard back from my agent that I had signed with, she had some suggestions to make to the book so I went back and furiously made all those edits and suggestions so it could be stronger so that way I could then take it to publishers and hopefully get some interest with that. So then once I heard back and we got a deal and it was like the greatest day of my life. I came home, I put on some Ariana Grande and I was dancing around my living room with my dog and then we got our edit letter and so there's usually a couple rounds of edits with any book. So there's usually like an edit letter and then there's developmental edits, line edits and copy edits. So there's usually like, four-ish rounds of edits depending on how things go. So this was my first book so I had all four. So some authors are like so perfect that they only need one or two rounds but I was such a newby and I needed all of the rounds of edits.
So I would say like after we got—after I got a contract and like, had a publisher it was probably four rounds of solid edits and nothing really changed about the book. I would say most of it was like, fleshing characters out and sort of adding depth to certain areas that maybe didn't have the depth that they needed when they started. So one good example is Charlie and her relationship with her father's side of the family. So she's got these two cousins, who are— I think are so fun and I like, want to meet them in real life, but they didn't exist in the first draft of the book. They just weren't there at all and we never got to see what that side of the family was like even though I had written about them and I knew in my head they were really important. So it was like, in the editing process we got to build them out and have this like, kind of beautiful reunion between Charlie and her cousins and sort of have them kind of reunite and talk to one another and celebrate each other again. So that was a really fun one.
JB:I love the relationship between Amelia and Charlie, they're really tight knit, they stand up for each other and I adore childhood best friends, it gives me a lot, so what was in inspiration for this friendship?
CM: I also love childhood best friends. I just think they're—like if you can manage to be friends with somebody through all those years, through all those big changes that is truly like, the most impressive. And so what I wanted to do was kind of make this friendship, that I kind of wish that I had had, like I wish I had met someone in second grade and we just ended up being besties for our whole life and like you just grow up together. So like I love that idea so I wanted to—I knew from the beginning I wanted that to sort of happen for Charlie and Amelia. But with them I also wanted to create this really strong like, female friendship that was almost like a sisterly relationship where they have—yeah there's sometimes, there's a little bit of jealousy between the two of them but not in a toxic way. It's more in a way of like "God you're just so amazing and I just want to be more like you" and like "why can't I be more like you?" caue that has been my experience with a lot of wonderful friends that I've had. It's not a jealousy because I don't want good things for them, it's a jealousy because I'm like you're so great, I want to be more like you.
And so to me, like, their friendship—I wanted to make a friendship that was like #goals and that also just celebrated what it's like to have, like, friends who get you and who support you and who want the best for you and would do anything for you. So I didn't have that like BFF when I was, you know, growing up but I did have good girl friends and after I graduated college I ended up finding a wonderful group of friends who I'm still friends with. They, like, we gas each other up all the time where its like, yes we celebrate you and love you and that is something so magical in that when you find your group of friends who get ou and who understand you and so that's what I wanted to give Charlie and Amelia especially because I—when I was growing up—things have changed a lot now but when I was reading books when I was, I don't know 15/16 a lot of the female friendships had this like bite to them. Where they would like, be mean to each other and I was like that's not really my actual experience in life, like it, you  know we're not mean to each other and this is not productive. And so I wanted to show like, yeah of course, you're a teenager, you have these complicated feelings but you can also want really good for each other and like end up becoming found family and so I just wanted to give them what they deserved, Charlie and Amelia. 
PRR Writer, Jackie Balbastro