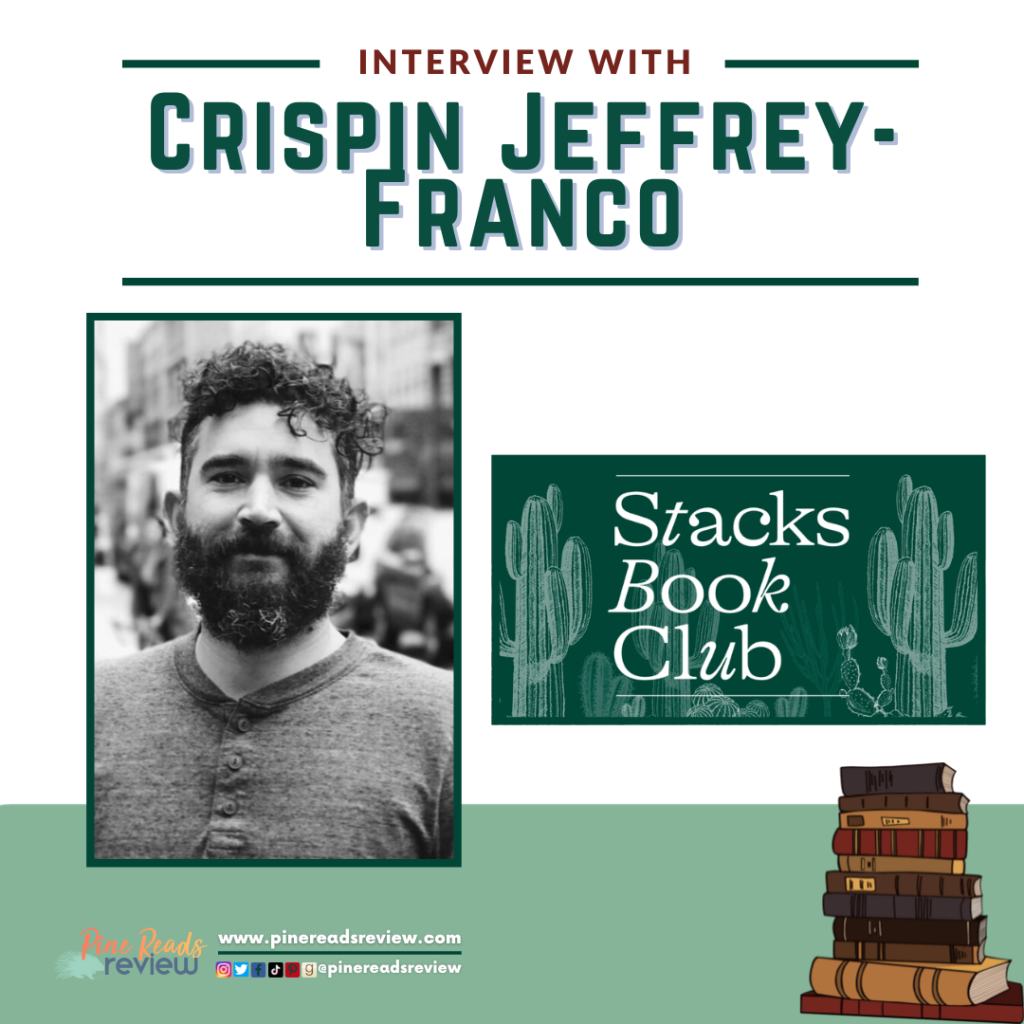 Around a week ago, a few members of the PRR team had the opportunity to travel a little north to Oro Valley, Arizona and visit Stacks Book Club! Stacks is Oro Valley's very first independent bookstore and contains a cute cafe inside, boasting all sorts of food and beverages from local Arizona vendors. The bookstore also hosts book club meetings, poetry nights, and even flash days for local tattoo artists—all of which you can check out on their events page! Stacks Book Club strives to do more than just sell books; their mission is to connect people with each other and themselves through the power of stories.
I sat down with one of the owners, Crispin Jeffrey-Franco, to chat about all things Stacks and, of course, books! Stay tuned for our podcast episode, which contains the whole spoken interview, but in the meantime, here's a little snippet of me asking Cripsin some rapid-fire book questions. A huge thank you to Crispin for his time! If you're in the Tucson area, make sure to pay Stacks Book Club a visit!
Find Stacks Book Club on the following platforms:
---
Disclaimer: This written interview snippet was edited for length and clarity. You can find the full spoken interview on our podcast here.
Aruna Sreenivasan: What are some of your favorite books?
Crispin Jeffrey-Franco: In the YA space, particularly, I'm really, really into Fire Keeper's Daughter, and I just bought her newest book, Warrior Girl Unearthed. Angelina Bowie, I believe the author's name is. So she's an author that's on my radar right now, and whatever her next project is, I will be checking it out. Both of those two stories are amazing. What else have I read that's YA recently? The Hate U Give, Concrete Rose, that whole series I found to be just so beautifully written. It's unfortunate that that's a timely story and feels like it's timely every month, basically. And so I would encourage anybody that wants to be more socially aware and be thinking about things like social justice to check out that series, because I think those books are also amazing.
AS: Totally agree. I love Firekeeper's Daughter. What new/upcoming releases are you the most excited about?
CJF: We just got a book in called Their Vicious Games, which I'm excited to get my hands on. We've had a couple of staff members who have read that and really enjoyed it. It's a little bit like a darker take on capitalism, like dismantling capitalism, which is an interesting topic to me. Maybe not to everybody. Especially as a business owner, maybe that's weird to say. I think that's the difference between being like an independently owned business versus a corporation. We feel like we could do things a little bit differently. So I'm really excited about [Their Vicious Games]. We've had some folks be really interested in that. The Ballad of Songbirds and Snakes is coming out in the theaters; it's the prequel to the Hunger Games series. I read that a couple months ago. Really enjoyed it. It's always interesting when you get to peel the layers back on a villain. And I think the most interesting villains are villains that do have background and context. And you're never going to agree with what they're doing necessarily. But if you can understand where they're coming from and sort of like their twisted version of why they think they're right, I think that always adds dimension to the character. And so in that book, you get to sort of understand where Snow came from and kind of how he is, how he is and who he is at the end of the trilogy. Go watch it in theaters and come here to grab a copy!
AS: I'm also a big fan of seeing characters devolve into villains! Vicious by V.E. Schwab comes to mind—that's not necessarily young adult, but it's one of my favorite books because of that trope.
CJF: On that note we are going to be having our first YA book club discussion in November, and we are reading her new release Fragile Threads of Power which comes out this coming Tuesday, [September] 26th. (Note: this book is out now!)
AS: If you could only read one book over and over again for the rest of your life, what would it be?
CJF: It would be the book that I've read the most in my life. It's called Beartown; it's more mature than a YA book. It's about a town in Sweden, but it could be a town in any rural part of the world, really, and the book really tackles the idea of progress and how progress can feel scary. It can feel like you are losing something if you are the one that's at risk of being displaced, or being asked to change because of progress. It's set around a small town where hockey is the most important thing in the town and there's a violent act that happens early in the book that sets a whole bunch of characters on different paths throughout the book. I think the book is amazing. Every young male, especially, should read the book. It talks about toxic masculinity and locker room bro culture in a really thoughtful way. A lot of young men could learn something from it. Also, there's a lot to the story and a sort of understanding of where we're at currently as a society. There's also the idea of progress and change and how that can create a natural resistance, a push back from different groups. The book makes you understand where both perspectives are coming from. So that's my favorite book. I've read it basically every year since it came out and I would probably continue to read it every year because every time I go through it, I uncover a different layer to a character in that story. It keeps me grounded even though it's kind of a dark story.
AS: I've heard only good things about that book and it's on my TBR, so I think I have to read it soon! What books do you associate with your teen/college years?
CJF: Oh, let's see, anything by Tolkien. I got into The Hobbit and the Lord of the Rings series early in high school. These are probably on a traditional sophomore year reading list: Of Mice and Men, The Catcher in the Rye, some of like those real classic novels that I don't really return to anymore. One of the great things about like high school and college reading is you get assigned these books that are older, and in most cases hold up pretty well. Though now as an adult, I tend to read books that are coming out a couple months from now or already out, because I do feel more pressure to stay current with what's new. I spend less time reading older books, which I do miss. On the nonfiction side I got really into Freakonomics, Malcolm Gladwell, and some of that social psychology along the lines of trying to understand why we do the things that we do, how does our brain lead us down paths that we didn't even realize it's like bringing us down. That's what I really liked in college.
AS: I totally get what you're saying about the classics because I read that in school and stuff but like now I don't really feel the urge to go back and read the old books. I want to read what's coming out now. What's a banned book that you think every teen should read?
CJF: I think every teenager should read Maus, the graphic novel series. I think it recontextualizes one of the most horrific events in human history, in a way that appeals to young readers, especially because of the graphic novel setting. It makes the entry point into that story a little bit easier. I think it's one of the most important works that has been produced in the last number of years. I would definitely recommend the complete series as my go-to banned book.
Aruna Sreenivasan, Pine Reads Review Assistant Director
---