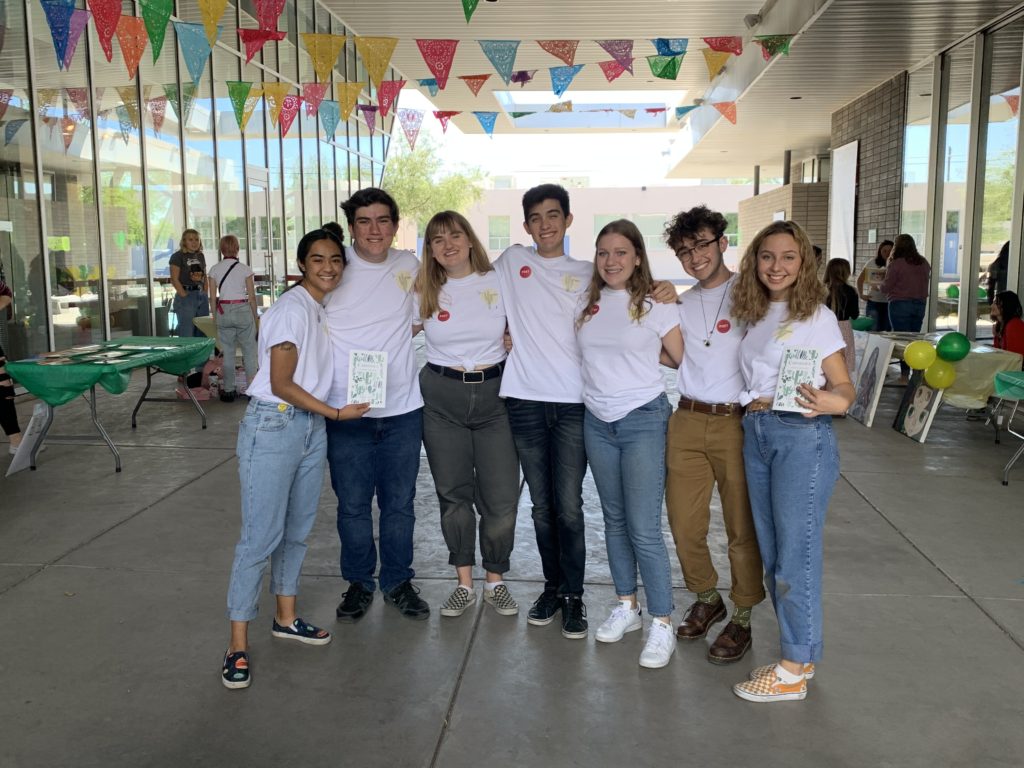 Carnegiea is a student-run magazine that focuses on the creativity of young adults and how it is that they are able to produce material for both the media and community.The magazine focuses on highlighting upcoming young artists and their work whether it be poetry, digital art, paintings/drawings, photography, and much more. The biggest inspiration for the magazine is the community of Tucson, Arizona and trying to create spaces for individuals of all ages.
Social Media: http://carnegiealitmag.com
IG: @carnegiea.mag
Ajia Barnes: How did you start Carnegiea? Why and what went into it?
Sharmila Dey: It's a funny story, Genevieve and I were at my house watching the Great Britain Baking Show and we were complaining about how that summer we had submitted a lot of our poetry to online summer magazines, but we noticed there's a big gap. There are magazines for the youth, 13 and younger, and there are some for the public, which are usually adults getting published. We found it really frustrating that there wasn't a space specifically for the teenage voice and we think it's really important to highlight because teenagers have a lot to say. Everyone on our team feels like they aren't listened to as much as they should be, so we wanted to create something for all youth in Tucson to participate in and be apart of a bigger writing and art community.
AB: How did you get your team together?
SD: I didn't know that a lot of my friends made art and wrote poetry, so it was cool to put together a team of young artists who all want the same goal.
AB: How did you decide on the content?
Henry Harms: The goal is to provide the largest platform possible for youth in Southern Arizona.
SD: We think every voice is valuable and we want to be able to highlight the pieces they create.
HH: Our general guidelines is that the person must be from Southern Arizona and fit in the age rage from middle school to college. We enjoy everything that's submitted to us.
SD: We look at our email and google form submissions and alternate between posting poems, short stories, art, and photography. We believe that art comes in all forms. For the issue it was more selective, our writing and art team went through and picked their favorite pieces and we all consecutively narrowed it down to what we could afford and ended with 41 artists, including the eight of us.
AB:I love poetry a lot and something that I really enjoy about your magazine is that it the content seems to be based off of other individuals or personal experiences. I wanted to ask what are some of your inspirations when writing?
SD: Definitely my own interactions and experiences, which is not uncommon at all. Poetry is a big coping mechanism for me, like how can I transform these feelings into something that's more tangible. When I was younger though I liked to write more about nature and the Sonoran Desert, which is another big thing we focus on in the magazine. It's not only about the beauty of the people in the area, but the beauty of the area in general because people don't really think about deserts being beautiful and they're what we have to live with.
AB: Seeing that you've done some collaborations with the poetry center…. What are future goals?
HH: We really want to collab with music. We've played a little with the local music scene and I'm fairly connected to young local bands.
SD: Our friend Roman Sherman who's going to be playing a guitar set in the middle of our event. He's apart of a band in Tucson.
HH: I would love to do a music venue at some point in the next year, hopefully in the Spring.
SD: We've been expanding our definition of what art is and accepting it in all forms, which is something we're really excited about.
AB: How has the marketing experience been?
SD: It's so eye opening because I didn't know anything about how to promote ourselves and Henry has been really helpful with that aspect of Carnegiea. Our instagram account originally was what we thought would be successful and since then we've gotten a lot better at bringing in the community. We do instagram stories where we ask questions to get others engaged, which is really fun.
AB: Who's coming to the UofA?
HH: A lot of us are applying because majority of us are seniors this year. Really wherever I end up attending college, I know I will end up doing something community driven like Carnegiea if not continuing it if I'm still in Tucson.
AB: What are you hoping from this event?
HH: We're hoping the artists can make money off of their art. I noticed a lot of artists have trouble selling their art and it's incredibly hard to make money off of your passion. To be able to provide some sort of platform for these artists to make money is the goal. Secondly, we focus on the community and just having a place for them to come together and enjoy art.
AB: We love your work and that you're already so known by just being in high school, what can we expect for your future content?
Carnegiea Team: We finally were able to raise enough money to print our first magazine. Now that we have the tools, we're hoping for a spring edition and maybe a summer one after that. Secondly, more community events like this one or a pop up gallery for another display of art.
PRR Writer, Ajia Barnes