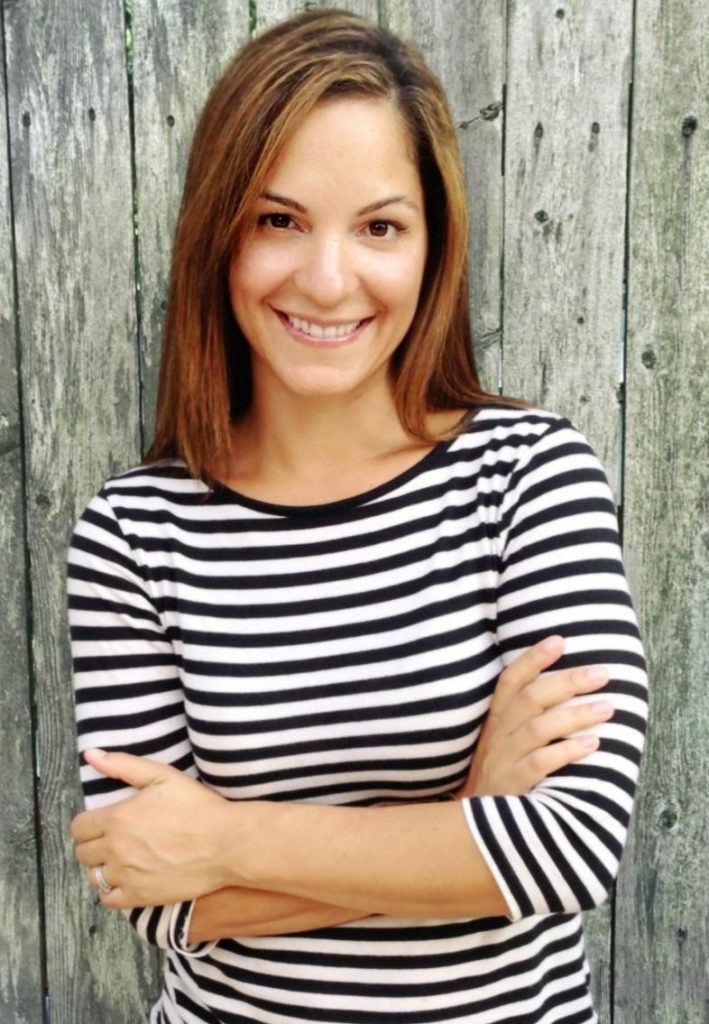 Anika Aldamuy Denise is the author of Planting Stories: The Life of Librarian and Storyteller Pura Belpré, a New England Book Awards finalist, Junior Library Guild selection, and Kids' Indie Next List pick. Her stories are often about family and reflect her bicultural heritage and upbringing. In her nonfiction work, Anika strives to illuminate the important contributions of influential Latinas, so that readers of all backgrounds, but especially those in the Latinx community, are inspired to dare greatly and share their gifts with the world. Her forthcoming nonfiction project is A Girl Named Rosita, a picture book biography of legendary Puerto Rican actress and singer Rita Moreno, illustrated by Leo Espinosa. Other new titles include Bunny in the Middle, illustrated by Christopher Denise and The Love Letter, illustrated by Lucy Ruth Cummins. Anika grew up in Queens and now lives with her husband and three daughters in Rhode Island.
Social Media:
Facebook:@Anika.Denise.Books
Twitter: @AnikaDenise
Instagram: anikadenise
Mandy Becker: What inspired you to write the story of Pura Belpré in your book, Planting Stories?
Anika Denise: I've known Pura Belpré's stories since I was a little girl. My titi Rosie would recite passages to me from Perez and Martina, Belpre's best-known children's book. Later when I started writing for kids, I learned of the Pura Belpré Award, the medal given each year to outstanding works of literature for children by a Latino/Latina. Although I knew Belpré was an influential public librarian in New York City, where I'm from, I didn't know the finer details of her life and career. Visiting Leonard Marcus's exhibition on children's books a few years back—which included a display of photographs and her handmade puppets—sparked the idea to research and write Planting Stories.
MB: After Pura arrives in the US, she finds much of her inspiration in libraries. Have libraries impacted your life or career choices in a similar way?
AD: Libraries made me a reader. And being a reader made me an author. So yes, they had a huge impact on me. My grandmother used to take me to her local library where I'd roam freely while she volunteered at the circulation desk. I loved the musty smell of the books and reading for hours in the wide window seat in the children's section. She always selected a new novel on the way out and would let me take books out too. She would say, "I can't wait to get home and read this." After, we'd sit on her porch with sandwiches and iced tea and read our books in contented silence. I think maybe that's why I always saw reading as a treat and never a chore. I knew from a young age that having access to books in a public library was an extraordinary privilege.
MB: How does your heritage influence the stories you tell? Do you feel that kids nowadays have more of their stories and cultures on the shelves?AD: My Puerto Rican heritage is the reason I often weave Latino main characters and culture into my stories and why I enjoy writing about Puerto Rican pioneers and groundbreakers. And while I do see more cultural representation on the shelves today than in the past several decades, I believe we still have a long way to go. Books featuring Latinx main characters, for instance, hover at around 3% of all children's books published. For #ownvoices stories, that percentage drops even further. When you consider that Hispanic students make up nearly a quarter of the public school student population in this country, it's clear there's still work to be done to close the gap.
MB: I really enjoyed that Planting Stories included both English and Spanish vocabulary for kids. What is it like finding a balance between writing in English and Spanish for children?
AD: Many are surprised to hear that I'm not a fluent Spanish-speaker. My father, who was bilingual, spoke primarily English to my siblings and me at home because at the time, he thought that's what we would need to do well in school. So, like many second and third-generation kids, we answered in English, even though we understood some of the Spanish. That said, I have enough of a basic grasp to include it in my books, and when I'm unsure if something is correct—I get help from family and friends. For me, it's about echoing what I heard growing up—a rhythm and an ease with switching back and forth in conversation that spills over to my storytelling. I really enjoy writing in both languages, and it's made me reconnect and recommit to using my Spanish more. I also try to sprinkle in the Spanish words in a way kids who might not read or speak any Spanish can understand through context and illustrations.
MB: What do you enjoy most about the process of making a picture book?
AD: For Planting Stories, I loved finding my way into the book through the metaphor of planting and sowing seeds, an idea born out of Belpré's own words about wanting to be the literary "Johnny Appleseed." Overall, I always enjoy puzzling out how to tell a story, finding the voice, and hitting on just the right ending.
MB: Are there other Latinx authors or illustrators that inspire your work in "planting stories" for youth?
MB: Are there other Latinx authors or illustrators that inspire your work in "planting stories" for youth?
AD: Oh, yes. Too many to name without making this a much longer interview, so I'll just mention a few. Meg Medina for her bold storytelling and characters who feel whole and true. Celia Pérez for giving voice to loners and 'weirdos' and kids who struggle with cultural expectations. Raul The Third for his quirky originality and visual brilliance. Lilliam Rivera, Elizabeth Acevedo, Emma Otheguy, Adam Silvera, Alexandra Villasante, Mía García, Margarita Engle, Ruth Behar, Juana Martinez-Neal, Lorena Alvarez Gómez, Rafael Lopez, Yuyi Morales, John Parra, Jorge Lacera, Paola Escobar, Leo Espinosa, Raul Colón, and many more. To be in the company and community of these gifted Latinx kid-lit creators always inspires me to be my best, and to keep writing stories that center Latinx characters and experiences.
MB: What can we expect from you in the next year?
AD: I am very excited that my new picture book biography, A Girl Named Rosita, about legendary Puerto Rican performer Rita Moreno, will be out in 2020! The wonderfully talented (Pura Belpré honor-winning) illustrator Leo Espinosa is creating the art. It will be fun for the book to release alongside the new West Side Story film remake and a PBS documentary about Moreno produced by Norman Lear and Lin Manuel Miranda. It's the year of Rita!
PRR Writer, Mandy Becker
Pick up your copy today!