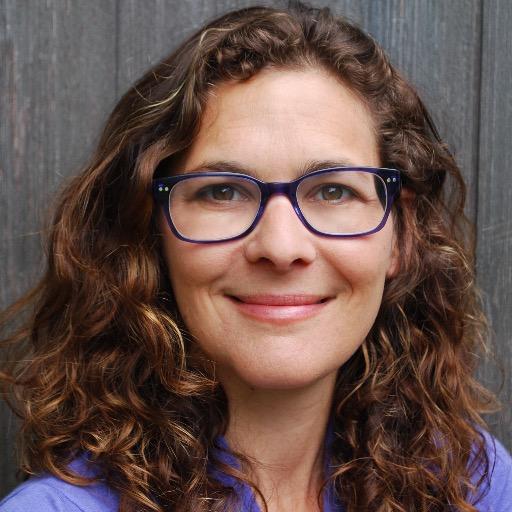 About the Author: Alison Goldberg is the author of I Love You for Miles and Miles, illustrated by Mike Yamada (Farrar, Straus and Giroux, 2017). Before becoming a children's writer, Alison worked for economic justice organizations and wrote the resource guide, Creating Change Through Family Philanthropy: The Next Generation (Soft Skull Press, 2007). These days, she blogs about activism in children's literature and loves researching everything from marine life to contemporary art for her books. Alison is also a board member of the Food Research and Action Center.
Find Alison Goldberg on the following platforms:
---
Thank you Julia Sheton for taking the time with us to talk about her literary career as well as newest book release! Check out Goldberg's book trailer for I Love You for Miles and Miles!
---
Julia Shelton: Is I Love You for Miles and Miles your first picture book you've worked on?
Alison Goldberg: I Love You for Miles and Miles is the fifth or sixth picture book manuscript I attempted and my first one published.
JS: You've interviewed your own fair share of authors. What was the best piece of advice you received from them? How did their stories impact your own writing?
AG: I really enjoy interviewing authors and illustrators! In particular, I'm always on the lookout for children's book creators that approach complex topics related to social justice and activism in imaginative ways. When I first started writing children's books, I had a conversation with Jen Cullerton Johnson, author of Seeds of Change: Planting a Path to Peace, a picture book biography of Wangari Maathai (Lee & Low Books). I remember at the time hearing so many "rules" for writing picture books—from word count to story arc to content—and this book broke so many of them. Seeds of Change follows Maathai's life through ups and downs (including jail time) and even offers a power analysis. When I asked Jen about this she said, "I firmly believe that inviting children into conversations about deep issues in our society, in this case, women's rights and the environment, will allow them the opportunity to reflect on what they think and share their ideas. Conversation creates community, and in this moment, our children are making their way in a very global community." I couldn't agree more! Interviewing authors like Jen has encouraged me to stretch the picture book form into the shapes I need for the stories I want to tell.
JS: What was it like acquiring an agent? Did you send only query letters, or did you have your full manuscript ready to send out?
AG: I found my agent, Kathleen Rushall, through Manuscript Wish List (on Twitter). I queried her with one picture book manuscript and soon learned that I should have at last three or four picture books ready to send. So the process took several months of her requesting additional manuscripts and me polishing and sending more. The fourth book I sent to Kathleen was a love book about trucks and trains (I Love You for Miles and Miles) and she offered me representation the next day.
JS: Are you excited for your book's release on December 26, 2017?
AG: I'm thrilled about the upcoming release of I Love You for Miles and Miles! When I read the book it takes me back to the experience of writing it when my children were preschoolers. I remember the excitement and imagination they brought to trucks and trains, and I can't wait to share this book with kids!
JS: Do you brainstorm with other people when writing a story?
AG: I don't typically brainstorm with other people about story ideas, but my critique group is the first set of eyes on my manuscripts and offers input through that process.
JS: How did you get started as a program coordinator for social justice organizations?
AG: The year after college I participated in a unique fellowship program to learn about many different approaches to addressing hunger in the United States. For the first half of the year I worked for grassroots organizations on the Northern Cheyenne Reservation in Montana, and for the second half I focused on child nutrition policy in Washington, DC. These experiences were very educational, and through them I was introduced to some extraordinary community activists.
JS: Would you ever combine your passion for activism and picture book writing to write a book for kids teaching them about social justice?
AG: I'm writing a few manuscripts with social justice themes that I hope will someday become books.
JS: What are your favorite books/picture books which include activist themes?
AG: I'm part of a group blog called M is for Movement, and we're asking several people this same question for a year-end post. I'm finding it challenging to come up with my own answer—it's hard to pick favorites! But if I limit myself to picture books, here are a few that I keep coming back to: We March by Shane W. Evans; The Streets Are Free by Kurusa, illustrated by Monika Doppert; Separate Is Never Equal by Duncan Tonatiuh; Brave Girl by Michelle Markel, illustrated by Melissa Sweet; and The Wedding Portrait by Innosanto Nagara.
JS: How has the launch of M is for Movement been going? What are you most excited for with the blog and being a part of their editorial team?
AG: Since M is for Movement's launch in October, our editorial team has connected with several children's book creators and librarians who share an interest in social action and social justice and would like to write for the blog. Building this community and learning from many voices is very exciting to me!
JS: How do you think picture books best translate social activism for children? Why is this so important?
AG: Picture books can share the stories of remarkable individuals and the history of movements, describe engagement tactics, and inspire action. They can impart a sense of agency so that children (and adults) feel they have the power to speak out and act in the face of injustice. During a time of so much uncertainty—a time of so many inequities—it's crucial that kids feel they can impact the world around them.
JS: What are some of the differences between writing/publishing your first book (a nonfiction for adults) and your second (a fiction picture book)?
AG: My first book is a resource guide about philanthropy that grew out of my work experience and was co-written with a colleague. It required research, many interviews, and refining program materials to create a nonfiction text. Once completed, the publication process went very quickly since our organization already had a relationship with the publisher. The book was printed and available for distribution within months.
For my picture book, I also did research—observing cranes, reading about drill rigs, riding trains—but this was to find details to make the writing come alive. The manuscript went through many revisions in the submissions process, focused on the writing itself. Then once acquired, it was the illustrator's turn to shape the story. So even though the picture book is a much shorter book than the resource guide the process was longer from start to finish.
JS: Do you have any tips for aspiring editors and writers? Any writing pet peeves that stand out to you the most?
AG: For writers: Read as much as you can in the genres you want to write in, write as much as you can in any genre that catches your attention, and find critique partners to build a writing community.
JS: Do you have a strict schedule for writing or what-not or does it change day-to-day?
AG: I do not have a strict schedule for writing. However, when it comes to revision, particularly for longer and research-based projects, I prefer more scheduled sessions and setting concrete goals.
JS: Who are your author inspirations? Are there any books/characters that you read as a teen that influenced you?
AG: For picture book inspiration, in addition to stories about activism, I love artist biographies including those by Javaka Steptoe (Radiant Child), Patricia MacLachlan (The Iridescence of Birds), Andrea J. Loney (Take a Picture of Me, James Van Der Zee!), and Jen Bryant (A Splash of Red). I recently had the experience of rereading From the Mixed-Up Files of Mrs. Basil E. Frankweiler after decades and realized just how clearly I remembered it. I think this book is the reason I studied art history in college.
JS: What do you find the hardest to write and how do you overcome that?
AG: I don't know if there's one particular element of writing that I find the hardest since each project seems to present its own unique puzzle. But when I find myself mulling over a writing challenge I try to take a completely different approach—for example, outlining—or I jump to a different project, or I go for a walk and take the question along with me.
Thanks for including me in Pine Reads Review!
PRR Writer, Julia Shelton
---