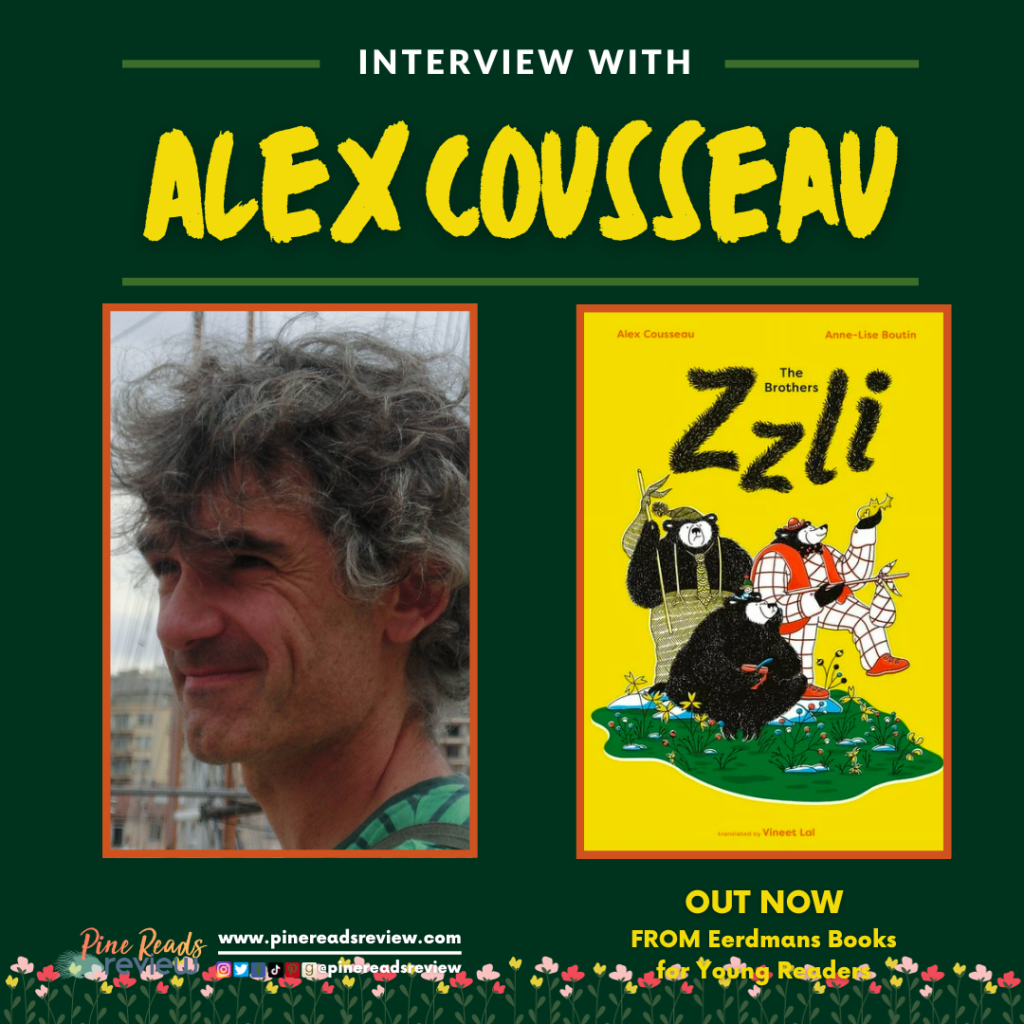 Out Now from Eerdmans Books for Young Readers; 40 pages
About the Author: "Born in 1974, I studied cinema and did various jobs before devoting myself to writing. For twenty years, I have published in France around eighty picture books and novels for all ages. I live very close to the sea in Brittany" (Bio provided by the author).
Find Alex Cousseau on the following platform:
---
A huge thank you to Alex Cousseau for taking the time to do an interview with us at Pine Reads Review! His English debut picture book, The Brothers Zzli, is out now from Eerdmans Books for Young Readers.
Also, be sure to check out our review of The Brothers Zzli here!
---
Emilee Ceuninck: Congratulations on having your English-language debut novel The Brothers Zzli published! What made you want to be published in English? How does it feel to be reaching a new audience?
Alex Cousseau: It's not my choice to be published in English. As with any translation, it's first an editor's choice. But it's always a real pleasure to share this story with a greater number of people!
EC: In celebration of this significant milestone, when did your passion for writing start? Have you always wanted to be in the literary field?
AC: I was a shy boy, and for me, it was easier to write than to speak. I started writing little stories, and I continued when I realized the power of stories. We all need good stories to move forward in life. All the ways of telling stories interest me. I love movies and series. But it is in the literary field that I feel the most in my place.
EC: I am a big fan of children's literature, especially picture books. What draws you to write children's books?
AC: I want to write books for children and young adults, for everyone. But it's also because I love pictures that I write picture books. It's always magical to work with illustrators. This book was also born from the desire to work with Anne-Lise Boutin. Her pictures inspire me a lot. I find them both sweet and strong, bright and full of life.
EC: Balancing heavy topics with lighthearted aspects that keep children engaged is a difficult feat in children's books. How do you approach incorporating serious subjects in your children's books?
AC: That's exactly it! I love this back-and-forth between serious and fantasy. When I tell a story, I want to have fun as much as I want to think about the world around me. I spend a lot of time observing and recording the reactions, words, and gestures of my contemporaries. I am like a sponge. And when I write, I wring out!
EC: The Brothers Zzli tackles oppression and refugees' struggles in finding a new place to call home. What is the message you hope young readers gain from this story?
AC: This story offers a message of curiosity and fraternity. These three bears must not scare us. They have a lot to offer us.
EC: One aspect I was curious about in The Brothers Zzli is that the bears and narrator are never given "real" names. Why did you choose not to provide names for your characters? How does this add to the depth of the story?
AC: By not giving them real names, I hope these characters will become more universal. And in the name of the three bears (Yes, No, and Maybe), I like the idea that there are three ways to think, three possibilities if someone knocks on my door. Do I open or not?
EC: The mystery of what happened to the briefly mentioned fourth brother Zzli is still on my mind days after finishing the book. Why did you decide not to include what happened to the fourth brother within the story? Can you reveal what happened to him, or is it left entirely up to the reader's imagination?
AC: I prefer to let the reader imagine. The story of the fourth brother is undoubtedly sad, but I don't want this sadness to take up too much place in the book.
EC: For new or aspiring writers, what advice would you offer for generating story ideas and continuing to write despite rejection?
AC: I don't know exactly. I think the best way to write is first to write for yourself. To meet a need and without being afraid to fail and start again and again.
EC: The Brothers Zzli left me eager for more of your work. Are you currently working on any other projects? Are there any particular topics you would like to write about in the future?
AC: I have several projects in progress. An adventure novel that takes place in the eighteenth century, several picture books with different illustrators, and maybe a new book with Anne-Lise Boutin: the story of a little girl who teaches sweetness to two angry giants.
Emilee Ceuninck, Pine Reads Review Lead Writer & Editor
---