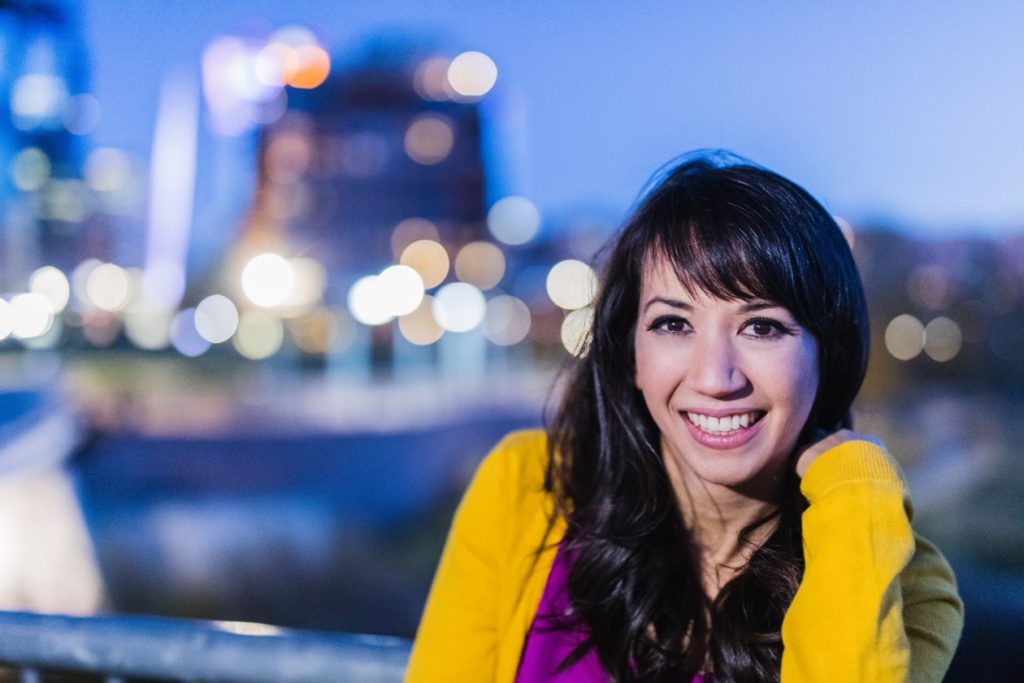 Juleah del Rosario currently lives a book- and mountain-filled existence as a librarian in Colorado. Her debut, 500 WORDS OR LESS, a YA novel written in verse published by Simon Pulse is about a high school senior who writes her Ivy-league obsessed classmates' college admissions essays. She is working on a second novel-in-verse, TURTLE UNDER ICE, slated for publication by Simon Pulse, Spring 2020.
Social Media:
Twitter: @juleahwrites
Instagram: @juleah.delrosario
Alessandra De Zubeldia: When first reading the description of 500 Words or Less, I was drawn to the concept of a high schooler willing to put herself through the tedious work of writing college entrance essays for multiple people. How did you come up with this idea? What inspired you to write about this specific aspect of an adolescent's life?
Juleah del Rosario: I have long been fascinated by the unethical (and now illegal) practices that people go through to get into college. It's something I vaguely remember rumors about when I was in high school, that specific high achieving classmates were hiring "essay counselors." In high school, I didn't understand why these classmates (who were decent writers) would pay some adult to capture the authenticity of being a young person. In reflecting upon this for 500 Words or Less, I thought that if it were another teen, a classmate who could write with more authenticity, then maybe it would be something worth paying for.
AD: What has your own personal experience been with writing college admission essays? If you wrote one in high school, what was it about?
JDR: I wrote an essay about fileting a fish and connecting it to the cycle of life. It was very philosophical in ways that, today, I cannot comprehend how I even knew what any of it meant at the time.
AD: Which of the characters resonates the most with you in terms of your own teenage years?
JDR: The characters themselves are not reflective of myself or others, but the culture of the high school is very much derived from my own high school experience. Driven, privileged, high expectations of self, not that diverse across all types of demographics.
AD: If you had a book contract to write a spin-off novel of any of the characters in 500 Words or Less which character would you choose and why?
JDR: From the start of writing 500 Words or Less, I specifically wanted to leave the characters and the story where it ends. Most of the characters are unfinished by the end, continuing on a journey, and that to me is how life and reality is. We don't often get satisfying conclusions to anything, but we do continue to grow.
AD: The double standards that girls and women face, such as being publicly hated and shamed for cheating while men are let off the hook with more ease, is a prevalent theme in 500 Words or Less. How do you believe that we, as a society, can work to unlearn this mentality? In what ways do you hope your novel contributes to this effort?
JDR: In 500 Words or Less, my intent was to highlight and note the prevalence of double standards and public shaming that exists as part of a reality. Miranda's essay, for example, is about her internalizing the concept of the "male gaze" in her everyday life. By highlighting, I hope these raise questions back to readers, just as you have asked, to reflect upon their own experiences and reality.
AD: One of my favorite parts of your book was Bryant's essay draft because it gracefully explored the career expectations, stereotypes, and challenges he faces as a young, black man in his pursuit of success. What advice do you have for writers who are considering writing about an experience different to their own in a respectful and informed manner?
JDR: There isn't really an answer to this, but to start, I would suggest recognizing that readers are craving to see humanity within the characters on the page, and this means complex, nuanced, and human. I also think delving into identity theory, intersectionality, and critical race theory will help to deconstruct one's own understanding of experience, particularly when our experiences and worldviews come from existing in society of institutionalized racism and oppression.
AD: In the "Acknowledgements" section of 500 Words or Less, you mention that you are grateful to those who support and believe in novels in verse. Has your writing faced roadblocks in the publishing industry specifically because it in verse? In your experience, are publishers less receptive to this kind of writing within the YA genre?
JDR: I don't think YA publishers are less receptive to verse. I think they embrace it in the industry and recognize that there are readers out there who do love verse, but I think verse novels are much more difficult to edit, copyedit, layout, market, and sell. So the investment needs to be there both from a financial and support perspective. When 500 Words or Less was first out on submission, it was rejected by some who explicitly stated that they were unsure of how to sell a novel in verse. But I think it's beyond selling, it's producing a verse novel, and the skills required across all positions in a publishing house to do it well.
As I went through the editorial process, I learned that, for example, typesetting can be very difficult in order to have each page look exactly as the author intended.
AD: What are your favorite YA books in verse?
JDR: My favorite YA novel in verse is probably Brown Girl Dreaming by Jacqueline Woodson, followed closely by Long Way Down by Jason Reynolds. But my favorite verse novel is actually a middle grade book: Inside Out and Back Again by Thanhha Lai
AD: What is something that surprised you about becoming a published author?
JDR: The age range of readers who have connected with the characters. I have received notes from retired teachers in their 70s and young readers who all connect with and see something meaningful in the novel.
AD: If readers could only take away one message from 500 Words or Less, what would you want it to be?
JDR: To be your whole self.