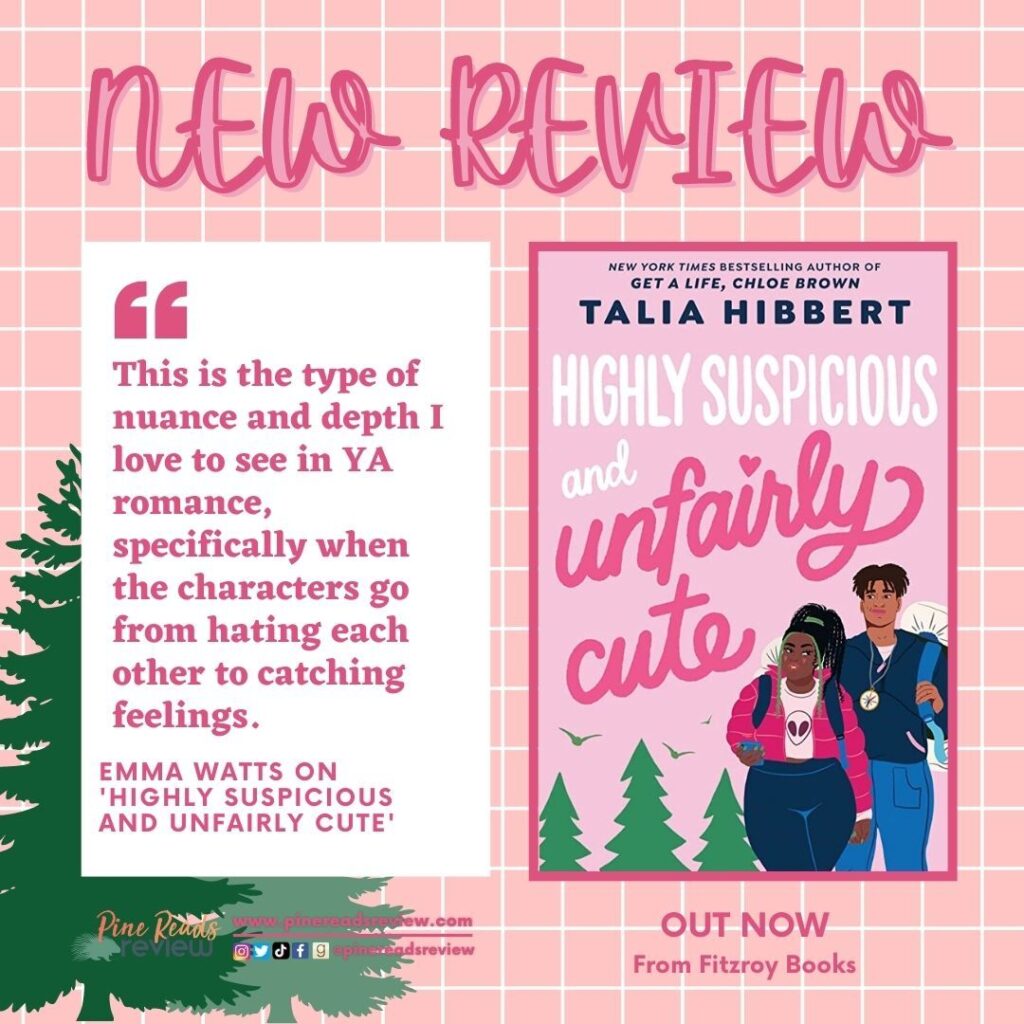 Highly Suspicious and Unfairly Cute by Talia Hibbert
Out Now from Joy Revolution; 336 pages
Content Warning: Discussions of OCD and negligent parents
About the Author: "Talia Hibbert is a New York Times, USA Today, and Wall Street Journal bestselling author who lives in a bedroom full of books. Supposedly, there is a world beyond that room, but she has yet to drum up enough interest to investigate. She writes spicy, diverse romance because she believes that people of marginalized identities need honest and positive representation. Her interests include makeup, junk food, and unnecessary sarcasm. Talia and her many books reside in the English Midlands." (Bio taken from author's website.)
Find Talia Hibbert on the following platforms:
---
"You don't need to be special or significant to have value."
Highly Suspicious and Unfairly Cute follows ex-best friends Bradley and Celine during their final year of school before uni. Brad is planning to spend his time playing football and writing the hundredth draft of his book, while Celine is juggling her course load, popular TikTok conspiracy account, and plan for her future (which may or may not also be a plan of revenge against her absentee father). When Celine signs up for an outdoor survival boot camp for a chance to win a full-ride scholarship, she's shocked to see Brad there. Forced to work together as a team, the two try to rekindle their friendship — or are their feelings more romantic than platonic?
Hibbert's foray into young adult romance is an absolute delight. Celine and Brad are wonderful characters, both independently and as a duo. I loved Celine's obsession with conspiracy theories and the way that Hibbert portrayed her tendency to seek revenge and avoid her feelings. I also appreciated Brad's love of writing fun sci-fi stories and the thoughtful OCD representation in his character. Together, Celine and Brad have so much chemistry. Their interactions throughout the novel are witty, cute, heart-wrenching, and hilarious.
I love to see this type of nuance and depth in YA romance, specifically when the characters go from hating each other to catching feelings. I adored seeing how Celine and Brad grow from best friends to arch nemeses to best friends to more than friends. There were a lot of ups and downs during Celine and Brad's relationship which led to an entertaining read, but there were also so many tender moments that were absolutely perfect in a romance novel.
PRR Assistant Director, Emma Watts
---