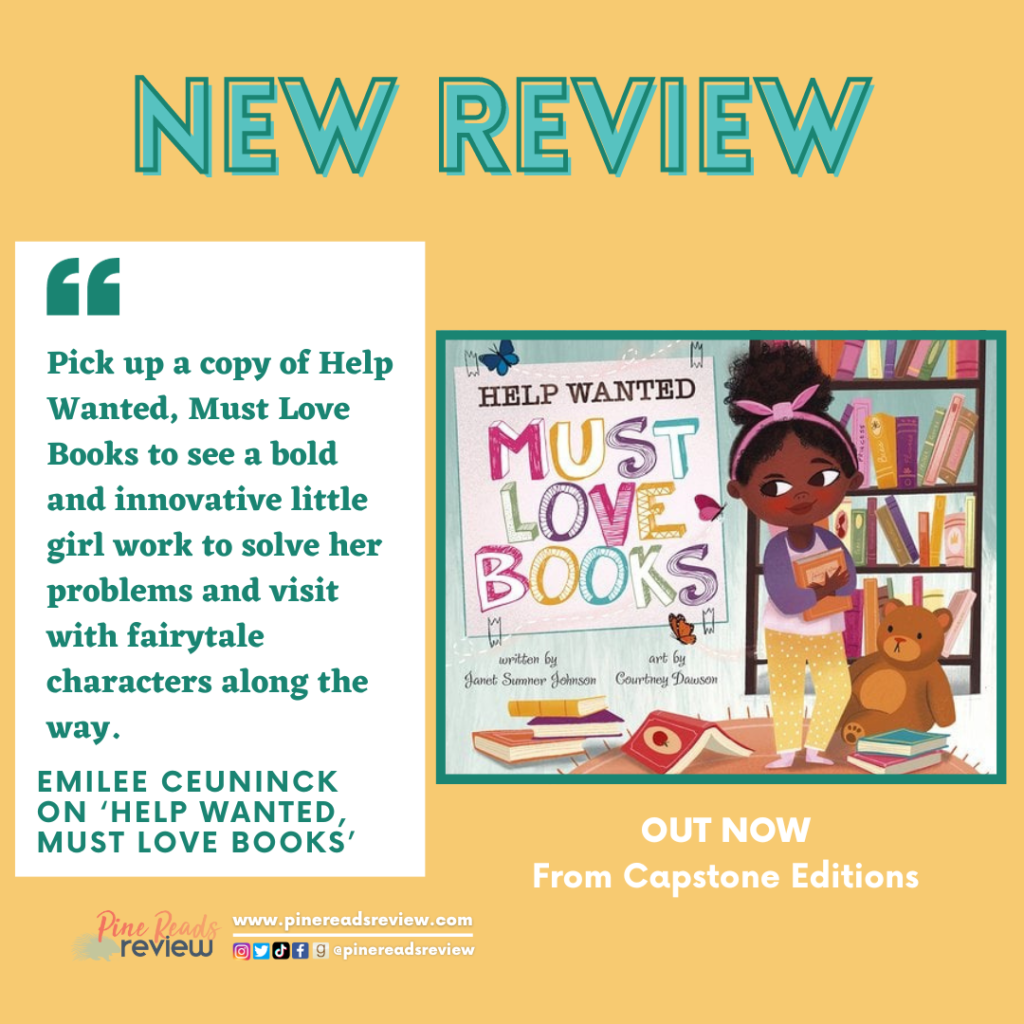 Help Wanted, Must Love Books by Janet Sumner Johnson & illustrated by Courtney Dawson
Out Now from Capstone Editions; 32 pages
About the Author: "My husband (a.k.a. Jedi Master Daddy) and I (a.k.a. Princess Mommy) are raising three energetic Jedi: Master London, Jedi Brandt, and Padowan Khyah. I have mastered the use of my purple light-saber (inherited from Mace Windoo himself), the art of identifying the bad guys (they drink prune juice, NOT water), and the ability of crafting bases and ships from scraps (aka legos). In my spare time I write children's books, translate French to English, and keep up with my blog. So yes, my laundry is probably waiting to be done" (Bio from the author's website).
Find Janet Sumner Johnson on the following platforms:
About the Illustrator: "Courtney Dawson is an illustrator and picture book artist living in the sunny little town of Ventura, California. She has a deep love of reading, her mom's chilaquiles, and most kinds of ice cream. Her work is inspired by the world around us and all the good that's in it. When she's not working, she can be found riding her bike, painting to Sam Cooke's music, or enjoying a rainy day with her partner, her baby, and her cute cat, Tuesday." (Bio from the book). 
Find Courtney Dawson on the following platforms:
---
"Unlike most kids, Shailey loved bedtime. She'd shimmy into her pj's, brush her sparkling smile, then raid the bookshelf for the perfect bedtime stories."
Shailey's favorite time of day has always been bedtime. She puts on her pajamas, grabs her trusty teddy bear, and, most importantly, enjoys a bedtime story with her dad. Her nighttime routine is perfect until her dad gets a new job. Suddenly, he's too busy when bedtime rolls around. Finally, Shailey reaches her limit, creating a help-wanted poster for a new bedtime storyteller who must love books and attend open interviews that night. Many familiar bedtime story characters apply for the position, each with their own unique challenges. Shailey is forced to revise the necessary qualifications for the job and begins to lose hope that bedtime will ever be the same. That is until a familiar Robin Hood arrives. His voice is just right, and he smells like strawberries and chocolate chip cookies. After she learns his true identity, Shailey offers him the position under one condition.
I was absolutely delighted by the enchanting storyline of Help Wanted, Must Love Books. My favorite thing about this picture book was how much Shailey reminded me of myself. I admire the proactive approach she takes to find a new bedtime storyteller. Instead of whining about her situation, Shailey takes matters into her own hands and is confident in herself to find a suitable replacement. This is a powerful message that empowers children to think critically and problem-solve to find solutions to their own issues. I was blown away by common bedtime story characters applying for the position. This was such a fun twist that kept me on the edge of my seat. I couldn't wait to turn the page to see who the next applicant would be! Similarly, I think other readers will enjoy identifying the interviewees and brainstorming what difficulties they would have in taking the job. I also appreciated the message at the end that highlights the importance of prioritizing small, precious moments between parents and children, such as bedtime stories. Pick up a copy of Help Wanted, Must Love Books to see a bold and innovative little girl work to solve her problems and visit with fairytale characters along the way. 
Pine Reads Review would like to thank NetGalley and Capstone Editions for sending us an ARC in exchange for an honest review. Any quotes are taken from an advanced copy and may be subject to change before final publication.
Emilee Ceuninck, Pine Reads Review Lead Writer & Editor
---