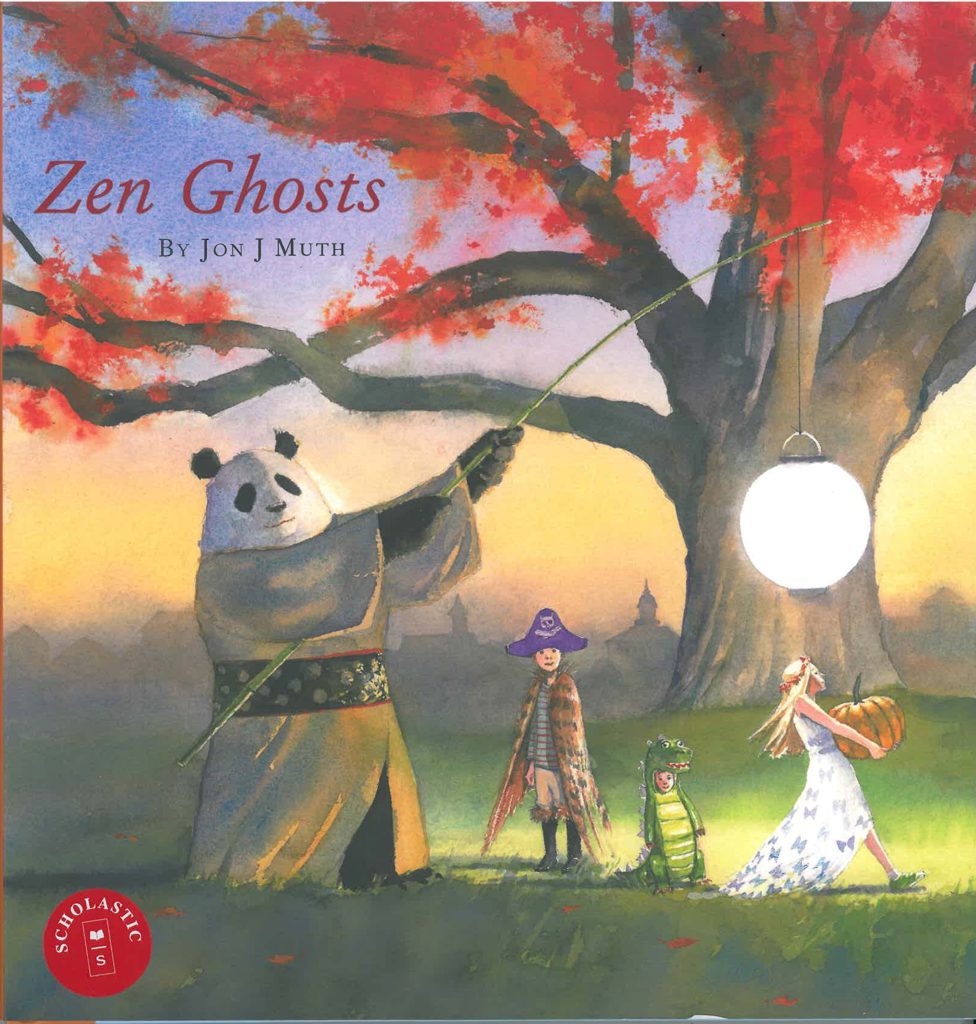 It's Halloween, and that means it is time for books that are spooky, fun, thrilling, and just a bit scary—or a lot. Around this time of year certain things pop up overnight, like Halloween stores, pumpkin patches, advertisements for a terrifying corn maze, and the delicious Starbucks Pumpkin Spice Lattes—and I know it is time to dive into my Halloween books. In the spirit of the season, I've gathered some of my old favorites to read and picked up a few new and diverse ones too! For our Kids Corner, I have read and reviewed two picture books, one a throwback and one that came out this year—the same has been done for Middle Grade and Young Adult. There's something on this list to appeal to all ages!
Zen GhostsWritten and Illustrated by Jon J. MuthScholastic Press, 2010Hardcover, 40 pages
Age Range: 4-8
Trigger Warnings: N/A
"The panda held up a brush and said, "I'm going to draw you a story…"
For this picture book throwback, I have chosen Zen Ghosts by Jon J. Muth—this eerie, beautiful, and is spookily Halloween appropriate. Zen Ghosts is the story of a young trio of siblings, Karl, Addy, and Michael, first introduced in Muth's Zen Shorts (2005, Scholastic), which is a Caldecott Honor Award winner, and Zen Ties (2008, Scholastic). The siblings are preparing their Halloween costumes when their good friend, Stillwell the panda, arrives and asks them to join him later so he can tell them a Halloween story. Zen Ghosts is a story within a story, as the story Stillwell tells the kids is a retelling of a 1000-year-old Zen koan—a story used in Zen practice that resembles a puzzle or riddle, something to inspire great thought—about a young woman and her love story. This book is great for children of all ages with its haunting ghost story, and illustrations saturated in fall colors, which together depict a beautiful, culturally rich Halloween story to be passed down through the generations.
Samurai ScarecrowWritten and Illustrated by Rubin Pingk Simon and Schuster Books for Young Readers, 2018Hardcover, 48 pages
Age Range: 4-8
Trigger Warnings: N/A
"What was that old scarecrow rhyme?"
For the new release in picture books we have Samurai Scarecrow which came out in July of this year, plenty in time for Halloween, and in plenty of time to quickly join my list of spooky picture book favorites! This absolutely adorable story follows siblings Yukio—the older brother—and Kashi—the younger sister, who adores her brother. Halloween is just around the corner, and to get into the spirit, they share the story of the Samurai Scarecrow: a local legend about a big pumpkin headed scarecrow that frightens the children. Samurai Scarecrow is about a brother and sister, with a little sister who looks up to her brother and wants to be just like him—something which, after a while, becomes very irritating to her older brother. They end up getting into a fight on Halloween night, and just in the thick of it, who should appear but the Samurai Scarecrow himself! The spooky story of the Samurai Scarecrow is interwoven into a tale of sibling squabbles, told with wit and charm and the cutest Halloween illustrations—perfect for anyone looking for a sweet Halloween treat!
Scary Stories to Tell in the Dark Written by Alvin Schwartz Illustrations by Stephen Gammell HarperCollins, 1981Paperback, 111 pages
Age range: 8-12
Trigger Warnings: dark illustrations, death, some potentially frightening content for young readers
"Where is my t-o-o-o-e?"
For the Middle Grade Throwback: What better book to get into the Halloween spirit than with what is quite possibly one of the most chilling collections of scary stories written for children? Scary Stories to Tell in the Dark has over 25 individual stories to chill your bones. As a kid, I read these for the first time around the 6th grade…and have been haunted all my life. The stories themselves range from silly, to spooky, to creepy, to spine-chilling, to oh-my-gosh-is-there-something-in-my-closet? They are fantastically detailed, and many are meant to be read aloud, including jump scare instructions for those who are reading so they can freak out their audiences even more. What makes these stories truly haunting is the illustrations—the iconic creepy, twisted images done by Stephen Gammell stay true to the darker side of Halloween. The official reading age range is 8-12…which I personally found shocking. Even as an adult I am still able to get a good fright out of these stories—which is wonderful. For anyone looking to get into the true spooky spirit of Halloween, Scary Stories to Tell in the Dark, as well as it's sequels More Scary Stories to Tell in the Dark and Scary Stories 3 are the perfect fit.
The Fear Street Saga TrilogyBy R.L. StineSimon Pulse, 2015, original publication date 1993Paperback, 527 pages
Trigger Warnings: Death, violence, takes place in some historically significant and difficult times"Creak. Creak. The odd sound repeated in a rhythm with the shadow. Then she raised her eyes and saw what was casting the shadow – and started to scream."For the YA Throwback: R.L. Stine—a monument in the realm of YA horror. Fans of the horror genre are well familiar with the works of Stine, from his beloved Goosebumps series for middle grade, to the teen thriller series Fear Street—which has dozens of books in its man series and a number of spin-offs. No easy task, reading all of Fear Street. For me, none are better to get started than with the Fear Street Saga trilogy, The Betrayal, The Secret, and The Burning; which depict the very beginnings of Fear Street—all the way back to the Salem Witch Trials. Read this trilogy and find about the Fier family and the Goode family, and the original horrible deeds that started their centuries long feud of death and vengeance. This trilogy may be over 500 pages, but this is the kind of story that's impossible to put down until the bitter end.
Not Even BonesRebecca SchafferHoughton Mifflin Harcourt, 2018Hardcover, 368
Trigger Warnings: Death, dismemberment, blood, gore, visceral detail, murder
"It took a special type of monster to dissect dead people and sell them without guilt. Nita was aware that morally speaking, she wasn't on the good side of the scale. In fact, she was probably closer to the serial killer side of the scale."
For the New Release: Black market organ harvesting—yes, very interesting. More interesting? It's harvesting the bodies of supernatural people. But even more than that? The fact that the one doing the harvesting is our teenage protagonist. Not a detective, out to protect innocent people from being snatched off the streets, chopped into pieces, and sold in markets for the consumption of their various body parts. No, no; Nita does the dissecting. But not the killing, that's the important bit here: her mother kills them, Nita just cuts them up.
What's the harm, they're already dead—right? I have read quite a few good horror novels this year, but Not Even Bones blew them out of the water. It's a fresh twist on horror gore, written in beautiful and compelling language, with a gritty—somewhat disturbing—protagonist who is as fun to read about as she is relatable. Be forewarned, this book takes no shortcuts in descriptions of the gore of dissecting a body, or the horrors to be found in a black market, whether its deep in the jungles of Latin America, or hiding in plain site in small town America. Monsters are hiding around every corner in Not Even Bones. As is the theme with the new releases, Not Even Bones was picked not only for what it's about, but also because of where it takes place, and who its about. Nita and the rest of the leading class are nearly all people of color, from Argentina, Peru, Thailand, and more, many cultures meet in this novel to create a compelling and diverse story.
PRR Editor, Sierra J