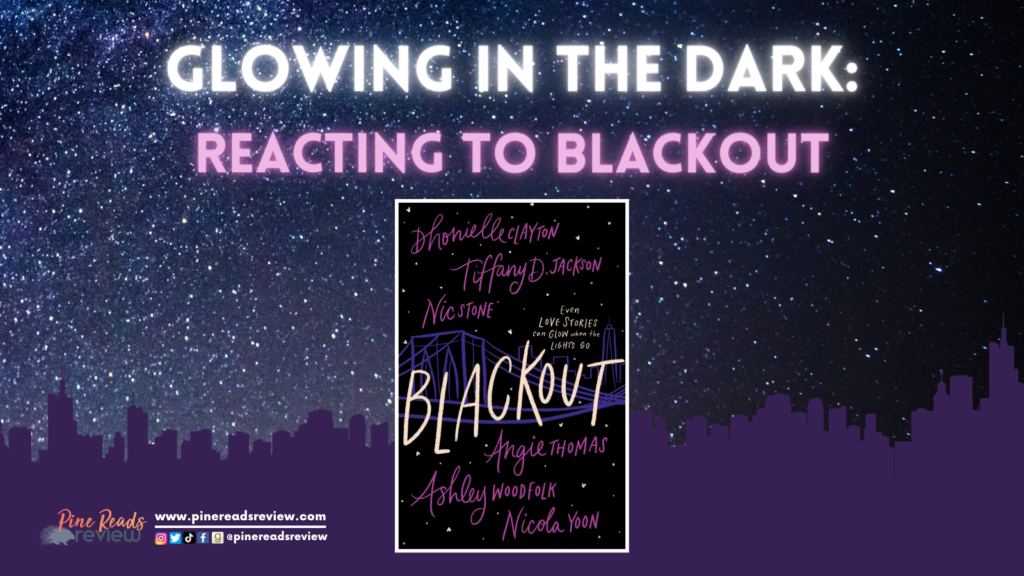 "It all feels so weird. The city so dark, so vacant… Everything a little stiller and quieter, like the city has written a new story for itself. The pen pausing to think for once." —"All the Great Love Stories…and Dust" by Dhonielle Clayton
I'll let you in on a secret. One of my lifelong dreams has been to live in New York City. Who knows if that'll ever happen, but until I'm officially a New Yorker, I'm content simply reading about the Big Apple.
And for fans of NYC, Blackout by Dhonielle Clayton, Tiffany D. Jackson, Nic Stone, Angie Thomas, Ashley Woodfolk, and Nicola Yoon is the perfect read.
This uniquely structured anthology featuring six amazing Black women authors has become one of my favorite reads of the year. My previous forays into anthologies have all been fun, but I haven't found one yet where I loved all of the stories—until now. The brilliance of Blackout lies in the connections between the stories. The brother of the narrator of Tiffany D. Jackson's "The Long Walk" appears in Nic Stone's "Mask Off." The best friend of the narrator of Dhonielle Clayton's "All the Great Love Stories…and Dust" is one of the narrators of Nicola Yoon's "Seymour and Grace." The bus driver of Angie Thomas's "No Sleep 'Til Brooklyn" just happens to be the father of the narrator of Tiffany D. Jackson's "The Long Walk." See what I mean? And that's not even all the connections! Every time I started a new story and realized how it was connected to one or more of the others, I couldn't help but smile. I'm a sucker for discovering connections between stories (Disney Easter Eggs anyone?), so if I could give that element alone a standing ovation, I would.
But that's not all! Let's dive into a more in-depth look at how all the stories create such a magical reading experience.
---
"Maybe something good will come out of all this…. That kind of magic only happens in the dark." —"The Long Walk: Act 3" by Tiffany D. Jackson
I have to start out by saying that when I realized Tiffany D. Jackson's story is broken into five parts and spread throughout the anthology, I may have done a little happy dance right there at the softball game I was watching (hey, I'm pretty good at multitasking).
"The Long Walk" stars Tammi Wright who heads into Harlem the day of the blackout for her first day working at the Apollo Theatre, the most famous Black theatre in New York. Recently broken up from her longtime boyfriend, Kareem, the one thing Tammi doesn't expect is to run into him at the Apollo—or to discover that there was a miscommunication and only one of them got the job. Before they can find out who, the titular city-wide blackout hits, and the two are told to come back on Monday. Except, with the outage bringing the subways to a standstill and not much money between them, their only way back home to Brooklyn is to walk. Together. Along the way, secrets are revealed and Tammi discovers that their past may not be so crystal clear after all.
In her acknowledgements, Jackson says, "To the Squad, I'm sorry for my 'bright' idea to split up my story, which of course created more work for us all, but it came together beautifully," and I have to agree 100%. In fact, I think returning to Tammi and Kareem's story throughout the anthology was one of my favorite elements of the book, second only to the interconnectedness. Theirs is such a dramatic premise: walking from Harlem to Brooklyn with the city dark? Yes, please! I felt like I really got a chance to experience NYC with them, which totally makes up for not being able to travel there this past year due to the pandemic. Plus, the enemies-to-lovers-second-chance arc was just…*chef's kiss.*
And speaking of the romance, let's take a look at that in relation to the other stories because…yes. Just yes.
---
"Even love stories can glow when the lights go out." —"All the Great Love Stories…and Dust" by Dhonielle Clayton
As anyone who even vaguely knows me or who's read my other reviews knows, I love romance. And the romances in Blackout definitely did not disappoint.
Like I mentioned above, there's the wonderful romance between Tammi and Kareem, but the other romances are just as amazing. In Nic Stone's beautiful story, "Mask Off," JJ Harding is figuring out his feelings and sexuality while stuck on a stopped subway with Tammi's brother, Tremain. "Made to Fit" by Ashley Woodfolk includes the love story between narrator Nella and dog-lover Joss, but also references the story of Nella's grandparents who met during the 1977 blackout. Dhonielle Clayton's "All the Great Love Stories…and Dust" takes place in a library—which is possibly one of the most romantic places ever, at least in my opinion—and features a best-friends-to-lovers arc between Lana and Tristàn. "No Sleep 'Til Brooklyn" by Angie Thomas references the 2003 blackout and spotlights Kayla, who's visiting NYC with her class while trapped in a love triangle—although she's starting to figure out that her love for herself may just be the most important love of all. Finally, dual-narrated "Seymour and Grace" by Nicola Yoon is about Lana's friend Grace who realizes it may finally be time to put her recent break-up behind her when a spark connects her and Seymour, her ride-share driver.
I loved all the love! And with the spell-binding setting of the City That Never Sleeps gone dark, everything is even more magical.
---
"All at once I decide that you can't be brave unless you're at least a little scared." —"Made to Fit" by Ashley Woodfolk
So what's my main takeaway from this captivating anthology? That everyone needs to get their hands on this book! If you're a fan of anthologies, of romance, of NYC, or even just of people, do yourself a favor and find a copy as soon as it releases on June 22, 2021. I promise you won't be disappointed.
Oh, and if you'd like to spice up your reading experience even more, grab the nearest flashlight and try turning out the lights. Because as Lana points out in Dhonielle Clayton's narrative, "some stories are better told in the dark."
(Pine Reads Review would like to thank Goodreads and the publisher for providing us with an ARC in exchange for an honest review. Any quotes are taken from an advanced copy and may be subject to change upon final publication.)
PRR Assistant Director, Wendy Waltrip