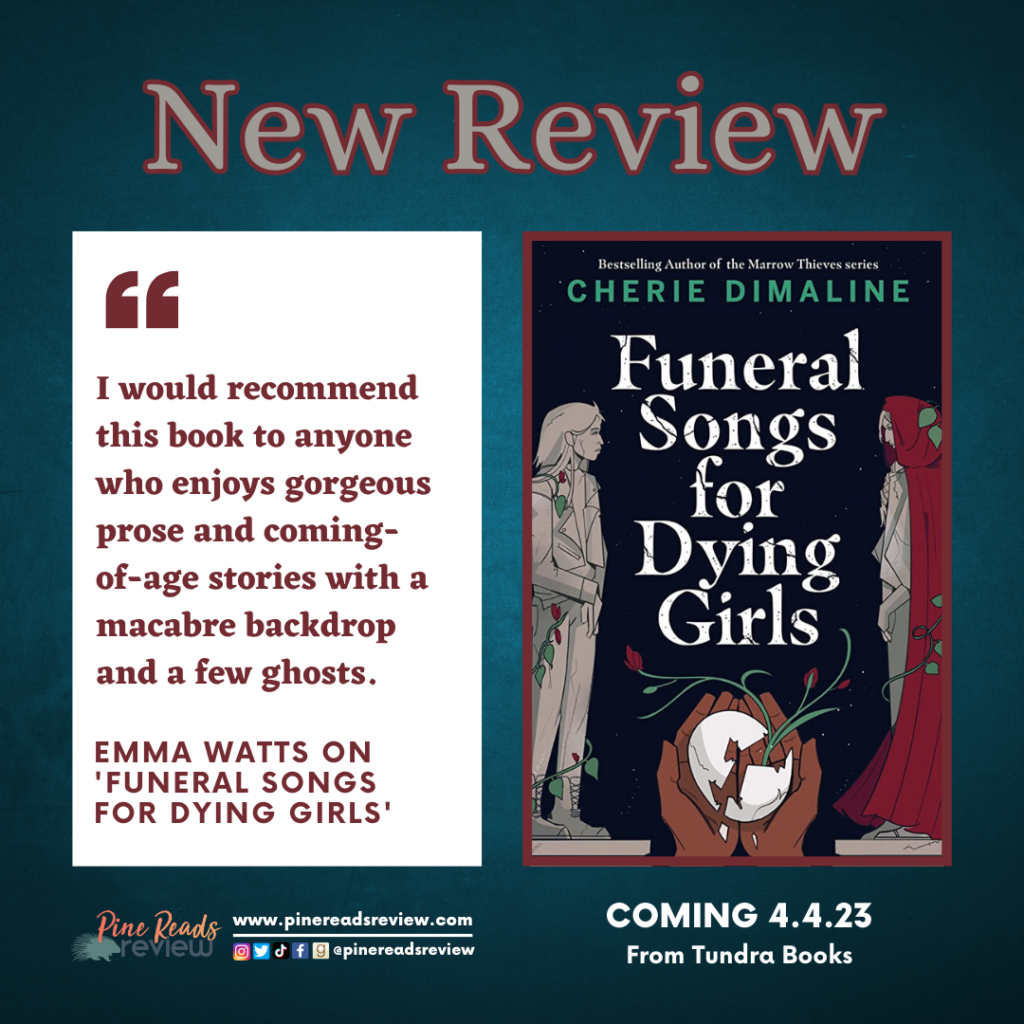 Funeral Songs for Dying Girls by Cherie Dimaline
Releasing April 4, 2023 from Tundra Books; 280 pages
About the Author: "Cherie Dimaline wins her first Governor General's Literary Award in 2017 with The Marrow Thieves. She is an author and editor from the Georgian Bay Métis community whose award-winning fiction has been published and anthologized internationally. In 2014, she was named the Emerging Artist of the Year at the Ontario Premier's Award for Excellence in the Arts, and became the first Aboriginal Writer in Residence for the Toronto Public Library. Cherie Dimaline currently lives in Toronto where she coordinates the annual Indigenous Writers' Gathering" (Bio from the author's Goodreads profile).
Find Cherie Dimaline on the following platforms: 
---
"If my mother were to haunt the most suitable thing here, it would be those quiet divots between songs on her records, sending Morse code messages in the cracks and pops of the speaker. Instead, she haunts my father, slipping over his ribs, filling his tear ducts, pulling him away, away, away…"
Funeral Songs for Dying Girls follows a young Indigenous girl named Winifred who lives in an apartment above a cemetery. Her father works there in the crematorium, and her mother, who died during childbirth, is buried out in the front yard. This macabre place is the only home Winifred has ever known—and it's about to be ripped away from her due to her family's financial struggles. However, one night while Winifred is wandering the cemetery, someone spots her and thinks she's a ghost. Suddenly, the place is swamped with tourists and fame. All Winifred has to do to keep the money rolling in is keep up the ruse that the cemetery is haunted—and then one night, she realizes that it actually is.
This novel tackles a lot of difficult topics within its short page count. Dimaline takes readers on a literary journey that explores grief, identity, family, and isolation through the lens of a lonely and independent 16-year-old girl. I could relate to Winifred in a lot of ways, and seeing her struggle to navigate a world where she is perceived as "weird" reminded me of my middle school and high school years. Readers who feel out of place or lack a sense of community will really resonate with Winifred's struggles in this novel. In addition to the complex characterization of Winifred, Dimaline's writing is lyrical and haunting. The creepy, atmospheric descriptions of the cemetery made me feel like I had been teleported to a graveyard in the dead of night. I would recommend this book to anyone who enjoys gorgeous prose and coming-of-age stories with a macabre backdrop and a few ghosts.
(Pine Reads Review would like to thank NetGalley and the publisher for sending us an ARC in exchange for an honest review. Any quotes are taken from an advanced copy and may be subject to change upon final publication.)
PRR Assistant Director, Emma Watts
---