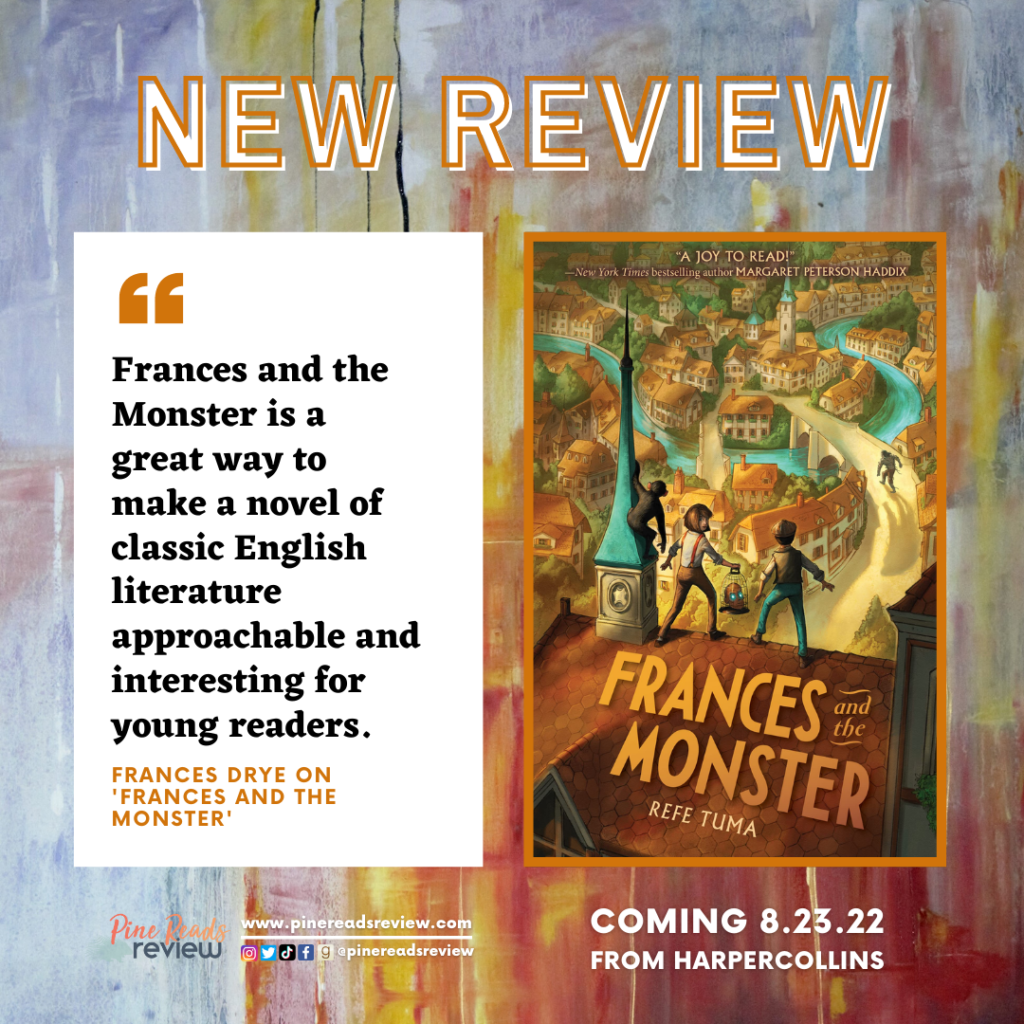 Frances and the Monster by Refe Tuma
Out August 23, 2022 from Harper Collins Publishing; 352 pages
Content Warning: Grief, loss, anxiety, gun violence
About the Author: "Refe Tuma is the co-creator of Dinovember and the WHAT THE DINOSAURS DID picture book series, including What the Dinosaurs Did Last Night, named a Best Children's Book of the Year with Honors by Bank Street College. His debut Middle Grade novel FRANCES AND THE MONSTER will be published by HarperCollins in Summer 2022. His Pushcart Prize and Best of the Net nominated short stories and essays have appeared in all sorts of places, from wonderfully obscure literary journals to the New York Times. He lives with his family and his dog Boris in Kansas City, where he once experienced all four seasons in a single day. Oh, and it's pronounced 'reef.'" (Bio taken from author's Goodreads page)
Find Refe Tuma on the following platforms:
---
"She had created a monster. And now she had to stop him"
Frances Stenzel has lofty goals for her future scientific career, that is once she's allowed to leave her house. It's been seven years since the accident that left eleven-year-old Frances stuck in the Victorian manor she lives in. Though her parents are world famous scientists who travel the world, Frances is often left behind, that is until her dad tells her about a big surprise he has for her. But when Frances' dreams of adventure are foiled, she does not let her sadness get the best of her and she decides to demonstrate her scientific genius. However things don't go quite as planned when Frances accidentally unveils her great-grandfather's incredible invention, a terrifying monster, and subsequently allows it to escape. Frances, along with an annoying robot and pet chimpanzee, must find the monster and save the town before it's too late.
Frances and the Monster is a great way to make a novel of classic English literature approachable and interesting for young readers. Refe Tuma's debut middle grade novel doesn't hesitate to address difficult topics that young readers are dealing with; topics like anxiety, loss, and death. Readers follow as Frances deals with serious anxiety, and her struggle is depicted in a very authentic and relatable way. Frances and the Monster has a strong focus on friendship, and what it means to help and relate to other people. Frances and Luca, two of the book's main characters, find solace in one another; they both have parents who are often absent or busy, so their kids are learning to be independent and self reliant. The characters truly make Tuma's novel shine, their background and unique personalities are entertaining and engaging. With his witty voice and a charming young heroine, Refe Tuma has brought to life a middle grade adventure that any young reader or fan of Frankenstein is sure to love.
(Pine Reads Review would like to thank NetGalley and the publisher for providing us with an ARC in exchange for an honest review. Any quotes are taken from an advanced copy and may be subject to change upon final publication.)
PRR Writer, Frances Drye
---