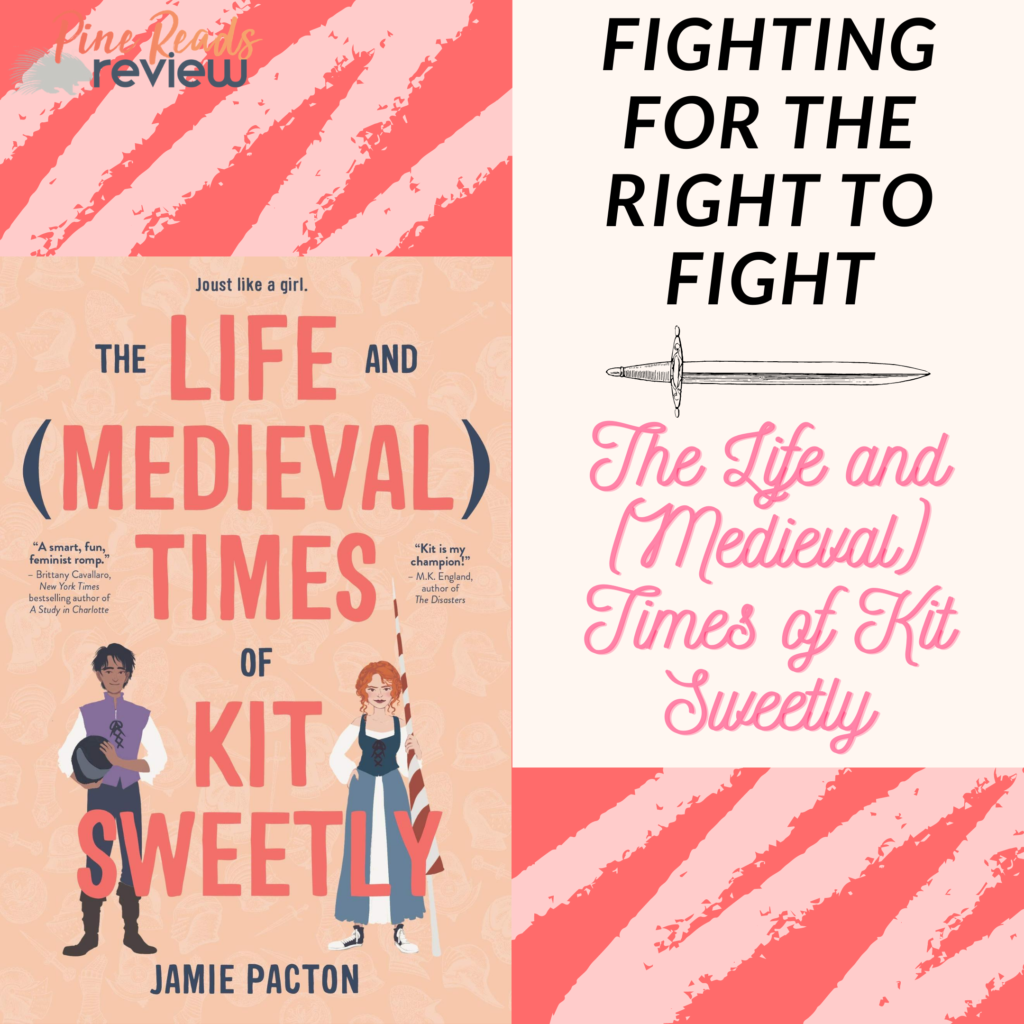 Warning: This blog contains spoilers for The Life and (Medieval) Times of Kit Sweetly by Jamie Pacton.
When I was little, I never wanted to play the princess. I was much happier with a fake sword in my hand than a sparkly tiara on my head. Even now, quite a few years later, sword fights and battles where kick-butt heroines save the day can be found in many of the books I read and write. And maybe that's what drew me to Jamie Pacton's 2020 release, The Life and (Medieval) Times of Kit Sweetly, in the first place.
Whatever the case, I'm glad I picked up this novel that's all about slaying sexism.
Kit Sweetly lives in our modern age of smartphones and viral videos, but she loves learning about the medieval era…specifically, the wonderful women of the medieval era. The novel opens in a medieval-themed restaurant called the Castle, complete with everything from jousting to turkey legs. Kit works as a serving wench (that's literally her job title), but she dreams of becoming a knight like her brother. Unfortunately for her, only those who identify as male can be knights. On the night her story begins, Kit finally gets her chance to prove her skills as a knight by replacing her brother for one tournament. But when a video of her goes viral, Kit seizes the opportunity to attempt to change the sexist rules of the Castle. Soon, Kit and her friends are swept into a grand crusade to fight for the right to fight.
Fiercely feminist, this novel had me cheering for Kit from the very beginning. I especially enjoyed the scenes that took place at the Castle or that portrayed Kit and her friends training, but throughout the novel, we also get to follow Kit into her personal life and see the private battles she fights. From grappling with the poverty of her family to her dad's sudden (and not entirely welcome) reappearance in her life to falling for her best friend who is completely off-limits, Kit has a lot on her plate. However, this is where the novel falls a bit short, in my opinion. While it's fascinating to get a glimpse of Kit's life, the novel seems stretched a little thin. As the main plot, Kit's fight for equality was well-developed, complex, and enjoyable. Unfortunately, nothing else was. The rest of the subplots seemed rushed and undeveloped, as if too much had been included with not enough pages to satisfactorily tie up all the loose ends. By the end of the book, I was satisfied with the conclusion of Kit's fight for equality, but I wanted to know more about how things would turn out with her relationship with Jett and her family's struggles with poverty.
But since it's Women's Equality Day, let's talk about equality.
From the very beginning of the book, Kit discusses medieval women who saved the day: Joan of Arc, Matilda of Canossa, Khawlah bint al-Azwar, Caterina Sforza, Sichelgaita of Salerno, and more. She uses them as inspiration and even has an entire display in her bedroom devoted to them. And it makes total sense. These women did amazing things in an era that wanted them to remain out of sight and out of mind. As Kit explains, "Matilda of Canossa [was] an Italian countess who battled for 30 years against kings. Caterina Sforza, another Italian woman who said, 'If I must lose because I am a woman, I want to lose like a man.' Sichelgaita of Salerno, a Norman woman who commanded sieges. Khawlah bint al-Azwar, sister to a Muslim commander during the Islamic conquest who led a troop of women against the Byzantine army…. And so many others. Each of them brave. Fierce. And heroic." These women battled gender restrictions of their time, but the wonderful thing about Kit is that she never gives up in her own battle against gender restrictions of the 21st century.
Throughout the book, many people express indignation and shock that only those who identify as male can become knights in the hierarchy that is the Castle. When Kit begins her crusade, support pours in from all over the world. She recruits the help of her friends and decides to stage a tournament for them to fight in front of Castle executives. And this is what the book does the best, in my opinion. The representation of not just kick-butt women, but people of all genders and sexualities is fantastic. One of Kit's friends is non-binary, another is a trans woman, her best friend Lena begins a relationship with another woman, and more. Even though Kit's fight is the one focused on, they are all fighting for equality in their own ways.
And I love that.
The novel is eventually tied up with a neat little bow of equality that ensures Kit and her friends will fight another day at the Castle. She successfully slays sexism in her little corner of the world, but the real message of this book is that there is always more that can be done. Kit makes some elements of her fight look easy and others (mostly those pertaining to her personal life and sometimes questionable decisions) look harder, but she perseveres and saves the day. She proves that it is possible to make your voice heard, a valuable and timely message. Kit and her sword originally drew me to this novel, but it was her spirit and tenacity that made me keep reading.
It's been a lot of years since I last had a sword-fight with my pretend sword, but Kit's story reminded me that although sexism is still a battle that must be fought as much today as in medieval times, it doesn't necessarily take a sword to slay this dragon. Words and actions can pierce its thick skin just as easily, and hopefully someday soon, we will emerge victorious in our battle for equality.
PRR Writer, Wendy Waltrip
Pick up your own copy today!