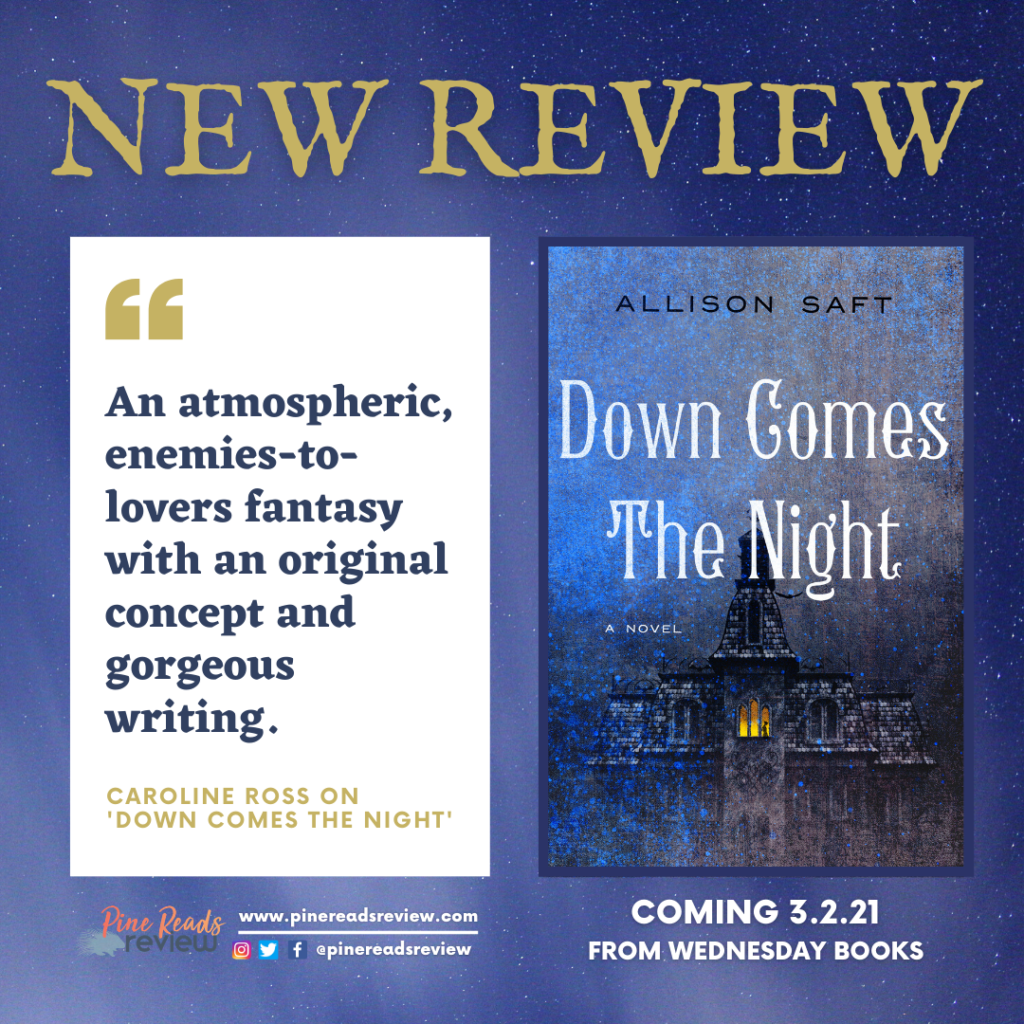 Down Comes the Night by Allison Saft
Wednesday Books; Releases March 2, 2021; 400 pages
Content Warning: Gore, murder, torture
About the Author: "Allison Saft was born in a Philadelphia blizzard and has been chasing the sun ever since. After receiving her MA in English Literature from Tulane University, she moved from the Gulf Coast to the West Coast, where she spends her time hiking the redwoods and practicing aerial silks. Down Comes the Night is her debut novel." (Bio taken from author's website.)
Instagram: @allisonhsaft
Twitter: @allisonhsaft
Website: https://www.allisonsaft.com/
---
"We all were raised to be cruel. It takes incredible strength to be kind in this world. To endure suffering instead of further it."
Wren Southerland is kind by nature, causing the Queen of Danu—who happens to be her icy aunt—and her own best friend to dismiss her as a reckless liability. When she's discharged from the Queen's Guard, Wren believes she's lost everything…which makes her even more willing to accept an invitation from a gossipy lord in the next country over. In exchange for using her healing magic on his sick servant, she hopes this will make her aunt respect her and gain reinstatement in the Guard. But things aren't as they seem in Colwick Hall, and Wren might just have to work with her sworn enemy to save them all.
Down Comes the Night was an absolute blast to read. Wren is an immediate sympathetic protagonist: she's in love with her best friend, Una, who doesn't feel the same way; her aunt has all but disowned her; and all she has is her healing magic. The atmosphere and worldbuilding are vivid: bleak and snowy and mysterious. Wren and Hal's relationship is the highlight of this novel, though. They're genuine enemies from opposing countries who have false beliefs about one another, but as they slowly unveil the truth, neither can hide their feelings. Hal validates Wren's compassion, and she reassures Hal that he can redeem himself for his past actions. All in all, Down Comes the Night is an atmospheric, enemies-to-lovers fantasy with an original concept and gorgeous writing.
Down Comes the Night releases March 2, 2021.
(Pine Reads Review would like to thank NetGalley and the publisher for sending us an ARC in exchange for an honest review. Any quotes are taken from an advanced copy and may be subject to change upon final publication.)
PRR Writer, Caroline Ross