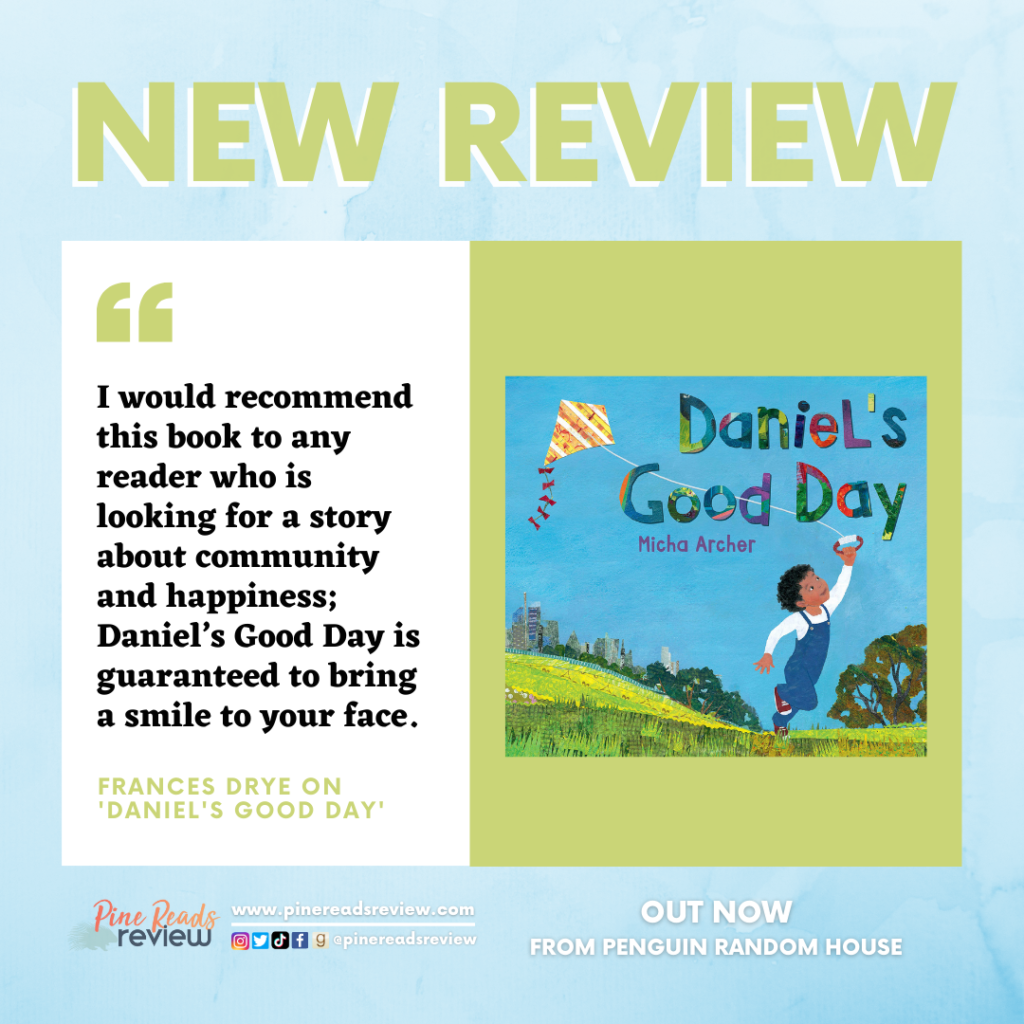 Out Now from Penguin Random House; 31 pages
About the Author: "Working in oil, watercolors, pen and ink, and collage, I create layered pieces from various materials on paper and digitally. With a B.A. in Multicultural Education from the University of Massachusetts, Amherst I taught for 15 years in a Kindergarten classroom. In addition to consulting with teachers on incorporating art into their classrooms, I offer workshops and classes to children, adults and other artists. I live in Western Massachusetts in a house my husband and I built and raised our children in." (Bio taken from author's website)
Find Micha Archer on the following platforms:
---
"At home, his mom asks, 'How was your day, Daniel?' 'I had such a good day!'"
What does it mean to "have a good day"? Readers will get to discover the answer to this question side by side with Daniel, who has always wondered what having a good day means. As Daniel goes on an adventure through his neighborhood, he asks all his friends for answers to the question, what does having a good day mean to you? He asks all sorts of people: the painter, the girl in the park, the bus driver, the nanny, the gardener, the baker, the mail carrier, the crossing guard, his mother and his grandmother. Daniel talks to everyone he knows, but will he find the answer he's looking for? Read Daniel's Good Day to find out!
Micha Archer's Daniel's Good Day made me feel happy and nostalgic as I flipped through its colorful pages. Daniel's character is so adorable and full of curiosity; the book follows him as he asks non-stop questions (not unlike  myself as a kid). A highlight of Archer's book is the sense of community that is weaved throughout the story. Daniel's questions are answered by all the people in his life, from his family to his friends, even people that work in his neighborhood. Apart from being a story that is simple and sweet, Daniel learns that there is more than one way to have a good day, a lesson that is perfect for everyone to learn. Daniel shows his readers that we all  have a different perspective or point of view about  the world. I can't fully convey how wonderful this picture book is without mentioning the art. Archer uses collage and painting to create Daniel's world; it's colorful and joyful in a way that perfectly captures the mood of Daniel's Good Day. I  recommend this book to any reader who is looking for a story about community and happiness;  Daniel's Good Day is guaranteed to bring a smile to your face. 
PRR Writer and Outreach Lead, Frances Drye
---