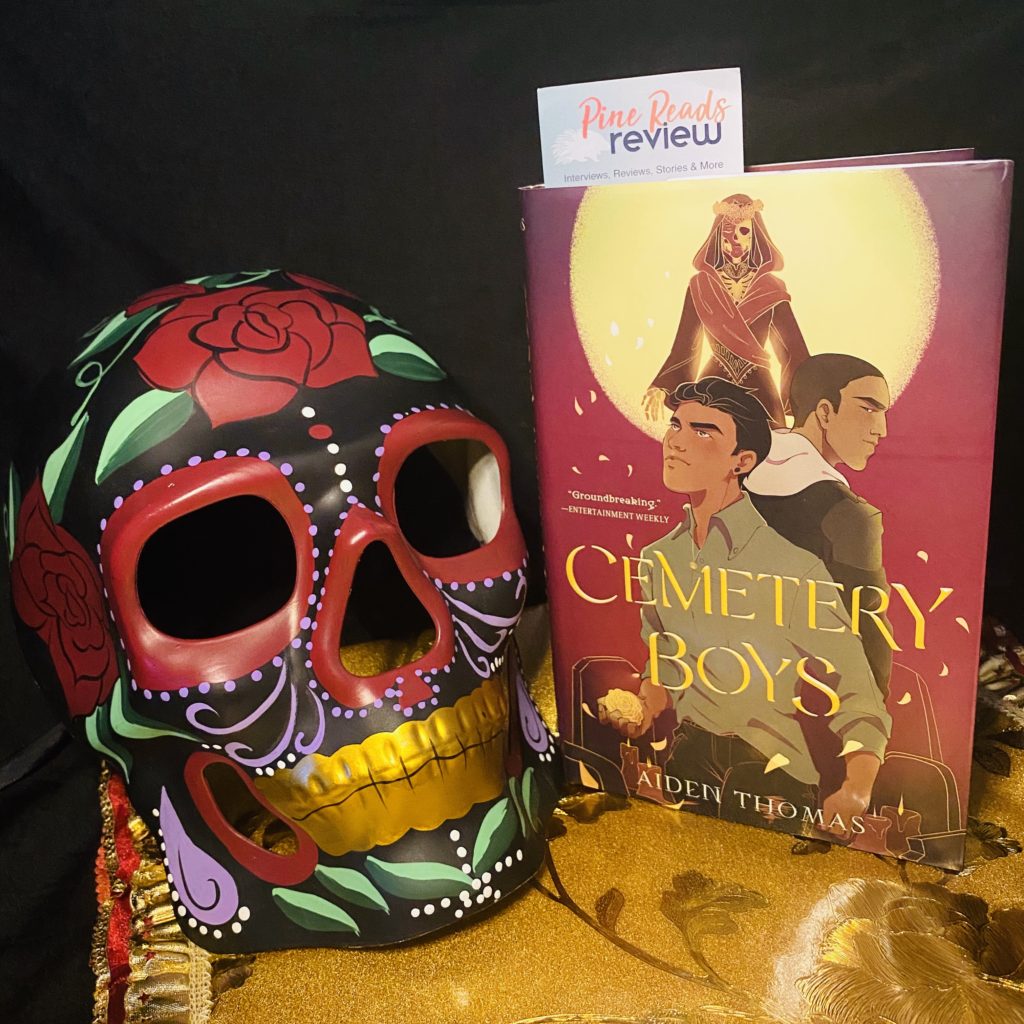 Cemetery Boys by Aiden Thomas
Swoon Reads, 2020, 352 pages
Trigger Warnings: transphobia, misgendering, blood, death (discussed often)
About the Author: "Aiden Thomas is a New York Times Bestselling Author with an MFA in Creative Writing from Mills College. Originally from Oakland, California, they now make their home in Portland, OR. As a queer, trans Latinx, Aiden advocates strongly for diverse representation in all media. Aiden's special talents include: quoting The Office, useless trivia, Jenga, finishing sentences with "is my FAVORITE", and killing spiders. Aiden is notorious for not being able to guess the endings of books and movies, and organizes their bookshelves by color. Aiden's debut novel, CEMETERY BOYS, is a Dia de Muertos paranormal romance about Yadriel (a gay, trans brujo) who accidentally summons the wrong ghost (Swoon Reads/Macmillan, June 9th, 2020)." (Bio taken from author's website.)
Instagram: @aidenschmaiden
Twitter: @aidenschmaiden
Website: https://www.aiden-thomas.com/
"No one was meant to last as a spirit floating between two worlds, but especially not Julian. He was a boy made of fire who'd been turned to frost. He was meant to burn." 
Yadriel, a young member of the Los Angeles brujx community, can no longer sit around and wait for his family to accept his gender—so he takes action. In an attempt to prove himself as much brujo as any other, Yadriel undergoes his quinces ritual with the help of Maritza, his loyal friend and cousin. Shortly after, he sets out to find and free the departed soul of his cousin, Miguel. Though, when he tries summoning his cousin, Yadriel is instead faced with the spirit of Julian Diaz, a goofy and chaotic boy from his school who won't accept his soul being freed so easily. Yadriel must help solve Julian's murder, so that both boys get what they want; but as they spend more time together, Yadriel must ask himself if he can actually let Julian go.
Magic, romance, and representation—this book has it all! The Latinx canon is blessed to have a novel like Aiden Thomas', which beautifully paints a picture of the rich Latinx community in L.A. It's no surprise that Cemetery Boys is now a New York Times best seller as the characters are relatable and easy to love. Julian, specifically, is not the stereotypical 'mysterious teenager' that so many novels paint—he's flawed, extremely caring, and still maturing. Though, as easy it is to love each one of the characters individually, it's even easier to love the relationship between them as they always have each other's backs.
Moreover, Yadriel, Julian, and Maritza are reminders that there is so much diversity within the Latinx community. In a time that can be profoundly lonely, Aiden Thomas' Cemetery Boys brings wholesomeness, tears, love, and a newfound appreciation for our culture—for Latinx readers like myself. I cannot encourage everyone to read this book enough!
PRR Writer, Kevin Sanchez