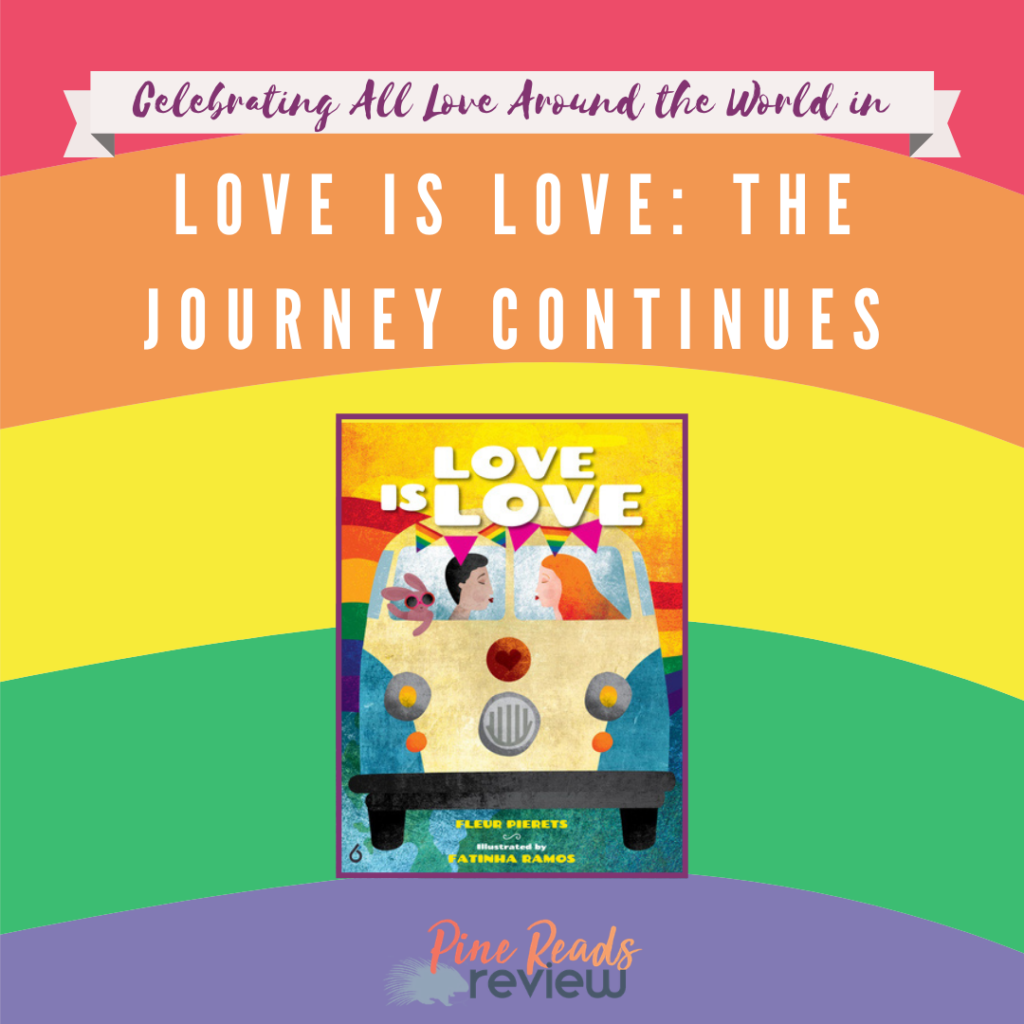 Warning: This blog contains spoilers for Love Is Love: The Journey Continues written by Fleur Pierets and illustrated by Fatinha Ramos (Six Foot Press, releases November 17, 2020).         
Based on an inspiring true story, Fleur Pierets dedicates Love Is Love: The Journey Continues (one of many in the Love Around the World series) to her wife, Julian. The story follows the pair as they travel to the twenty-eight countries that allow same-sex marriages. Alongside the union of these two women are exquisite illustrations by Fatinha Ramos, showing the beauty of each country they travel to on their journey. After already being married in fourteen countries, and saying "I do" in a new romantic setting each time, Fleur and Julian continue to travel the world while exploring different marriage traditions and celebrating their love.
Starting their journey in Columbia and ending it in Ecuador, they embrace the beautiful and diverse cultures of various countries around the world and take something away from each place they leave their mark. For example, the two newlyweds celebrate their love of dancing with a wedding celebration that lasts all night through the streets of Columbia. They continue to travel to Denmark, knowing their love will stand the test of time. There, no one can tell them who they can marry. From Denmark to Austria, to Germany, we get to see these two lovebirds tie the knot in yet another country, as they give facts about the places that are accepting of same-sex marriage.
Love is Love presents a whopping total of 2,540 same-sex marriages celebrated and solidified in only the first year of the law being officially enacted! You got it right, Fleur and Julian were one of those couples. As they get married from country to country, they love to embrace the rules, customs, and traditions that come along with the select country. So while they tie the knot with the traditional wedding of a country's culture, they love the idea of getting married in customary wedding attire. Children, even adults, can learn more about the countries we share this world with, the cultures that they bring to the table, and facts about the LGBTQ+ community through this book.
We are introduced to the laws created that make same-sex marriage legal in select countries, along with activists who have fought for marriage equality for as long as they can remember, like Chi Chia-Wei, who at 17 knew the importance of unity and equality. "I waited for this day for 41 years, 6 months, and 24 days," Chi-Chia Wei says. In support of the theme, Fleur and Julian spread their message to people that marriage is an act of love between any two people, not just a man and a woman, and end their journey together with being legally married in twenty-eight countries.

Love Is Love doesn't just show us the beauty of marriage equality but shows us how activism can change the world if we are willing to be the change. The message that all love matters is one to take away from this book if you haven't already. As readers flipping through the pages of this incredible book with its beautiful illustrations, we gain knowledge of the world around us, the culture, and traditions that each country brings to the table. Diversity is a beautiful thing, and so is acceptance. This book is a perfect example of the power of love, not just for a man and a woman, but for everyone in the world.
(Pine Reads Review would like to thank NetGalley and the publisher for sending us an ARC in exchange for an honest review. Any quotes are taken from an advanced copy and may be subject to change upon final publication.)
PRR Writer, Adrienne Park